If you are like me, I'm sure there's a lot of baking already happening in your kitchen! and while I love sweet treats, I do understand the importance of keeping it under check and making them as healthy as possible. That's why I always try to make healthier substitutions in my dessert recipes, like swap refined flour for whole grain, brown sugar or honey instead of white, olive oil instead of eggs, or my favorite, using I Can't Believe It's Not Butter!® instead of full-fat butter! I am a fan of ICBINT, as I lovingly call it, and just love a good slice of whole-grain bread topped with the spread. And now with the new recipe, it makes even more sense to use it for my low-calorie diet.
The new I Can't Believe It's Not Butter!® is made from real, simple ingredients you can recognize like a delicious blend of plant-based oils, purified water and a pinch of salt. Just one bite and you'll 'Believe'! contains 0g trans fat per serving, no cholesterol and no partially hydrogenated vegetable oils. It still has the same taste, and produces the same texture in all of my baking recipes, just like real butter.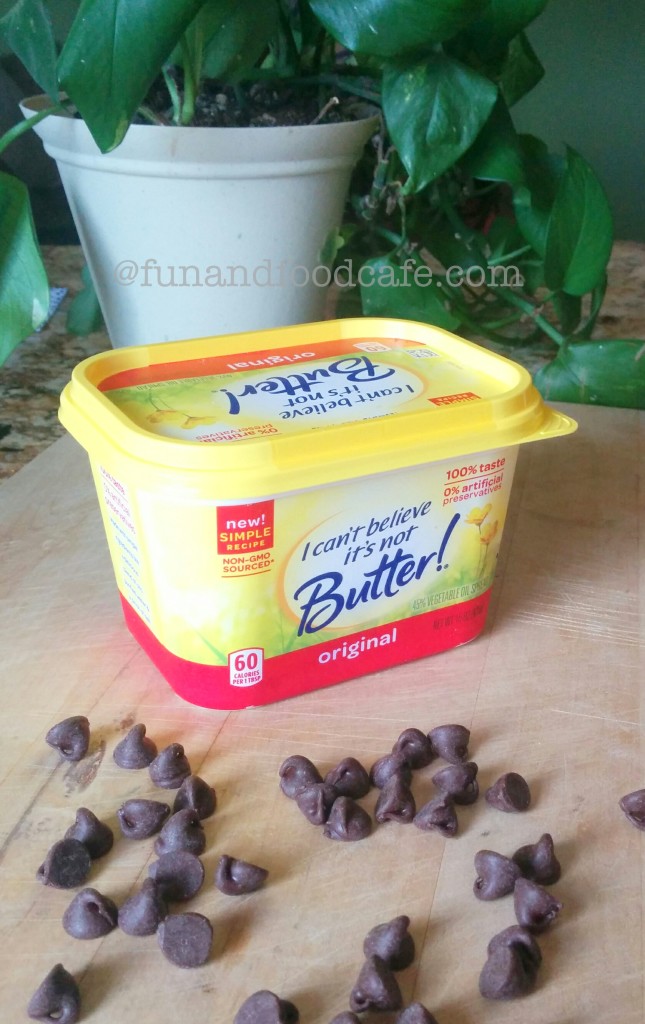 And to demonstrate this, I decided to go all in and show you how I make my Double Chocolate Cake using I Can't Believe It's Not Butter!® This is my daughter's favorite recipe, and it is so good and moist that I often chuck the idea of adding frosting on the top. The cake speaks for itself, and needs no extra adoration!
Adapted from my go-to Chocolate Cake recipe that originally debuted in Better Homes & Gardens, I swap the white flour with a bit of whole grain flour, and of course, use ICBINB instead of butter. Make sure you choose the best dark chocolate possible, because that will lend the real taste to the cake. I also like to throw in a few semi-sweet chocolate chips, or rather my daughter likes to make this addition, but it makes it more dense and richer, so its an addition that Mamma approves:)
One more thing to note. Always use eggs at room temperature, cold eggs will ruin your cake.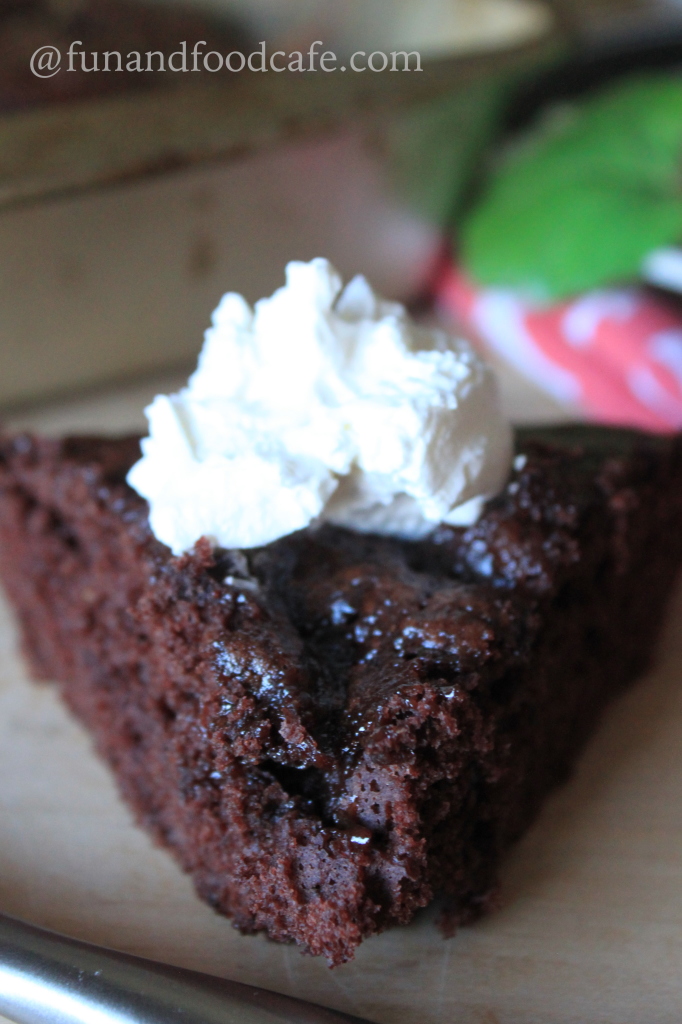 Double Chocolate Cake
Moist, fluffy and very much full of chocolate, this Double Chocolate Cake recipe deserves a place on any holiday table. Soft and gooey from the inside, it is so delicious that it doesn't even need a layer of frosting on the top. Just serve it with a dollop of whipped cream and you are good to go!
Author:
www.funandfoodcafe.com
Ingredients
2 eggs, at room temperature
1½ cups whole grain baking flour
¾ cup unsweetened cocoa powder
½ teaspoon baking soda
½ teaspoon baking powder
½ cup I Cant Believe Its Not Butter, softened
1 cups sugar
1 teaspoon vanilla
¾ cups milk
3 ounces dark or bittersweet chocolate, grated
a handful of semi-sweet chocolate chips
Directions
Allow eggs to stand at room temperature 30 minutes. Meanwhile, grease three 8x1-1/2-inch round cake pans. Line bottoms of pans with parchment paper. Grease parchment paper and lightly flour pans; set aside. In medium bowl stir together flour, cocoa powder, baking soda, baking powder, and ½ teaspoon salt; set aside.
Preheat oven to 350 degrees F. In large mixing bowl beat butter with electric mixer on medium to high for 30 seconds. Gradually add sugar, ¼ cup at a time, beating on medium until well combined. Scrape sides of bowl; 2 minutes more. Add eggs one at a time, beating after each addition. Beat in vanilla. Alternately add flour mixture and milk to butter mixture, beating on low after each addition just until combined. Beat on medium to high 20 seconds more. Stir in grated chocolate and chocolate chips. Divide batter among prepared pans.
Bake 30 to 35 minutes or until a wooden toothpick inserted near centers comes out clean. Cool cakes in pans on wire racks 10 minutes. Remove layers from pans. Cool thoroughly on wire racks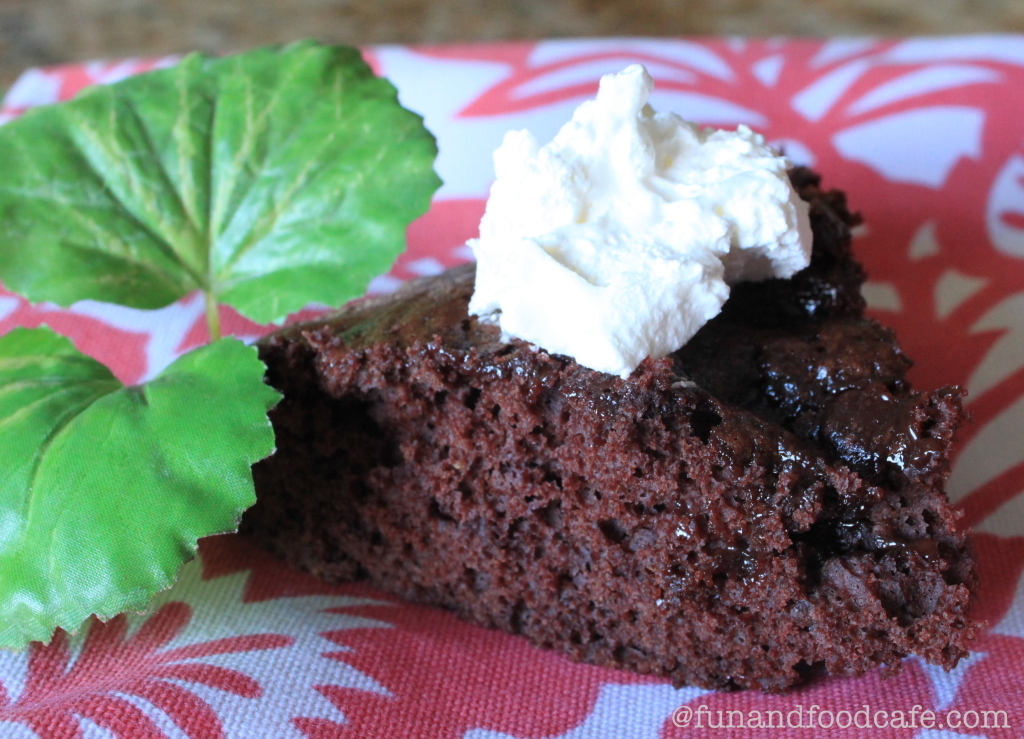 I have made this cake a lot of times, so its a tried-and-tested recipe that you can trust. Like I said, me and my daughter have a lot of memories attached to it. I love when she says that I'm the best Mamma in the world while sitting on the kitchen countertop licking the bowl of cake batter. If you are in the mood for something more lavish, try this Layered Chocolate Cake recipe, it is sure to get some oohs & aahs out of your guests:)
Related Recipes
Molten Chocolate Lava Cakes
World-Famous German Biscuit Cake
Dark Chocolate Chunk Cookies
I was selected for this opportunity as a member of Clever Girls and the content and opinions expressed here are all my own.