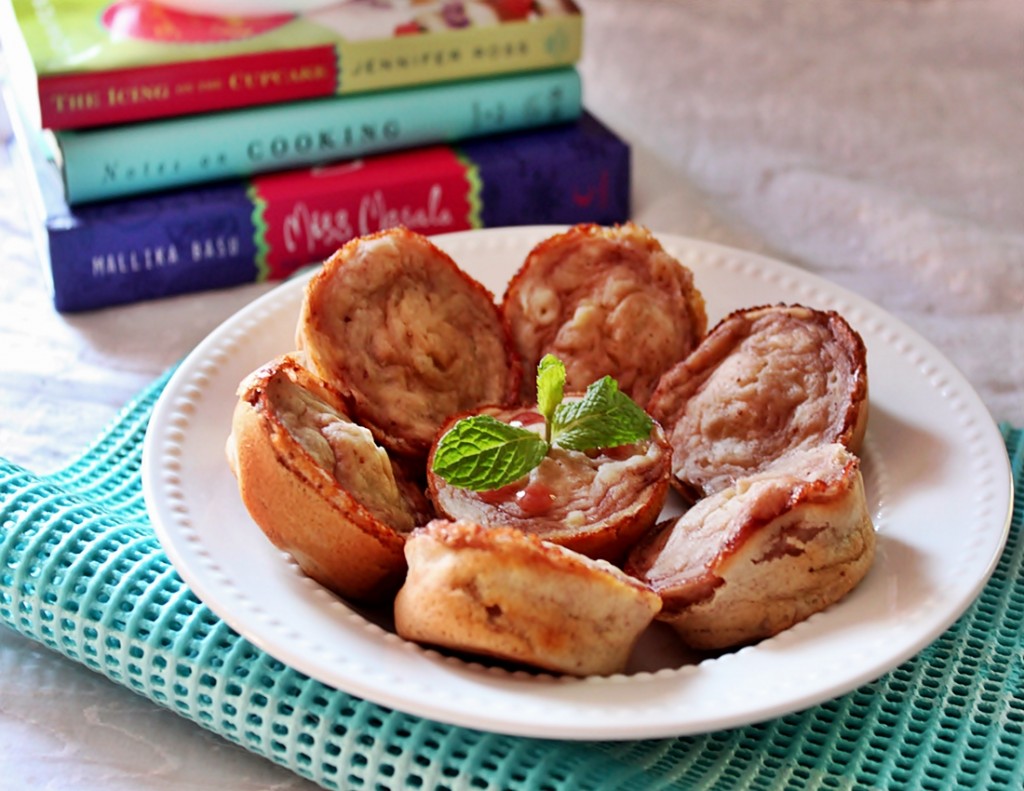 Cranberry Sauce, or some variation of it is definitely cooked in every household that celebrates Thanksgiving. I too, had a cup or two of leftover Cranberry Plum Sauce lying in my refrigerator, begging to be consumed before it turned sour! So, after dismissing several ideas like pancakes, ice creams, pies and puddings, I settled on something simple and healthy, something that would let our family reminisce the flavor of Thanksgiving, albeit, without adding some extra pounds along our waistline.
These simple Whole-wheat Cranberry sauce muffins are a perfect breakfast to wake up to after the lavish holiday meal. They are not too rich or dense, like actual muffins – they are more like mini-cakes, dense and flavorful, though not as spongy as cakes. Everyone was up early with the mood to conquer Black Friday deals. These were ready in less than 30 minutes, and tasted great with a cup of freshly-brewed coffee and some sandwiches. Everyone was raring to go on the shopping-spree after such a fabulous breakfast, the kids even packed a couple muffins to binge on while shopping. This was indeed the best way to use my leftover cranberry sauce, and I am thankful for having found such a holiday-appropriate recipe!
Leftover Cranberry Sauce Muffins
Use the leftover cranberry sauce from Thanksgiving to make these gorgeous muffins for breakfast on Black Friday, or any other day. This is a very versatile recipe and can be adapted for any other fruit sauce filling.
Author:
www.funandfoodcafe.com
Ingredients
1 cup flour
½ cup whole-grain wheat flour
1 cup oats
⅓ cup brown sugar
1 tablespoon baking powder
½ teaspoon baking soda
1 tsp cinnamon
½ teaspoon salt
1½ cups of leftover cranberry sauce
½ cup low-fat milk
⅓ cup vegetable oil
1 egg
Directions
Heat oven to 400°F. Line muffin tin with paper baking cups.
In a large bowl, combine regular flour, whole-grain flour, oats, brown sugar, baking powder, cinnamon, baking soda and salt; mix well to combine. In medium bowl, combine milk, oil, cranberry sauce and egg; blend well. Fold into dry ingredients all at once; stir until dry ingredients are moistened.
Fill each muffin cups about three-quarters full. If you have any empty slots, fill them with water so that heat is distributed evenly throughout the pan.
Bake for about 20 to 22 minutes or until golden brown. They might not be very pointy, like your regular muffins, because of the whole-wheat flour, as well as the denser cranberry sauce. But nevertheless, they taste fabulous, and are best consumed warm, right after you have allowed them to cool for 5 mins on the wire rack.
This was definitely a spur-of-the-moment recipe, but I am so happy it worked, because it helped us retain the holiday mood even the next day. And its so versatile too. Just replace cranberry sauce with any other liquid sauce that you like – raspberry, strawberry, even apples, plums or peaches. Try these for yourself and come back to share your experience with us.
Related Recipes
Sour Cream Pancakes with Blueberry Sauce
Mango & Pineapple QuickBread
Apple Bread with Toasted Pecans