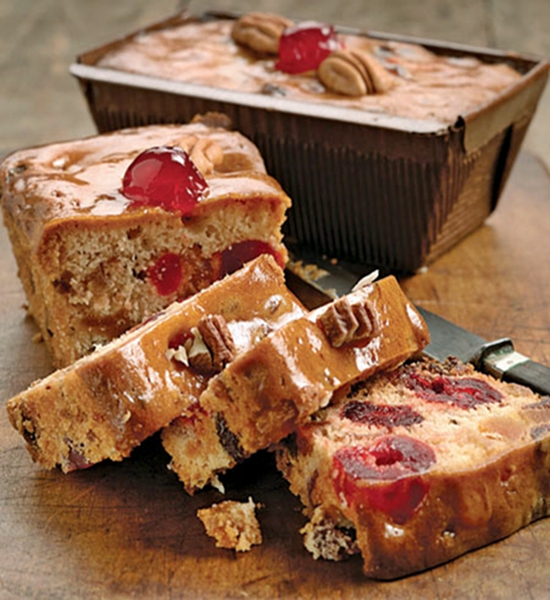 Christmas Fruit Cake
What's Christmas without Santa Clause and sparkling lights? or without some fresh white snow up in the mountains? or without some traditional Holiday delicacies like Eggnog, Stollen, Yule Log Cake or Fruit Cake! Yes, some holiday traditions govern our lives for a good reason. They help us stay rooted as families, maintain relationships and customs over generations, and help create a bonding that will stay long after the festive season is gone. As my daughter grows into a stage where she can grasp and remember things, I plan to incorporate some traditions for Christmas this year. Besides baking Cookies For Santa, we are going to start baking a Christmas Fruit cake starting this year.
I had my first fruitcake at a friend's house; they are Christians, and her Mom makes the best fruit cake ever, at least from all the ones that I have tasted so far. So I got her version of the recipe, but the foodie inside me wanted to explore more, so off I went searching online for the best fruitcake recipe, and finally settled on this one, which combines best of both the worlds. Pictured above, is a glorious fruit cake that was developed in the KAF kitchens. Unlike other cakes, a Christmas Fruit Cake is not too moist, nor does it need any embellishments like frosting or layers of cream. However, this recipe uses a good amount of Golden syrup drizzled over the baked cake, which keeps it soft and moist for months, that is, if you can prevent yourself from gobbling it all up in one go!
As you can see, the focus of this recipe lies in the Fruit Mix. The more fruits you choose, the better the flavor, but you can't just throw random fruits in. Using dried fruits is recommended, because fresh fruits bleed into the batter and prevent the cake from baking properly; too much liquid can ruin a cake. So use dried fruits which have a longer shelf life, like raisins, cranberries, cherries, etc. I would recommend King Arthur's Fruit Blend Mix, it has all the dried fruits you need to bake this perfect holiday cake. You can use the leftover fruits to spice up your oatmeal breakfast, or bake more flavorful goodies like cookies and muffins! Also, traditional fruit cakes use some liquor like brandy or Rum to soak the fruit; however, to make this kid-friendly, I used Apple Juice instead. You can choose what you like.

Christmas Fruit Cake
Prep Time: 30 mins (plus overnight for soaking the fruit)
Bake Time: 1 hr 30 mins
Post Bake Time: 24 hours, to leat the cake soak the syrup
Yield: Two standard cake loaves

For the Fruit Mix
2 cups raisins: golden, jumbo, or your favorite type of raisins
1 cup dried cranberries
1 cup dried apricots, chopped
1 cup candied lemon peel
1 3/4 cups candied red cherries
3/4 cup brandy or apple juice

For the Cake
1 cup unsalted butter
1 3/4 cups sugar
1/4 cup light corn syrup
2 teaspoons baking powder
1 teaspoon salt
1/2 teaspoon ground nutmeg
1/8 teaspoon salt
5 large eggs
3 3/4 cups King Arthur Unbleached All-Purpose Flour
1 cup milk
2 cups diced pecans or walnuts, optional
1/2 cup flavored Golden syrup, for brushing on the cakes

Method
To prepare the fruit filling, combine the dried fruits (except the candied cherries) with apple juice or brandy in a bowl. Cover and let the mixture steep overnight, so the liquids are soaked in nicely by the fruits.

Preheat the oven to 300°F. Lightly grease two 8 x 4 inch loaf pans with non-stick spray and keep ready.

In a large bowl, beat together the butter, sugar, corn syrup, baking powder, salt, and nutmeg. Beat in the eggs one at time. Stir in the flour alternately with the milk, and mix well to combine.

At the very end, add the fruit (along with any juices), the candied cherries, and the nuts, Give a final blend with a wooden spoon to just mix the fruits with the batter, do not stir too much.

Spoon the batter into the lightly greased baking pans, filling them three-quarters full. Bake the cakes for 70-90 minutes, depending on the size of the pans; When done, the cakes will be a light golden brown all over, and a cake tester inserted into the center will come out clean.

Remove the cakes from the oven. While still warm, brush them generously with the flavored Golden syrup. Don't worry if it looks too much, the cake will absorb all the syrup very soon, so don't be skimpy, brush as much as you like.

When completely cooled, wrap the loaves with brown paper or parchment paper, and let it rest for at least 24 hours (or for up to a month, brushing with liquor or flavored syrup weekly), so the cake soaks up the syrup and juices properly. Cut into slices and enjoy the holiday flavor, one small piece at a time. Or just roll it out on the dinner table and pass on forks to everyone, then dig in!
Every household has a special tradition that becomes more alive at the times of holidays and festivities. I am sure you have a special Christmas recipe that's special for you for a reason, and I'd love to know about it. And if you are looking for a Fruitcake recipe that will not put you ill at ease, and yet promises to be a cherished creation, then I urge you to try this one, as its definitely a winner!
Related Recipes
Chocolate & Cherry Blondies
Unique Chocolate Truffle Recipes
Chocolate Cake with Strawberry Creme Filling
Chocolate Pinwheel Cookies