Every Saturday is Pancake day in our house. We start off with a delicious pancake breakfast IHOP style, with some cheesy scrambled eggs on the side! And since this is a weekly fare, I try to create different kinds of pancakes so it doesn't get boring, and also try to sneak in some healthy ingredients that would make the morning meal more nutritious for my kiddo. Last week I decided to make some Granola Pancakes. I got a pack of Nature Valley™ Protein Granola in the Chocolate & Peanut Butter flavor, and I have to tell you, though I bought this for my daughter, it was so delicious that I just couldn't stop myself from eating handful of it, right out of the re-sealable pack! I decided to throw this into the pancake batter, I mean seriously, who could go wrong with chocolate and peanut butter combo, right?!
I thought the granola might make the batter a bit heavy, resulting into less fluffy pancakes, but when I adjusted the amount of liquids correctly, I was able to get perfectly round and fluffy pancakes that looked beautiful on the table, adorned with a dollop of butter and some maple syrup.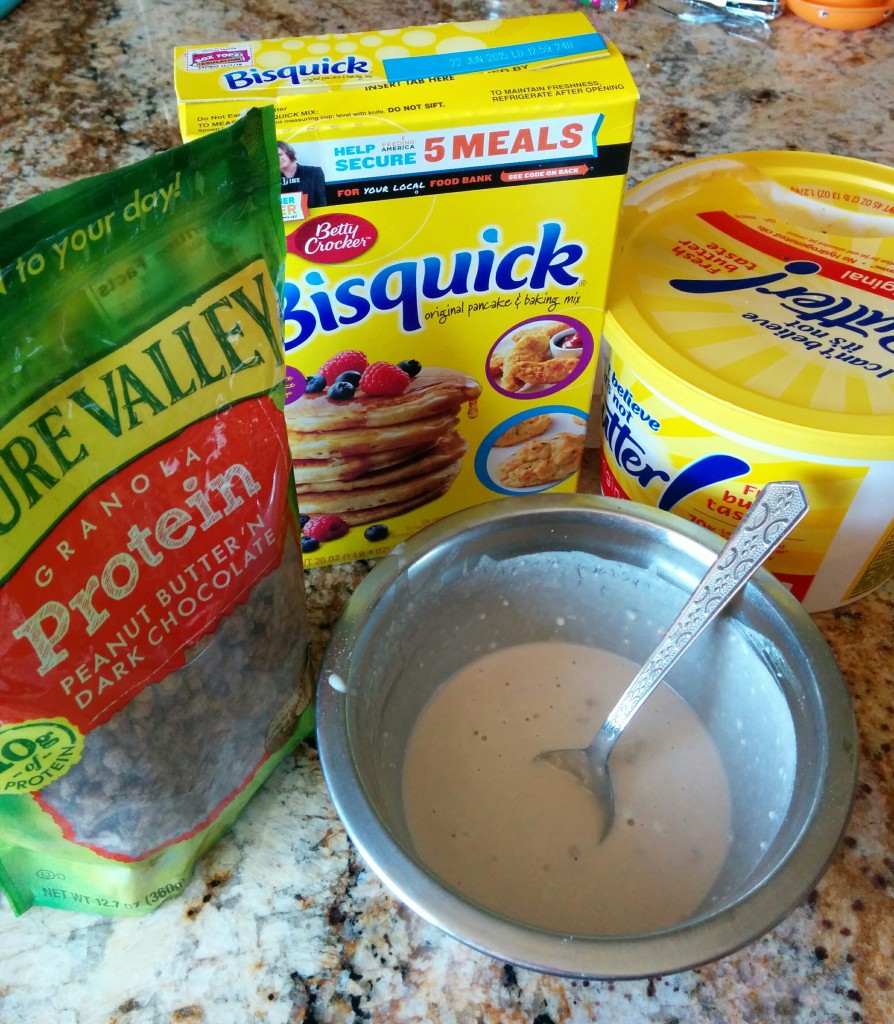 No one could even guess there was Granola inside, not even my daughter, up until the time when she took a couple bites and started feeling the texture! Not that I wanted to hide it – we all know how healthy Granola is. Nature Valley™ Protein Granola contains at least 10 grams of protein, and a good percentage of calcium, fiber and iron, all wrapped up in the form of clusters of whole grain oats, dark chocolate nibs, and a touch of peanut butter. The description itself is so delicious, you can guess how divine it actually tastes! Seriously, it's so addictive, you won't be able to stop yourself from eating more and more.
Besides these delicious pancakes, here are a few more ways to add more protein to your daily diet:
Sprinkle it on your morning cereal or oatmeal
Add some to your smoothie or milkshake
Add a handful to your baked goodies like cakes and muffins
Make your own granola bars, add some dates and nuts for added nutrition
Top your favorite yogurt with granola and fruits and make a customized parfait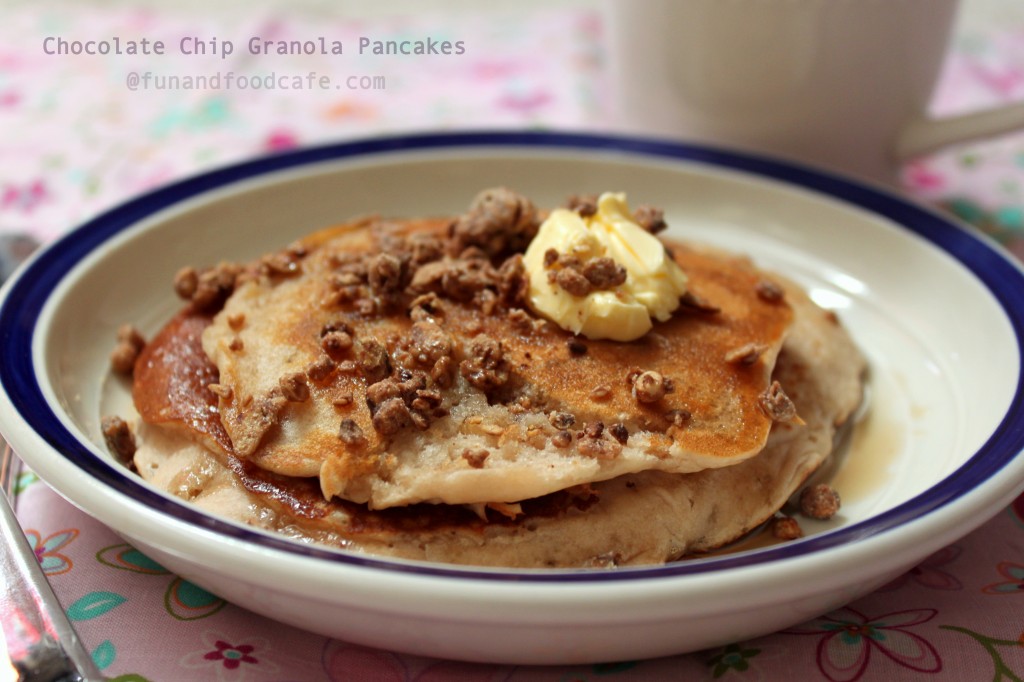 And if you still need more inspiration, try these Betty Crocker Granola Recipes For now, here is the recipe for these lovely pancakes.

Chocolate Chip Granola Pancakes
Fluffy pancakes with crunchy peanut butter granola and ooey-gooey chocolate chips make this a winning breakfast recipe
Author:
www.funandfoodcafe.com
Ingredients
1 cup Bisquik pancake mix
5 tbsp milk
1 tbsp oil
2 tbsp Nature Valley™ Protein Granola (I used Peanut Butter & Chocolate flavor)
2 tbsp semi-sweet chocolate chips
Directions
Sift the pancake mix to remove any granules.
Then add all the ingredients to it and stir well to combine.
Mix well to make it nice and fluffy.
Heat a griddle on medium heat.
Once its hot, pour a ladleful of the mixture and let it spread. Cook on one side till you see bubbles form on the top. Then flip it over and cook for another few seconds.
Serve hot, sprinkled with some more granola on the top, some maple syrup and a big dollop of butter.
As you can guess from the pics, these pancakes turned out to be much better and tastier than I had imagined! The granola definitely added a special touch to the recipe. It was like adding crunchy mix-in to a fluffy pancake. You have to try this to believe me, and if you do, please come back and let me know how much you liked it.
Disclosure: This post was sponsored by Nature Valley™ through their partnership with POPSUGAR Select. While I was compensated to write a post about Nature Valley™ Protein Granola, all opinions are my own.
Disclaimer: 1/2 cup Nature Valley™ Protein Granola provides 10 grams of protein and 22-26 grams of whole grain, at least 48 grams of whole grain recommended daily