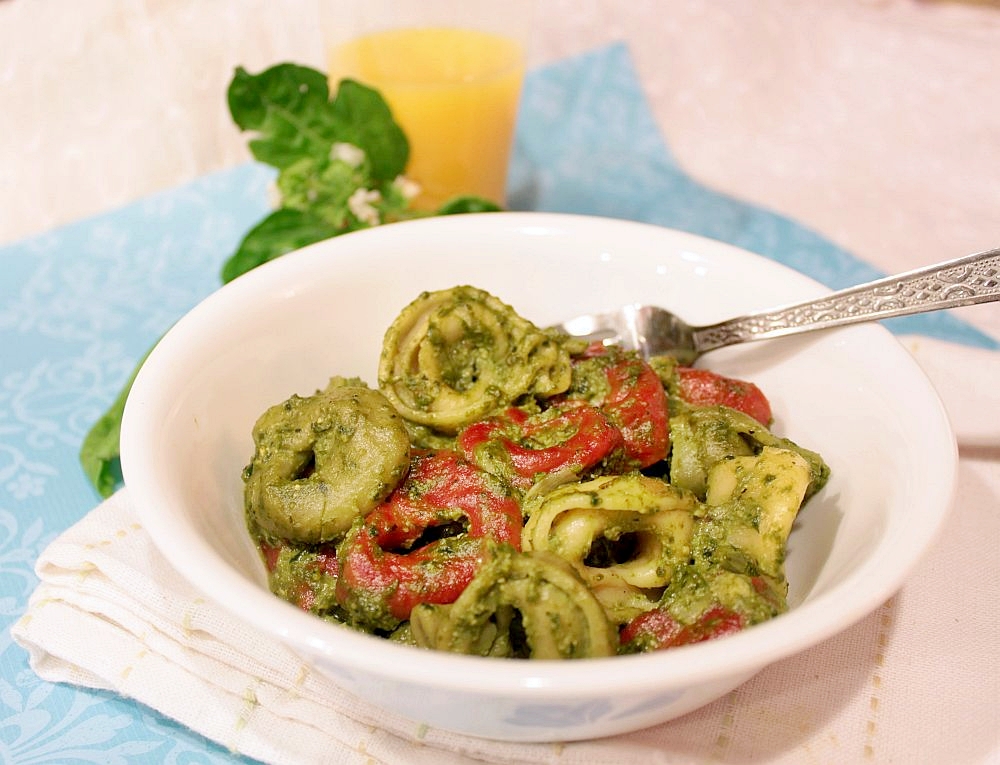 Cheese Tortellini in Creamy Pesto Sauce
Cheese Tortellini is as interesting and as twisted as its name! Delicious blends of cheese entwined between pasta dough makes it a hearty comfort food, and when you mix it with a freshly made Pesto sauce, it turns into one addictive recipe. I grabbed a large bag of colorful cheese tortellini from Costco last time, which I am going to be using for a few months, I am sure. This is how the first attempt fared out – Tortellini served with Creamy Pesto sauce, a perfect Pasta dinner that is absolutely comforting, especially on chilly winter evenings. The colorful tortellini makes it a favorite among kids too, and yes, it has been approved by my 2 and a half year old. Use a store-bought Pesto sauce, or take some time and make fresh Pesto at home. it tastes and smells so much better than the jarred one that it will be well worth your time. Store the extra sauce for a few days and use it to make yummy pesto sandwiches the next day!
Tortellini is a circular pasta that is lined with the filling and finally pinched together to create a circle. It is mostly stuffed with meat, cheese, or vegetables, just like a Ravioli. However, its recommended to serve tortellini with a light sauce, simple or cream-based, so it only coats the pasta and let's the flavors of the stuffing to come through in every bite. I didn't want to serve my Cheese tortellini with a cheese sauce, so I opted for a healthier but more delicious Pesto sauce. Pair it with some garlic bread and Red Wine for a delicious Italian meal, and light up some candles to create a nice romantic effect. That is exactly what we did, of course, after feeding it to my toddler and putting her off to bed. Yes, it was a late dinner, but it was well worth it!
Cheese Tortellini in Creamy Pesto Sauce
Prep Time: 20 mins
Cook Time: 20 mins
Serves: 4-6

Ingredients

For the Pasta
1 lb frozen multi-colored cheese tortellini
2 tablespoons butter
1/2 cup milk (2% is fine)
1 (8 ounce) package cream cheese
6 tablespoons pesto sauce (recipe below)
salt & pepper (add to your taste)
1/2 cup parmesan cheese, grated
splash of white wine (optional)

For the Pesto Sauce
3 cups packed fresh basil
1/2 cup parmesan cheese
4 cloves of garlic, minced
1/4 cup pine nuts
1/2 to 3/4 cup olive oil

Method

To make the Pesto Sauce, add all the ingredients into a blender, and start blending on low speed as you keep adding olive oil slowly through the spout. Scrape down the sides to incorporate everything. Use as much oil as required to make a smooth paste. You can always make your sauce a day or two in advance and store it in the refrigerator. However, do not keep it longer than 3-4 days, as fresh Pesto sauce does not have a long shelf life.

Heat a bowl of water and toss in the Cheese tortellini. Add a pinch of salt to the water, and let it boil and cook as per the package directions.

While the tortellini is cooking, heat the butter in a wide pan. When it melts, add 1 tbsp of flour and the milk and whisk quickly to make a smooth creamy sauce. Add the cream cheese and mix well. Also add salt and pepper according to your taste.

Add the pesto sauce until blended nicely, then add the coked tortellini and let it simmer for a few minutes, so the sauce coats the pasta all over. Remove it off the flame, and pour it in a serving dish. Add a splash of white wine if using, and top with some more grated parmesan cheese.
Related Recipes
Spaghetti with Vegan Meatballs
Bruschetta with Roasted Tomatoes & Lima Beans
Asparagus & Roasted Red Pepper Tart