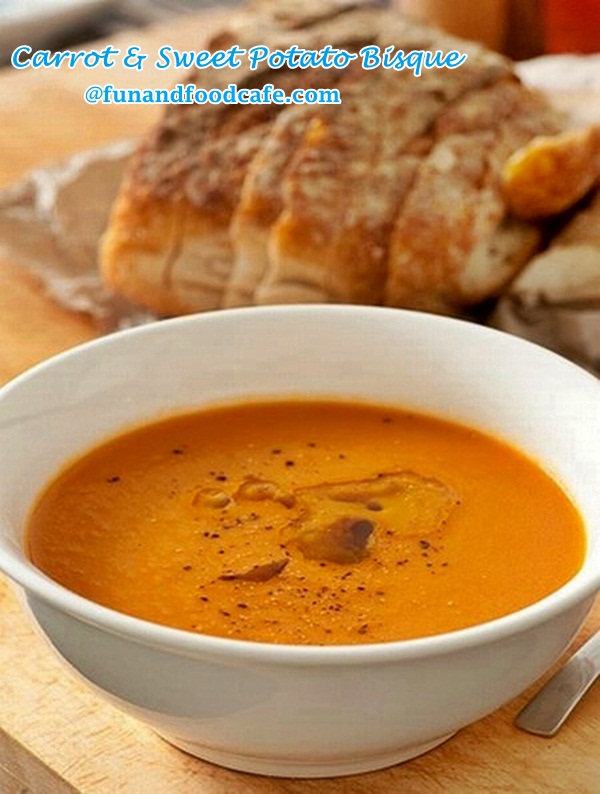 The days are getting even more chilly than before. With temperatures shooting to -40 degrees in some parts of US, I am sure most of us want to just lock ourselves indoors, crank up the heater in the house, and cozy up with a favorite book and a cup of coffee or a bowl of heart-warming soup, right! This Sunday, we took our weekly trip to the Farmer's Market – it's always refreshing to see all fresh fruits and veggies in the market. They are always a cut above the ones you pick from the grocery stores. Plus they look much more inviting with a bunch of green leaves sticking out of them, gives you a feel that you yourself have plucked them out of the farm!
I got a bunch of fresh carrots, sweet potatoes and beetroot – the staples in our family, especially now that I have a 6-month old who just started solids, and loves eating carrots and sweet potatoes! The carrots from the farmers market even taste better – they have a sweeter and more grassy taste, and no doubt they even look more colorful, firm and full of life, compared to the ones at the grocery store.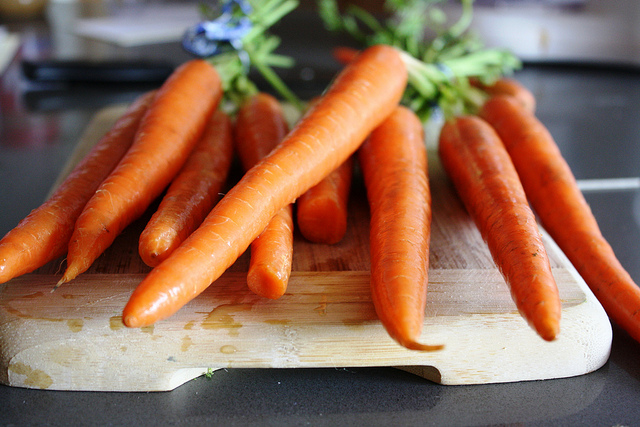 When I was making carrot puree for my infant, I decided to go ahead and make some warm Carrot & Sweet Potato Bisque for the whole family too. it would be perfect for the weather outside that was steeping into the 30's, definitely cold for the spoilt Californians out here! I like my soups to be thick and creamy, but I don't like adding artificial thickeners like cornflour, sour cream or too much heavy cream. So I added one white potato to the recipe – this helps thicken it a bit. I also added some Garam Masala to give it a spice kick. but you could add Curry powder or All-Spice mix if you like. Simple, fresh, flavorful and healthy, this is one of those recipes that you will keep coming back to, again-and-again!
 

Carrot & Sweet Potato Bisque
A heart-warming and creamy soup made with carrots, sweet potato, ginger and cinnamon. Garnish with some cilantro and garlic croutons, then serve it with buttered toast on the side as a delicious comfort food on cold winter days.
Author:
www.funandfoodcafe.com
Ingredients
3 tbsp butter
2 tbsp olive oil
1 cup chopped sweet onion
5 cups vegetable stock or water
1½ cup diced carrots
1½ cups diced sweet potato or yam
1 medium-sized potato
1 tbsp freshly grated ginger
½ tsp cinnamon
2 tsp garam masala
5-6 cloves of garlic
2 tbsp heavy cream
Salt and Pepper to taste
finely chopped cilantro, optional for garnish
garlic croutons and buttered toast, to serve
Directions
Take a pressure cooker or a large crock-pot and heat the olive oil for 1 minute. Then add the onions and garlic, and saute for about a minute.
Now add the chopped carrots, sweet potato and potato, and saute for another couple minutes.
Add the spices and butter, then add the water. Cover the pot and let it boil until the veggies are totally cooked through. If using a pressure cooker, put on the lid and the whistle and cook for 3 whistles.
Remove from heat, transfer to a blender and make into a fine puree. Add more water if needed to achieve your desired thickness for the soup.
Transfer to a serving bowl and add the heavy cream to make it smooth and creamy like a bisque.
Garnish with some finely chopped cilantro and garlic croutons, and serve with buttered toast on the side.
I love the taste and texture of this soup. it is smooth and creamy, yet has a bit of bite to it, thanks to the carrots. The lovely orange color adds to the charm. We love eating this with some buttered toast on the side – you can use hard, crusty bread like Ciabatta. To add more flavor, garnish it with some finely chopped cilantro, or drizzle some more olive oil and pepper on it, or add a dollop of butter for the kids.
If you liked this recipe, do check out Karina's Glutenfree Curried Carrot Soup – she serves it with her homemade cornbread croutons. And Joy The Baker adds coconut milk to her Carrot Ginger Soup, and she serves it with yummy Kale chips! Perhaps I will try that next time, because I love coconut milk!