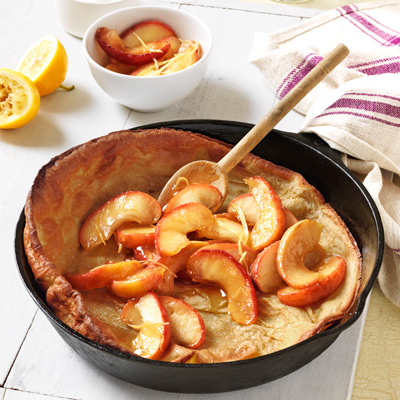 When it comes to Breakfast pancakes, most of us resort to a packaged mix, or one of our staples like Blueberry Pancakes or Banana Pancakes, for a quick turnaround. However, weekends tend to be a bit more relaxing, so you can take your time to revamp a favorite pancake recipe, perhaps use some fresh seasonal fruits to pump it up, and instead of going for individual pancakes, how about whipping up a big batch of batter, then using a cast-iron skillet to bake your pancake in the oven, rather than sweating yourself over the stove? After all, you deserve a break too on the weekend, right?!
The classic Apple Pancake recipe gets a big makeover here, by baking it in the oven in a skillet, rather than cooking individual ones, perfect for a family breakfast. And the topping of caramelized apples only adds to enhance its flavor. I got the recipe from Woman's Day magazine, and altered it just a bit, by replacing lemon juice with some orange juice, and adding a hint of cinnamon and nutmeg to my caramelized apples, along with ginger. I also let the apples cook a little longer, because I like them a bit mushy, more like marmalade, or Apple Butter. But you can choose to keep it chunky, or just cook enough to soften the slices. And finally, while serving, I decided to sprinkle some chopped pecans on the top, because I love pairing nuts with my fruit. Again, its your choice, so take it or leave it, just as your family prefers!
Recipe adapted from WomansDay magazine. Photo by Johnny Valiant.

Caramelized Apple Pancake
Make a delicious family-style pancake for everyone to share. Top it with juicy caramelized apples, a touch of ginger and vanilla, and maybe a dusting of confectioner's sugar. You won't even need any syrup to enjoy this pancake!
Author:
www.funandfoodcafe.com
Ingredients
2 large eggs
¼ cup whole milk
¼ cup all-purpose flour
1 teaspoon pure vanilla extract
¼ teaspoon kosher salt
¾ cup + 1 tablespoon granulated sugar
3 tablespoon unsalted butter
4 Gala apples, cored and cut into ½-inch-thick wedges or chunks
1 tablespoon fresh orange juice
1 piece of fresh ginger, chopped finely
a pinch of freshly powdered nutmeg
a pinch of ground cinnamon
Confectioners' sugar, for serving
Directions
Heat oven to 425 degrees F. Place a 12-inch cast-iron or oven-safe skillet in the oven to heat up. This is the skillet you will use to bake your pancake.
In a blender, purée the eggs, milk, flour, vanilla, salt, and 1 tablespoon granulated sugar until combined, then set aside.
Carefully remove the pre-heated skillet from the oven and add the remaining 1 tablespoon butter. Once the butter has melted, pour in the batter. Return this to the oven and bake until puffed and golden, about 10 to 12 minutes.
In another large skillet, melt 2 tablespoon butter over medium heat. Add the apples and cook, stirring occasionally, until the apples are just beginning to brown, about 2 minutes. Add the remaining ¾ cup granulated sugar. Stir in the lemon juice and ginger. Cook just until the apples are tender and the juices slightly thicken, 5 to 6 minutes. The sugar starts browning, but should not burn.
Transfer the cooked pancake to a plate, spoon the caramelized apples over the pancake and sprinkle with confectioners' sugar. Serve immediately, with some hot melted butter on the side, for extra indulgence.
Pancakes are highly versatile, and that is the reason they are such a big favorite with crowds of any age! Plus, it is also a great way to incorporate fresh fruits and ingredients into your morning breakfast, which by far, is the most important meal of the day. So go ahead and try this giant family-size pancake baked in the oven. You can top it with any fruit compote that you like. Berries, Apples, Bananas, Pears, Persimmons, Plums or other stone fruits – all will work well with this recipe. Do let me know which one turns out to be your favorite!
Related Recipes
Quick & Easy Apple Crisp (Crumble)
Chocolatey Apple & Peanut Butter Sandwiches
Healthiest Apple Muffins on Earth