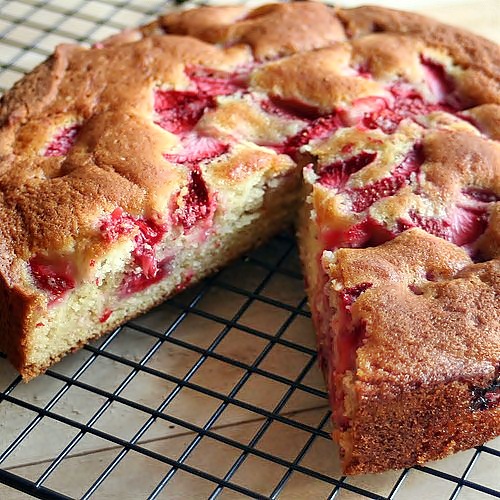 Strawberry Buttermilk Cake
Strawberry Season is almost coming to an end, and cherries are fast replacing the fresh produce in Farmer's markets. So for a one last fling before the strawberries start disappearing, we tried this simple delicious and extremely moist Strawberry Buttermilk Cake which has a fresh fruity flavor to it. Adapted from an original recipe for Raspberry Buttermilk Cake, featured in the Gourmet Magazine, this is a versatile recipe for baking an Eggless Cake, and you can substitute the strawberries with any other seasonal berries that you like – raspberries, blueberries or goji berries would be great, I think.
There's a reason you use Buttermilk in this recipe. Whenever you want a light and airy texture in a cake, more dense than spongy, but still moist, you might want to consider using buttermilk instead of milk (if your recipe calls for milk). Because buttermilk contains more acid than milk, remember to add 1/2 tsp. of baking soda for each cup of milk you use. Buttermilk is great for eggless baking, and it also balances the sugar in the cakes to produce richer, denser and more flavorful cakes.(Photo by whitneyinchicago) I'm sending this lovely cake to Stephfret, who's asking for cozy Elevenses recipe treats. More details on her blog!
Buttermilk Recipe
You can use store-bought buttermilk – make sure it is not too sour. But if you cannot find it, you can always make your own Buttermilk at home.
Take 1 cup of milk and add 1 Tbsp. of lemon juice or vinegar to it. Let it stand for 5 minutes, and then stir well to get homemade buttermilk in minutes!
Easy Strawberry Buttermilk Cake

Ingredients
1 cup all-purpose flour
1/2 teaspoon baking powder
1/2 teaspoon baking soda
1/4 teaspoon salt
1/2 stick unsalted butter, softened
2/3 cup plus 1 1/2 tablespoons sugar, divided
1/2 teaspoon pure vanilla extract
1 large egg
** Use 1/2 cup buttermilk instead of the egg as an alternative
1/2 cup well-shaken buttermilk
1 cup fresh strawberries (about 5 oz)

Method
Preheat oven to 400°F, placing the rack in the middle. Butter and flour a 9-inch round cake pan and keep ready.

Whisk together the flour, baking powder, baking soda, and salt.

Beat butter and 2/3 cup sugar with an electric mixer at medium-high speed until pale and fluffy; this should take about 3 minutes, then beat in the vanilla. Finally add the egg and beat well for another 2 minutes.

Switch the mixer setting to low speed, mix in flour mixture in 3 batches, alternating with buttermilk, beginning and ending with flour, and mixing until just combined. Remember, do NOT overbeat.

Fold in half of the strawberries into the batter. Spoon the prepared batter into the cake pan, smoothing it on the top. Scatter the remaining strawberries evenly over the top and sprinkle with remaining 1 1/2 Tbsp sugar.

Bake until cake is golden and a wooden pick inserted into center comes out clean, roughly about 25 to 30 minutes. Cool in the cake pan for 10 minutes, then turn out onto a wire rack and allow to cool completely. Invert it onto a serving plate.

Using a knife warmed by placing under hot running water, slice the cake into wedges and serve. You can also make it fancier by topping it with a dollop of whipped cream, or dusting with some more Confectioner's sugar.
Chef's Notes: I am sure you will love this Strawberry Buttermilk Cake as it is. It is good enough to be enjoyed as a light snack with tea, or for a Sunday morning brunch. But if you want to make it fancy, you can throw in a bunch of walnuts or pecans to the batter, use Buttercream icing on the top, and decorate with some more fresh berries before you serve it to your guests.
For someone who has never used Buttermilk in baking before, its hard to imagine how it would taste. Going by the label, you'd think it would be sour, tangy, or taste "different", right? Well, let me tell you is is a great asset for eggless baking, but even if you are all about using Eggs to make your cakes nice and fluffy, Buttermilk will give you the same results, if not better. It is great for making coffee-cakes, or simple upside-down cakes. It may not be a contender for gorgeous Birthday Cakes, but if you are craving a nice warm Homemade cake, something that you get in a Bed-and-Breakfast inn, then bookmark this Buttermilk Cake Recipe – you will love the way it turns out!
Related Recipes
Strawberry Cake with Meringue Buttercream Frosting
Upside Down Spiced Plum Cake
Ultimate Eggless Chocolate Cake