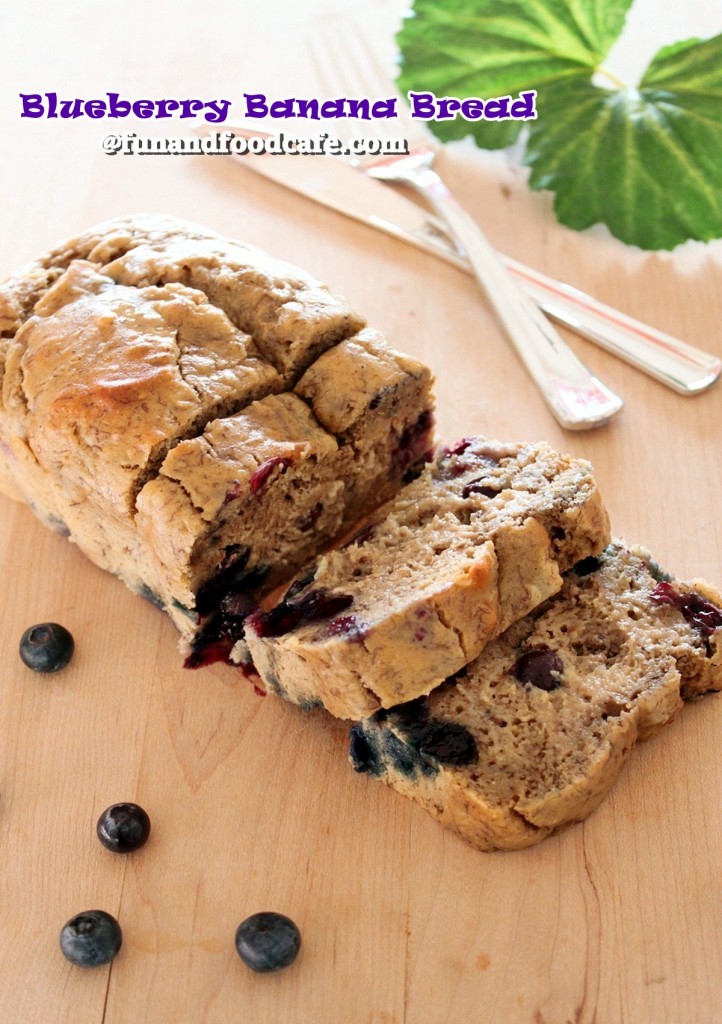 It is customary for most people to bake a batch of Banana Bread when they see a few over-ripe and brown bananas gawking at them. In fact, most people, including me, have a tried-and-tested banana bread recipe that they turn to in times of need! However, this time around, I tried to juggle things a bit, and baked a Blueberry Banana Bread instead. I had bookmarked a muffin recipe some time ago that used Avocados while baking, so I decided to give it a shot. I used part vegetable oil and part avocado flesh to replace the butter called for in the recipe – both of these are healthier fats than butter, and work well in lending form and moisture to the bread.
Berries are still in season, and I chose to use fresh blueberries this time, but I think raspberries would work equally well. Both kids of berries pair well with banana, making this a fresh and fruity quick bread recipe, perfect for Summer! If berries are not in season, you can choose to use frozen berries too, however, be careful to gently fold in the berries at the very last stage of mixing into the batter – do not over mix or smash the berries, otherwise you'll end up with a bread that's mostly stained by the color of the berries. A few colorful splotches look much cleaner and more inviting than a stained bread!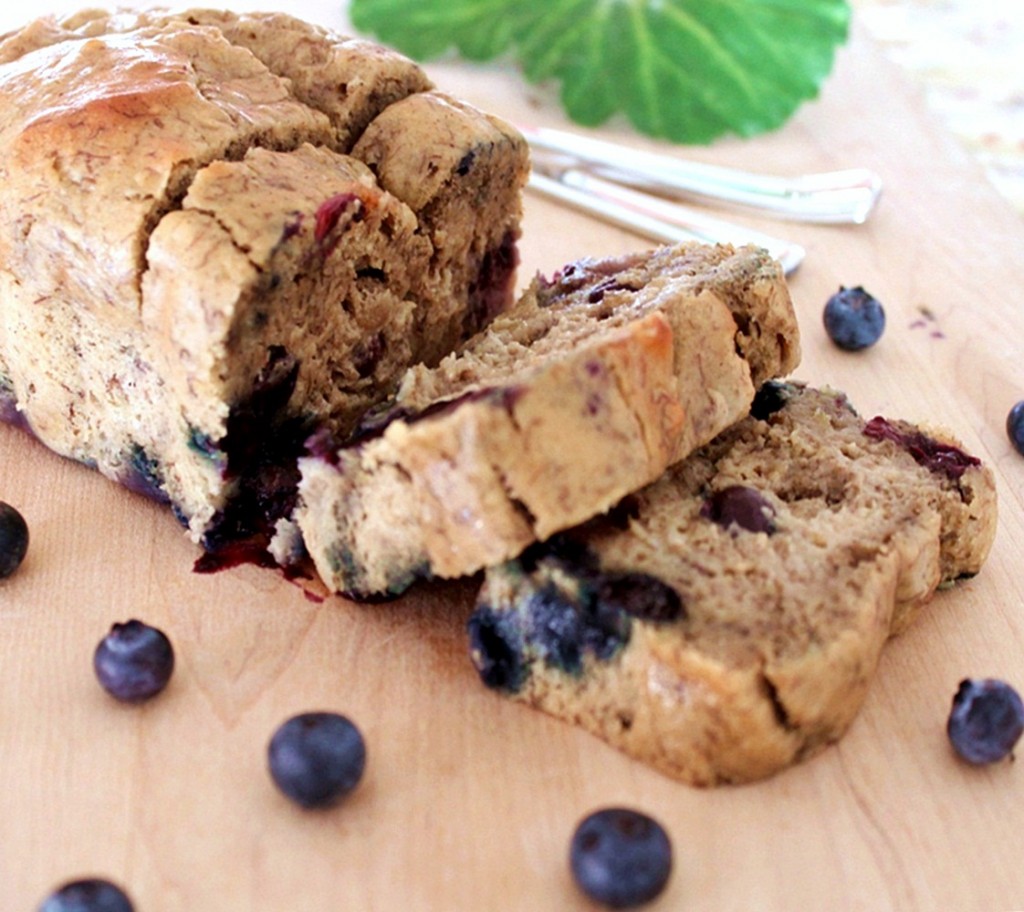 I took a basic Banana Bread recipe and played with the ingredients a bit. I used half whole-wheat flour and half AP flour, omitted the butter and used oil and avocado instead, with a splash of milk, and added some vanilla and nutmeg for a flavor boost. Plus, the smell of freshly grated nutmeg in baked goodies is always appealing, so I'd urge you to try it too, if you haven't already! I have to admit I was a bit disappointed with my first batch, because it turned out a little gooey in a middle. So I increased the baking time a little and the second batch turned out perfect. Unfortunately, I did not have the patience to take pictures twice:) This bread does take at least 50 minutes to bake, give and take some depending on pan sizes, but do not hurry, let it bake thoroughly, until the toothpick comes out clean with just a few crumbs sticking to it. And try pricking in a few spots through the middle of the bread, to make sure it has been baked completely.
Like traditional Banana Bread, this one develops more flavor overnight, and I would suggest refrigerating it by placing in an airtight container or cling wrap, so it stays nice and fresh for at least 5-6 days. Also, you can easily bake these as Banana Muffins if you like, would serve as a great after-school snack for your kids!
Moist Blueberry Banana Avocado Bread
For a fresh fruity twist on banana bread, try this version loaded with blueberries, and I added avocados for healthy fats instead of using butter. Moist and flavorful, it's a must-bake recipe!
Recipe type:
Dessert, Snack, Kid-friendly
Ingredients
2 cups all purpose flour
1½ tsp baking powder
¼ tsp salt
1 cup sugar
2 tbsp vegetable oil
1 avocado - flesh scooped out
2 large ripe bananas, mashed (about 1¼ cups)
1 large egg
1 tsp vanilla extract
1 tsp grated nutmeg
1⅓ cups blueberries
Directions
Preheat oven to 350F. Grease and flour a 9×5-inch loaf pan.
In a medium bowl, whisk together flour, baking powder and salt.
In another large bowl, whisk together the sugar, vegetable oil, egg, avocado, vanilla and mashed bananas until smooth.
Add in flour mixture and stir until just combined, do not beat or over-mix, otherwise your batter will become runny and thin, and the bread will turn out gooey.
Fold in blueberries with a spoon or spatula, then pour batter into prepared pan.
Bake for about 50-60 minutes, until a toothpick inserted into the center of the loaf comes out with only a few moist crumbs attached. Be extra careful and test in a few places, to make sure the bread is not gooey or uncooked from the middle.
Cool bread in pan for 10 minutes, then turn out onto a wire rack to cool completely before slicing.
Adding Avocado was a great decision, I think. It helps make the bread moist and soft, along with providing healthy omega-3 fatty acids, and also eliminating the need to use butter and cutting down on all-purpose flour. I would gladly bake this again, maybe with raspberries next time. What's your favorite banana bread recipe? Check out some more recipes below for inspiration!
More Banana Bread Recipes
Moist Chocolate Banana Bread by Fun and Food cafe
Chunky Monkey Banana Bread by BarbaraBakes
Chocolate & Raspberry Banana Bread by Sally's Baking Addiction
Greek Yogurt Banana Nut Bread by Shiksa in the Kitchen
Gluten-Free Coconut Chocolate Chip Banana Bread by Coconuts & Cardamom