This shop has been compensated by Collective Bias, Inc. and its advertiser. All opinions are mine alone. #TargetToys #CollectiveBias
Toys are an important part of a child's growth and development, and also a friend that they turn to when idle or lonely. As parents, we want to give the best to our kids, and I'm sure each of us has tons of toys stacked in all of our rooms to facilitate structured or imaginary play for our little ones. But while its easy to go crazy and get any new toy on the market, what's worthwhile is to choose maybe 5 best toys that you can buy on various occasions throughout the year, and make sure you spend enough time to research the value of these toys; not just monetary value, but social, developmental, economic and fun-factor as well! So how do you go about searching and seeking out a new Toy for your child? These days, most of the shopping is done online, and though I do go to stores from time-to-time just to get a feel of the actual toy, I do end up buying it online, and I'm sure most of you do the same. But if you are like me, you often find yourself staring at the the Toys page of your favorite online retailer, not sure what you want and sitting there lost and confused about how to proceed! I went shopping for a toy at Target, and I was overwhelmed by all the choices they had!!!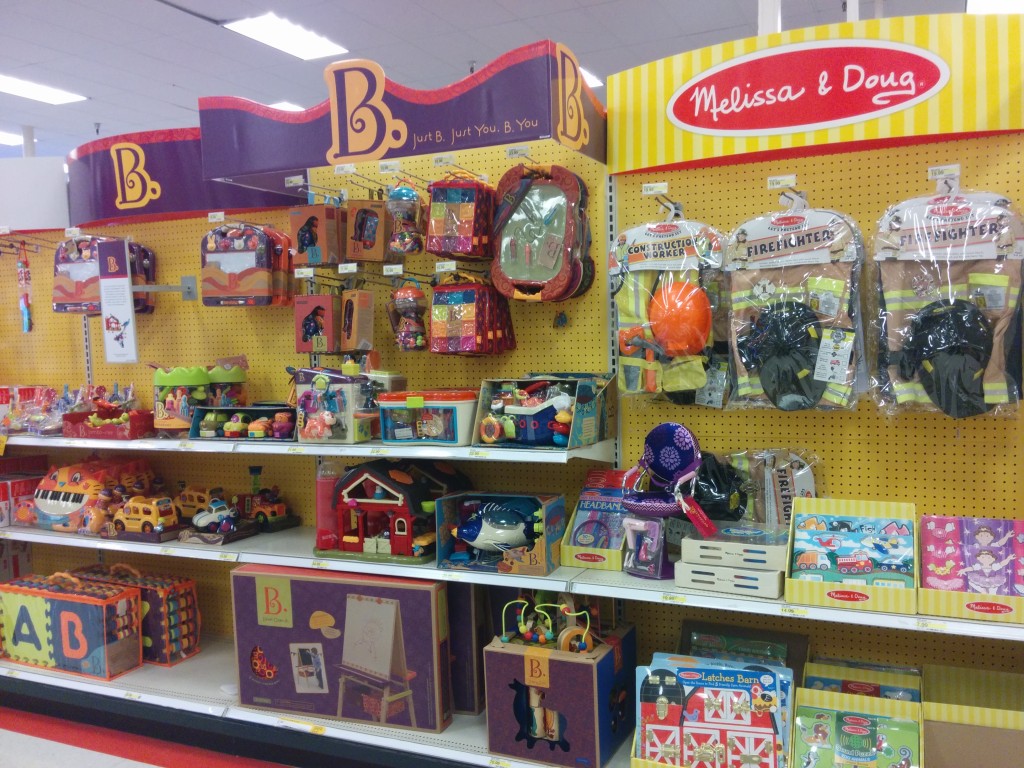 I was looking for a new toy for my 18-month old who loves cars! And I knew I wanted to gift him something that helps him Explore and Discover new ways to do things. But, I also wanted his 5-year old sister to be able to play with him so it can help them build a bond. That's when I settled in on getting him his first remote-controlled car. I checked out a few stores for inspiration, but nothing looked correct, until I saw the B. Whee Remote-Controlled Mini Car at Target. They didn't have the model I wanted in the store, so I turned to the Target Toys Emporium online to order it for him. I loved their shopping experience – the landing page takes you to a list of categories that make more sense than just sorting through age. With categories like Build, Explore, Create, Imagine, etc, you can channel your search into the type of play you want to introduce to your kid, and then sort through the choices based on your child's age group and price, of course. They have a lot of nice toys from specialty brands like B., Hape, Learning Resources and Melissa & Doug, all my personal favorites!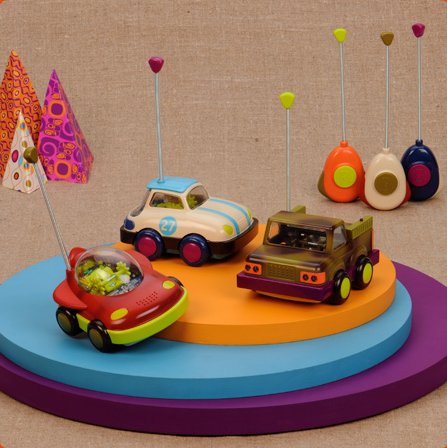 Ever since I saw the Whee-mote Car, I fell in love with it! I loved how cute and exciting it looked. It came in 3 different styles, and it was the perfect size for my little man! As soon as you turn it on, it responds with bright lights and flashy sounds that are inviting, but not too loud! One big button on the Remote controls it all – Car goes forward/backward and can spin round and round, which was the favorite thing for my little one! It is also easy to turn around when it hits a wall, so it doesn't leave my little guy frustrated, and urges him to explore even more! Right from the time it arrived, he grabbed the remote and got working. It was easy for him to figure out the controls in some time, and while he still can't master it, his face lights up when he sees the car respond to his touch. Here he is, exploring the car in more ways than one! As you can see, he is trying to find out what happens when you turn it upside down and squish the antenna:) Or maybe he's trying to remove the batteries! No matter what, I am happy because the toy is tough enough to let him explore and discover in whatever way he fancies!:)
And here's the elder one, enjoying it more than her little brother, as she explores the controls in the right way!:)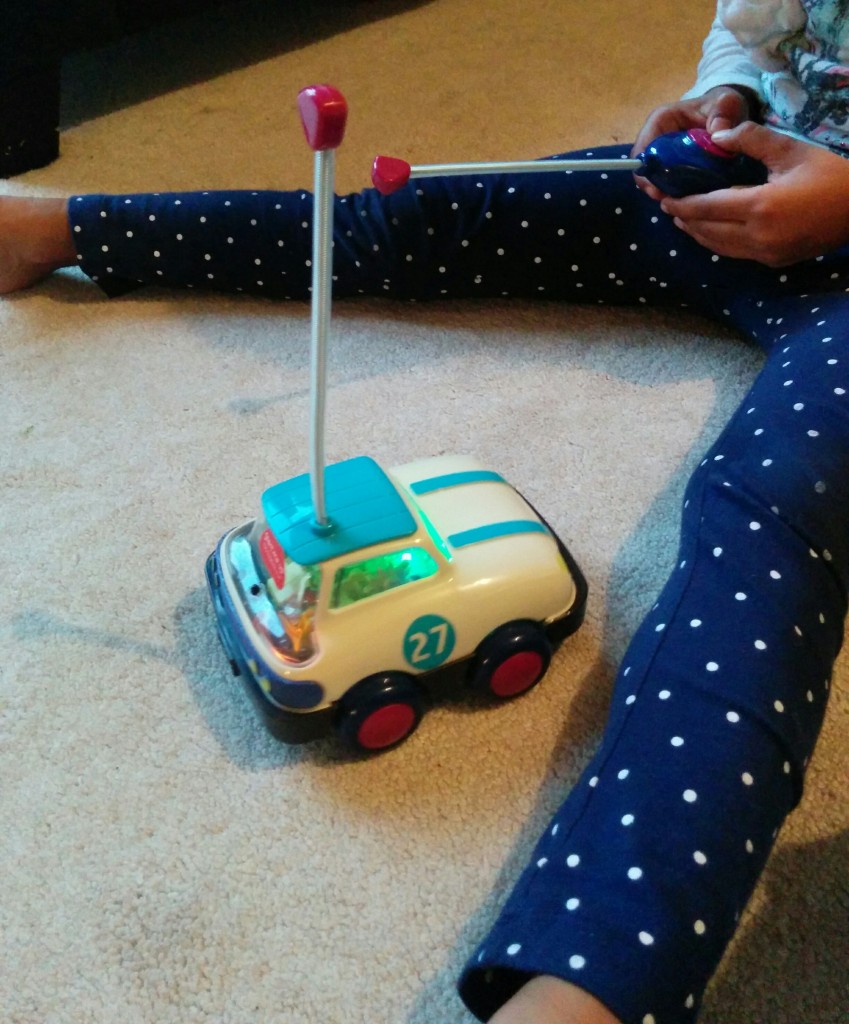 So how do you decide what toy to buy for your child? Here's my 5-point approach that I always use while buying toys online. There can be several factors

Age & Developmental Milestone
This is the first thing I prioritize on. You shouldn't be buying a box of letter blocks for a 6 month old and expect him to be thrilled with it! Choose the toy that's right for his age, based on what you want him to do. Choosing toys which match your kid's developmental milestone is also a nice way to guarantee fun and learning. It will help you evaluate his development and work on age-appropriate skills, plus keep him busy for the times when you want him to entertain himself on his own.

Educational Value
Toys bring children enjoyment, but they are also able to provide educational value for your young child. For children who need practice with fine motor skills, choose toys that require small movements and control like blocks that click together or a set of stacking cups. For a kindergartener who is learning how to spell, a Phonics game or a Fill-in-the-missing-letter Spell-It game would be perfect. Visualize how your child would play with the toy to determine the educational value it offers, and select something that promotes education in a fun, sustainable way.

Price Factor
Something that cannot be ignored, once you have narrowed down on the type of toy, filter it through your price range to select toys that fit your budget. If you filter by price first, you might miss out a toy that fits your category but costs a couple bucks more, and I'm sure you don't want to do that. Select at least $10 higher than your upper limit so you can see what's available for a few more dollars, and make an informed decision about how much you will spend to get what is more meaningful based on the other evaluation factors.

Safety First
Any toy can look like fun, but if its not safe, that will turn out to be the biggest mistake of your life. Make sure you buy toys from trusted retailers and still check to make sure they are BPA free, lead-free. etc. Also consider the size of any lose parts that could be a choking hazard. Also look at how the toy is made. Poor construction increases the risk of a small part popping off while your child plays with the toy, so make sure it is strong, durable and safe.

Repeat Play & Sustainability
Last but not the least, you are paying hard-earned money for the toy, so you want to be sure you can get at least a few years out of it! Most toys in the market look very attractive and fun, but they give away after a few hours of play, and you are left with a crying child who is devastated to have lost his favorite buddy! Don't let that happen to you. Also, invest in a toy that has a long-lasting value, not something that you child plays with one or two times and loses interest, leaving it in the garage to gather dust. I understand kids need variety at a growing age, but try to buy toys that that will like to come back to after a break. Any toys that fall in the Build & Explore category usually fit the bill, because you can do numerous things with them, along with fostering imaginative play. So try to choose toys that have a repeat value so you kids can enjoy them again and again.
I think Target is a great place to pick out toys for your kids, thanks to the new cool Online Toy Emporium which has a nice variety of educational toys that keep kids interested, fulfill their needs and yet and grow with them to keep it challenging and exciting! If you are looking for some gift ideas as the Holiday season approaches, then check out their Pinterest board for ideas and inspiration #TargetToys #CollectiveBias
Related Articles
The best board game for a Kindergartener
7 Online learning resources to teach Math to your kids
Which kind of a Disney Princess are you – take this quiz to find out