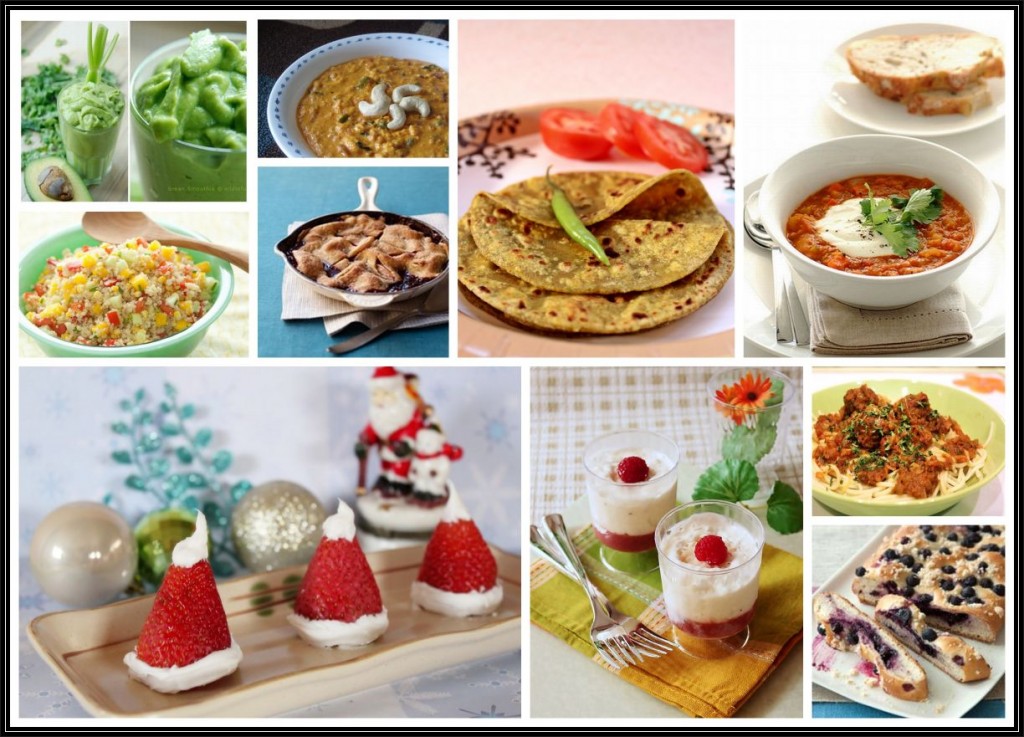 Best Recipes of 2011
I know I might be a bit late in posting this collection, but hey, it was Holiday season, and I'm still taking it slow. Blogging was definitely not the priority last few days, so as we gear up to kick-off a splendid 2012, I thought it would be good to look back and reminisce about a few of my cherished recipes that left an impression last year. Its never easy to choose your best posts, its like playing favorites with your own kids, so I decided to compile a list of posts that were special for one or more reason, either it was a new recipe that I tried and it became an instant hit, or some old one which got a dose of makeover with a little innovation, or something new and unique that I tried off the web and it became a family favorite. Most of 2011 was marked with toddler-friendly stuff as Ritika grows up and starts exerting her voice, and her taste-buds! But whatever may be the reason, I think these recipes below are a bit closer to my heart than the others, so I'd like to share these with you, thinking you would try them and experience the same feelings of fulfillment that they served to me and my family.
Healthy & Colorful Quinoa Salad
I was never an ardent Quinoa fan, but I knew that it was a great source of protein, fiber and many more healthy nutrients that would do a ton of good to my body.So when I discovered and tried this amazingly simple and beautiful Quinoa Salad, I knew I had hit a jackpot. With flavors of mango, walnuts, cucumber and corn, all mixed together with the super soft and fluffy Quinoa, this is one salad that you'll love to get your hands on!

Strawberry Santa Hats
I had to add these to the list, not only because they are super easy and super cute, but also because they have a special memory associated with them. My 2 and a half year old daughter helped me make these hats so she could woo Santa to bring more gifts! As for me, Santa already gave me a beautiful gift in the form of my daughter, and I'll gladly keep making goodies for him for this precious gift, year after year!

Broccoli & Green Pea Parathas
Parathas or Flatbreads are a staple in most Indian households. But these days, the recipes made in my kitchen are governed by the likes and dislikes of a cheeky toddler who is in the phase of trying to exercise her rights and voice her opinions whenever possible! So to find a balance between good-looking toddler-acceptable food and healthy nutritious food, I developed this simple recipe featuring Broccoli and green peas. Try it, because I'm sure you'd love it!

Blueberry Focaccia
Never in my dreams did I imagine that Focaccia could be sweet instead of savory, but this lovely recipe proved me wrong. The soft and chewy Italian-style bread baked with a layer of fresh blueberries on the top is a perfect breakfast treat, or as an easy culmination to a meal. Pair it with some ice cream and you have a creative dessert on your hands.

Paneer Masala with Kaju (Cashewnut) Gravy
Some would say there's nothing special about this Indian curry; its just Paneer simmered in thick creamy gravy that has cashews as a base. But let me tell you, the star ingredient here, besides paneer and cashews, is the deadly combination of Star Anise and Kasuri methi, which flavor the kaju curry so well, that you can easily impress guests and have them licking their bowls! A bit of innovation goes a long way, and I love the rich and comforting taste of this Indian recipe that will win hearts all over.

Apple & Blackberry Skillet Pie
I always thought baking Pies was a lot of work, especially if you had to make the pastry dough yourself. But when I discovered this amazing Apple pie which was made from start to finish in just one cast-iron skillet pie, I was drawn towards it like crazy. And let me tell you it turned out great! The pairing of Apples and blackberries was also new for me, but I loved the combination, and to think that you can just get pre-made pie crust and drop it over mashed fruit in a skillet, then toss the same skillet in the oven and you'll end up with a delectable pie – isn't that downright awesome!

Spaghetti with Vegan Meatballs
I have been a Vegetarian all my life, but I haven't ventured much into the vegan world, so when I picked up a bag of vegan meatballs from Trader Joe's on an impulse, I wasn't sure how I'd be using them at home. On one freaky weeknight when I had nothing in my pantry that could be used to cook a traditional dinner, I turned to spaghetti, marinara sauce and my vegan meatballs. But I have to say, this was the quickest and most satisfying Pasta recipe I have cooked to day!

Lentil & Mixed Vegetable Soup
Dal and lentil curries are a common Indian household name, but this Red lentil soup has become my recent favorite, one, because it has a lovely flavor of cumin, ginger and lemon, and second because it contains a healthy combination of other veggies like celery, carrots and more which make it a meal in itself. Enjoy it with rice or chapatis for a comforting Indian meal.

Rose Phirni (Rice Pudding) with Mixed Berry Sauce
Sometimes, the chef in you comes up with such a brilliant flavor combination that you know its going to click, even when you haven't made it yet. I love experimenting with flavors, so I was sure this East meets West dessert of Rice pudding, flavored with Rose essence and layered in a glass with a spiced mixed-berry sauce is going to be sensational, right from the time I conceived it in my mind! needless to say, it was an instant crowd-pleaser, and is now a family favorite.

Green Smoothie
I always knew Green Smoothies were healthy for you, but I never got around to making one, until last year, when I got a magic Bullet as a gift, and I was inspired to make my first green smoothie recipe. You can customize it to suit whatever fruits and veggies you like, I found spinach paired with cucumber, avocado, banana and almonds to be my preferred choice. You should definitely include this at least once a week in your diet to maintain a healthy and balanced body.
I hope you liked this collection of my Best 2011 Recipes. Last year has been phenomenal, as we also got a new look and design for Fun and Food Cafe. I have several new ideas for recipes and more, numerous promotions and giveaways lined up for this year. I want to thank all of you for being ardent supporters of my efforts here at FFC, and I look forward to a fantastic 2012!