Berry Tartlettes with Rosewater & Lavender Mascarpone Cream, made using Puff Pastry sheets
This Saturday, the temperature shot into upper 90's and we had to turn the air-conditioners on in full blast! Looks like Summer is finally showing its true colors, and while we crave to keep it pleasantly cool in the household, there's one place that's burning with heat, yes, my kitchen! The oven is turned on pretty much every other day, trying to bake goodies from all the Summer bounty that we have collected, mainly fresh Berries. Seriously, its been so hot over the past few days that I fear the fruit would wilt and spoil in a few days, even thought its protected in its icy refrigerator shell, and I am in no mood to see my freshly-picked berries dying in pain! So I'm whipping up new recipes to enjoy this sweet Summer bounty before it becomes scarce!
Last week, I toyed with the idea of making a Fresh Berry pizza, but when I found a packet of dried lavender buds in a specialty food store, I decide to buy it and pair it with something creamy to make a quick and elegant dessert, just in time for Father's Day! Frozen Puff pastry was an easy choice to make the tart shells, and I opted for Rose-Water and Mascarpone Cheese to make an aromatic layer of cream for my puff-pastry tartlettes, that were going to be adorned by sweet & citrusy berries to make a perfect mini Berry Tartlette!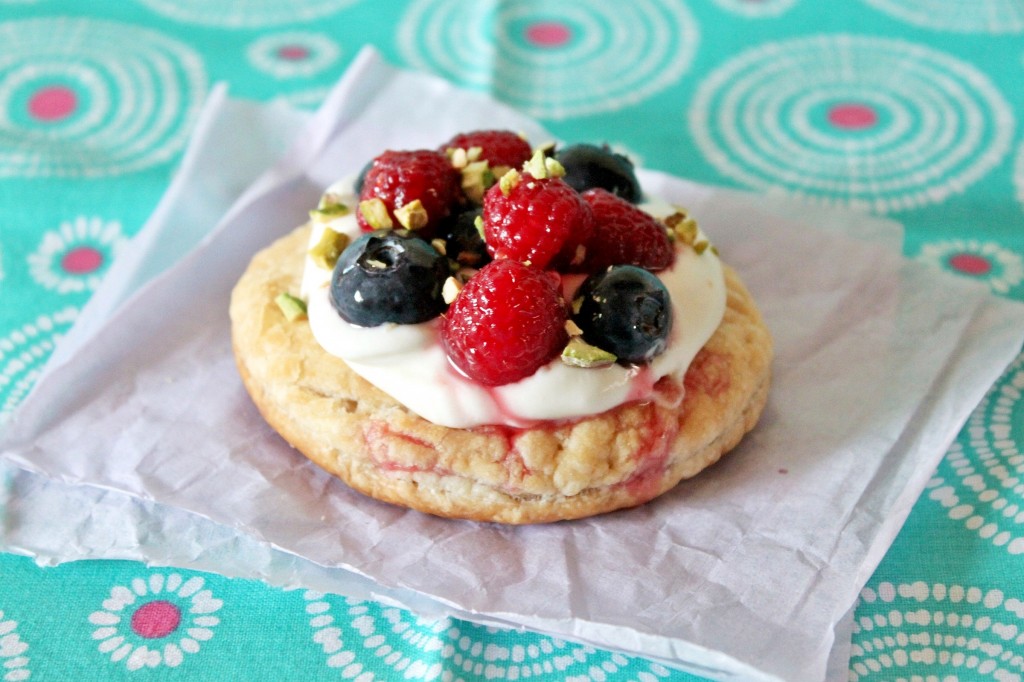 Remember, lavender has a very strong smell and is highly potent (especially dried lavender), and adding too much of it to a recipe can prove disastrous by making your recipe bitter, so just use a very small amount, and add more as necessary. but the same is not true for rose-water. it has a heady but delicate smell that grows as it macerates, so make your cream ahead of time and refrigerate for at least 20 minutes or so to get the best flavor possible. As for Berries, they are sweet by themselves, and I wanted to capture their natural flavor, but I did add a hint of orange zest and a tbsp of maple syrup to make them sweet enough. The pistachios on the top added a beautiful crunch and a contrasting color effect, thereby making it a truly incredible and special dessert!

Berry Tarts with Lavender Rosewater Mascarpone Cream
Berry Tartlettes made with puff pastry sheets, then layered with fluffy Rosewater & Lavender Mascarpone Cream, and topped with macerated berries
Ingredients
1 pound puff pastry sheets
2 cups berries, washed, dried & chopped (if necessary)
3 tbsp + 1 tbsp tbsp maple syrup
½ tsp lemon or orange zest
2 cups Mascarpone cheese
2 tbsp rose water
1 tsp dried lavender buds
1 handful pistachios (chopped)
Directions
Take the berries in a bowl, sprinkle them with the orange zest and add 1 tbsp maple syrup.
Toss them to coat evenly and let them macerate in the refrigerator until ready to assemble the tarts.
Take the Mascarpone cheese in another bowl. Add the maple syrup, rosewater and dried lavender seeds to it. Take an egg-beater and whip the mixture until it becomes fluffy and creamy. Keep it in the refrigerator until ready to assemble the tarts.
Thaw the puff pastry according to package directions. Roll the puff pastry out into a large rectangle on a lightly floured surface.
Take a cookie cutter of your choice and carve out mini tarts on the puff pastry as desired. You should be able to get at least 8-10 mini tartlettes from both the sheets.
Preheat oven to 350 degrees F. Take a cookie sheet lined with parchment paper. Transfer the mini tarts to the cookie sheet. Bake the puff pastry tarts for 15-20 minutes, until golden brown in color. Make sure you check them often to see that the base does not burn.
Assembling the Tartlettes
When the tarts are baked, let them cool down to room temperature. To serve, take each baked shell, and top it with a generous amount of Mascarpone cream mixture. Then spoon the berries on the top, removing any juice to prevent them from sagging. Top with finely chopped pistachios and serve immediately.
This was such an easy recipe that both me and my daughter had a fun time making it for Father's Day. She loved whipping up the cream, drizzling the berries with the syrup and laying it all up for Dad to come and enjoy. Plus, its red, White & Blue in color, so its perfect for the upcoming July 4th Holiday! I'm taking this over to this week's "I'm Loving it" bash over at TidyMom, the Bloghop at GooseberryPatch, as well as the Red White & Blue Linky parties over at Happy Hour Projects and Patriotic Project Parade. Hope on over to check what everyone else has brought to the party!