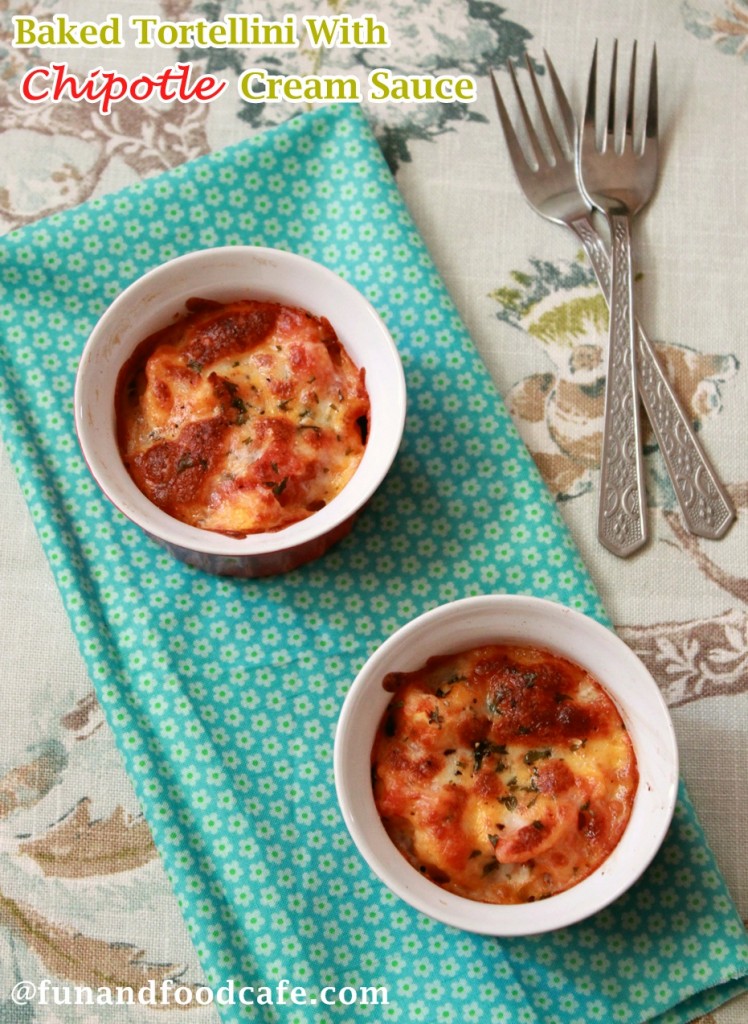 The temperature outside has started to drop, and it gets dark and chilly when I get back from work. Who likes to look when it's cold and dark like that? Sometimes I really wish there was a Magic Wand for Moms so they could whip up healthy yet delicious food in no time – maybe just grant one wish a month, that would be good too, right?! Sigh!!! I don't think that's going to happen unless I move to Hogwarts, but I am thankful for some packaged food options which come in really handy on such dark gloomy days, when you yearn for something comforting, just like the Baked Cheese Tortellini that I am going to share with you today.
Everyone has heard about Barilla, and its wide range of products in the Italian cuisine. Last week I picked up a bag of Barilla 3-Cheese Tortellini at Safeway because they has a 75c OFF coupon, and also because the package says All Natural – it's great when convenience is combined with the natural goodness of ingredients, makes you feel better about feeding packaged foods to your family.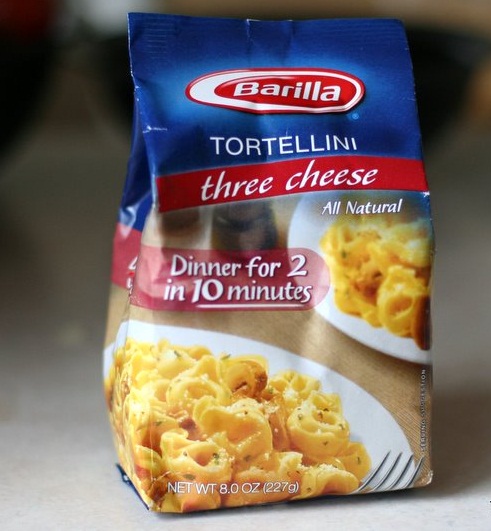 I planned to make a Baked Casserole with the Tortellini, but as I was pulling out my bakeware, I saw these cute ramekins peeking out of the drawers, and so i instantly thought of baking the pasta in individual ramekins – its a perfect serving for my kids, and I can even add more spices to the ones that are going to be devoured by me and my husband! I still think it would be great to make a big casserole and serve it family-style, especially if you are planning a holiday dinner and want to serve this as a side dish.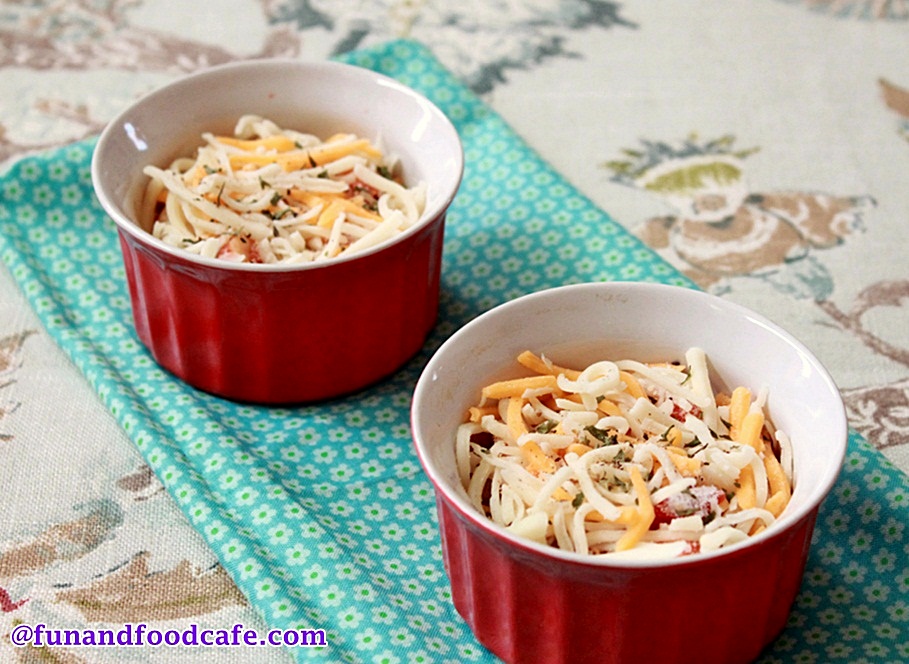 It is highly customizable too – instead of making the chipotle cream sauce, you could go for a regular marinara sauce, or perhaps a creamy avocado sauce, or maybe a sweet potato cream sauce for the kids. Complimenting the weather outside, I chose to go with a bold, spicy flavor, but still creamy and cheesy, just how baked pasta should be. It takes less than 10 minutes to bake, and at the very last minute, turn on the broiler to brown the cheese – looks deliciously irresistible, as you can see in the pictures below!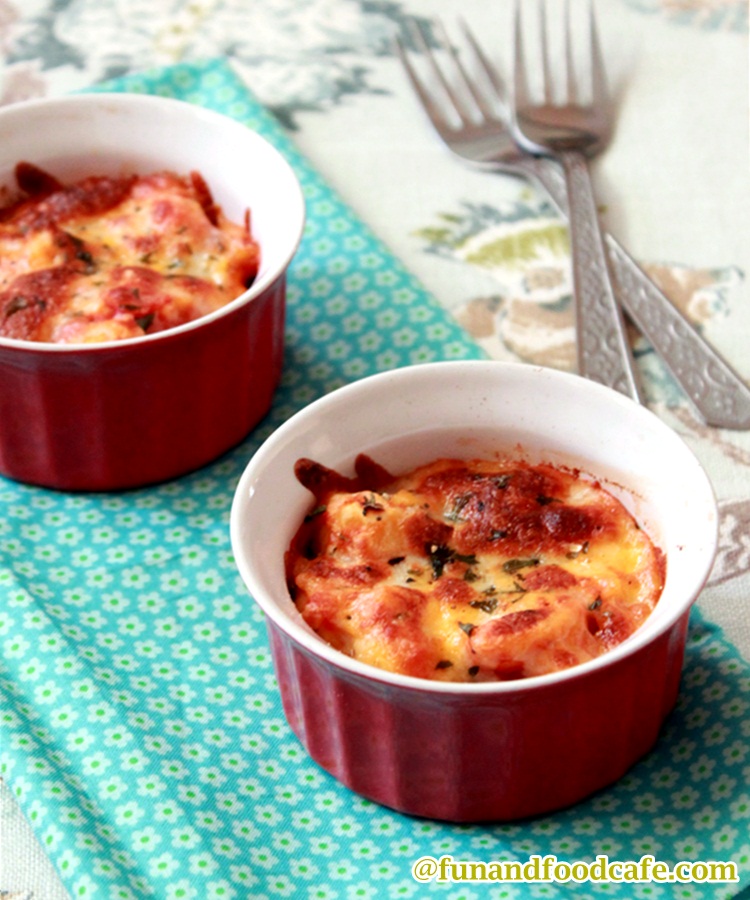 Baked Cheese Tortellini in Chipotle Cream Sauce
Cheese tortellini baked in cute ramekins or a casserole, flavored with a spicy chipotle cream sauce makes for a perfect weeknight dinner, or an inviting side dish for a party.
Author:
www.funandfoodcafe.com
Ingredients
1 9oz package of Barilla Cheese tortellini
1 to 1½ C of shredded mozzarella cheese
2-3 tbsp grated parmesan cheese
½ C spaghetti sauce
2 tbsp onion, minced
1 tbsp butter
1½ cup heavy cream
1-2 tbsp chipotle sauce (use as needed)
1 tsp dried parsley or basil flakes
2 tsp red pepper flakes
Directions
Cook the tortellini according to package directions, about 8-10 minutes.
in another pan, melt the butter and add the minced onion. Cook until fragrant and translucent.
Add the chipotle sauce and cook for another minute.
Remove from heat and add the heavy cream and mix well. Add the spaghetti sauce to this mixture and incorporate well.
Mix the sauce with the cooked tortellini and toss to coat evenly.
Place in a 1½ qt baking dish and top with shredded mozzarella cheese and parmesan cheese. (or divide it among 8 ramekins)
Sprinkle the dried absil flakes on the top.
Bake at 350 for 8-10 minutes. During the last couple of minutes, turn on your broiler so the cheese gets slightly browned.
I am leaving you with one last tantalizing pic of how delicious it looks as you scoop it up! This is going to be made quite often in our home, and I'm sure you'll love it too. What's your favorite way to enjoy Pasta? Do let me know via comments below…