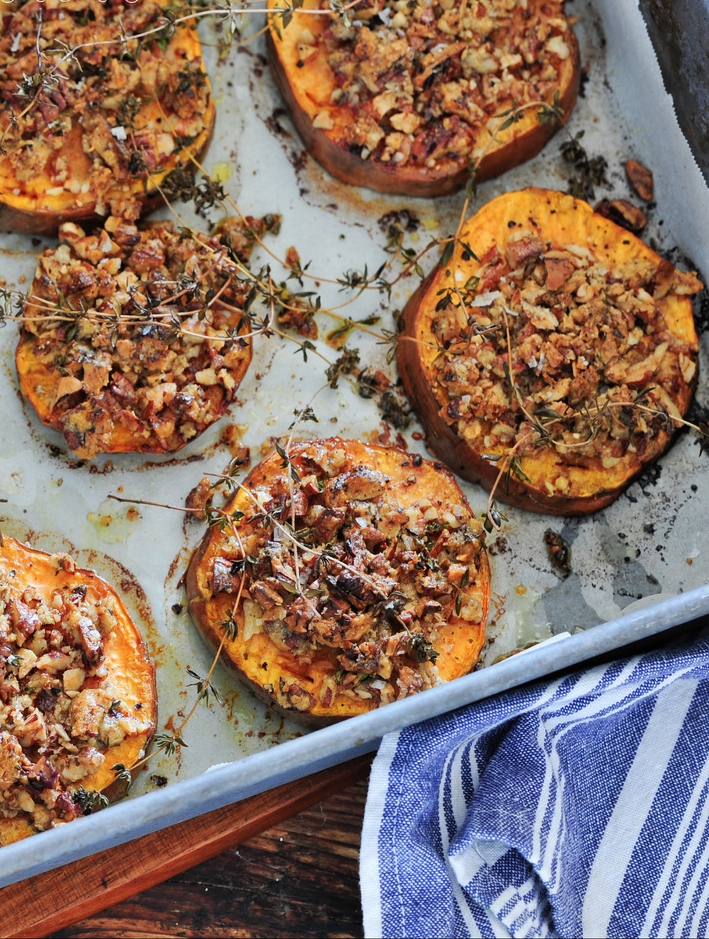 Baked sweet potatoes, with chopped pecans, crumbled cheese and spiced herbs
Sweet Potatoes are one of my favorite veggies. I love their sweet flavor, and how versatile they are in terms of pairing them with other ingredients to make sweet or savory recipes. However, they are great to enjoy all by themselves too. When I was growing up, my mum used to fry small chunks of sweet potatoes, then season them with some salt and pepper, and we would gobble them up with a side of cheesy queso dip. Perhaps that's the reason I love Sweet Potato fries, with a topping of minced garlic and shredded parmesan cheese. Today I'd like to share a recipe with you that is very close to my childhood memories. Developed by Jules Clancy of The StoneSoup Blog, I like how she layers simple ingredients to create a wonderful recipe that is full of flavor and so little work! This is a great appetizer to serve on Thanksgiving Day, or a side dish that will compliment any holiday dinner menu.
Sweet Potatoes, like all other root vegetables, have a high water content, and baking them is a great way to enhance their flavor, rather than frying. Baked crisp and golden, they taste great when topped with chopped pecans, parmesan cheese and fresh herbs like thyme or rosemary. If you want it more savory, you can also use some crumbled bleu cheese, and salted nuts instead of plain. I personally think it would be great to season the sweet potatoes a little before baking, and if you are looking for a spice kick, add a dash of cayenne or chipotle pepper for added flavor. It is important to choose a uniformly round potato, so you can cut it into same-sized rounds. And make sure you slice it nice and thick – too thin will become crispy, and will lack much of the natural potato flavor. But this is such a simple recipe, that it's hard to wreck it. So go ahead, and add this to your Holiday Menu!
Baked Sweet Potatoes with Pecans
These sweet potatoes are layered with a seasoned mixture of chopped pecans, parmesan cheese and thyme or rosemary, then baked until crisp and golden. Serve these with some sour cream for a perfect appetizer during Thanksgiving
Author:
www.funandfoodcafe.com
Ingredients
1 large round sweet potato
1½ cup crushed pecans
1 cup freshly grated parmesan cheese, packed
1 small bunch of thyme or rosemary
1 tsp garlic salt
½ tsp finely ground black pepper
Directions
Preheat the oven to 200C (400F). Take a baking tray or pan and line it with baking paper.
Take a bowl and combine the parmesan cheese, black pepper and garlic salt. When combined, add the chopped pecans to it and mix well. Add the finely chopped thyme or rosemary, along with 1 tbsp olive oil, so the pecans get coated evenly with the cheese and spice mixture.
Wash the sweet potato and slice it into 8 rounds, about 1cm (1/3in) thick. Discard the small ends.
Place the slices in a single layer on a baking tray, and drizzle generously with olive oil.
Divide the pecan mixture into 8 parts, and spread it generously on the sweet potato slices, pressing gently. Sprinkle with remaining thyme or rosemary sprigs.
Bake for 40-50 minutes or until the crust is deeply golden and the sweet potato is tender. Check after 30 minutes and if it's browning too quickly cover with some foil.
Serve hot as an appetizer or a side, along with some sour cream, if you like.
This is a such a wonderful recipe, that I am definitely making it for Thanksgiving. Plus, it's super easy to make, and so versatile too. And if you are in mood for something sweet, try a candied sweet potato version, replacing cheese and herbs with some brown sugar instead. Bake in the same fashion to create a sweet treat for the sweet-eaters at the table. How do you like to eat your Sweet Potatoes? Let us know your thoughts and recipes via comments!