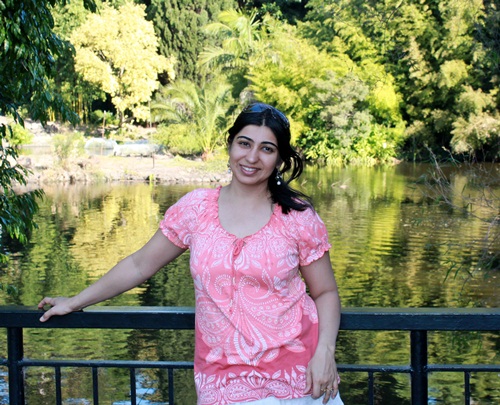 Welcome to Fun & Food Cafe – your online resource for vegetarian recipes, drinks & desserts, entertaining ideas, health, nutrition & fitness, cooking tips and techniques, DIY Ideas & Crafts and tonnes of stories from a friendly kitchen in California!
Who is Mansi?
Born and brought up in India, I moved to the US to get my master's degree in Electrical Engineering, and find a job in the Silicon Valley like hundreds of other immigrants. And while doing all this, somewhere along the line I found my calling in the field of cooking. What had previously been a passion, now turned into a commitment with the birth of this Food Blog, which later became an online collection of food that inspired me and decked our dinner table along the years. With time, it grew into a full-fledged Food & Lifestyle blog where you will find several ideas to inspire you, both in your kitchen and elsewhere!
I live with my family in a tiny town in Northern California, balancing the act of being a full-time professional outside, while being a recipe-developer, wife, and Mom to a toddler at home. You'll find glimpses of my life in the articles that I pen down here, and I hope you'll enjoy your time here. I have been a Vegetarian all my life, and its a choice I love to embrace. There's always a bit of a vegetarian in you, and this blog is my effort to cater to that hidden identity. Vegetarian or not, you will love the recipes you find here, I promise. And don't forget the DIY and Health sections – they offer you lots of free ideas and inspiration to bring more joy to your life.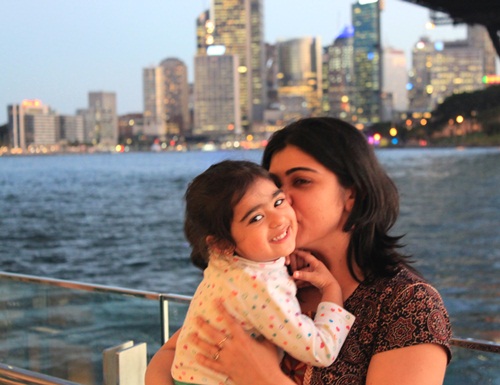 What do I do when I am not cooking?
I love to dabble with lot of things. So when I'm not cooking, working or taking food photographs, I could be out traveling, practicing for an upcoming show with my Music band, making toddler crafts with my 3-year old, catering to my vegetable garden, checking out new restaurants with my dear hubby, thinking of some new ways to re-decorate my house, riding on a roller-coaster in a theme park or zip-lining across a cliff, or simply idling away my time planning our next vacation!
Freelancing & Advertising
I work with several Food Magazines, both online & print media on recipe-development, DIY articles, kid-friendly cooking and activities, and more. If you need to see my work, advertise on my site or enlist my services, please feel free to Contact Me. I will get back to you as soon as I can!
Content Disclaimer
The recipes and articles published on this site merely represent the Author's ideas and opinions, and can be different from yours! While I take a lot of care to research about stuff before I publish it, the facts can differ, and you should use these as guidelines only. Please use discretion while following this advice as the Author or the site is not responsible for your decisions and their outcomes.
Copyright Policy
All content on Fun & Food Cafe and Fun & Food Blog is Copyrighted, and CANNOT be republished or reprinted without permission. All material published here, including the recipes, articles and respective photos are my original work, or have been re-printed with permission from cited sources, but are still protected under Copyright Law. All of us put in a lot of effort in cooking recipes, researching articles, taking pictures and publishing them for you. Please respect our efforts and DO NOT COPY any content without explicit written permission from the author.
I'd love to hear your comments and feedback on what I could do to improve this endeavor. Hope you enjoy your time at Fun & Food Cafe, and thanks for visiting!
Your Hostess,
Mansi Desai