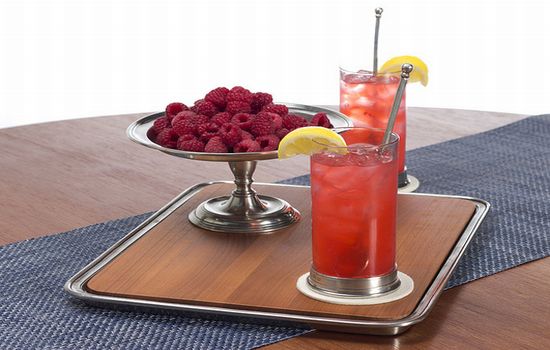 Ultimate Holiday Cocktail Recipes
 Thanksgiving is literally just around the corner, and pretty soon we'll be setting up our house for Santa as Christmas draws closer. Holiday season gives all of us a chance to spend some good quality time with our families, laughing away at kids' jokes, and swapping high-school stories with friends and family. This is also a time to celebrate good food, and so most of us take some time to finalize an elaborate Holiday Dinner menu that has loads of Appetizers, Main Course entrees and Desserts to soothe our insatiable palates. But one thing that people generally tend to focus less on, are the Cocktails! Yes, most of us just grab bottles of Wine and Champagne from the stores and serve it to our guests. While this is a great option, not to mention, an age-old tradition to raise a toast at dinner time, wouldn't it be really nice if we could jazz up our cocktail menu to live up to the other fancy food on the table? Photo courtesy of Dinner Series.
People have a general conception that its hard to make good cocktails at home. I would have agreed with you if I had not seen these amazing cocktail recipes shared by David Lawrence of Good Bites. Just the names of the drinks made me want to taste them right now! He shows you how to make a Creamsicle Martini, good enough to impress any grown-up at your party. Then there is the Tequila Infusion, which tastes like Candy dunked in Tequila, and then the Banana Nut Martini – who needs to bake a bread when you can drink the flavors from a fancy glass! But he saves the best for the last – the Chocolate Cake Shot is just as it sounds. He claims that it tastes like Chocolate cake, even without adding any chocolate to it!
So what are you waiting for, just note down the recipes for these fun and fabulous Holiday Cocktails and get ready to impress all your guests at the dinner table!
How To Serve Cocktails
1. Always serve them chilled, and immediately off the bar; if you wait any longer, they will lose their luster
2. Use innovative glasses with fancy shapes to serve your drinks, however, keep them simple, to let the colors of your drink shine through
3. Use minimal garnishes, but in an attractive way; mint, herbs, fruit slices, chocolate shavings are the simplest ones which are very easy to find anytime of the year.
4. Use the best quality liqueur to flavor your drinks; don't skimp on this one as it can ruin your drink entirely.
5. Serve cocktails with simple appetizers or a plate of cheese for an elegant pairing.
I hope you liked this collection of deliciously unique cocktail recipes. We also have some other recipes on the blog that includes Mocktails as well. Here are some more inspiring ideas to make this Holiday season memorable.
Pumpkin & Gingerbread Cocktail
Perfect Chocolate Martini
Traditional Christmas Eggnog Recipe