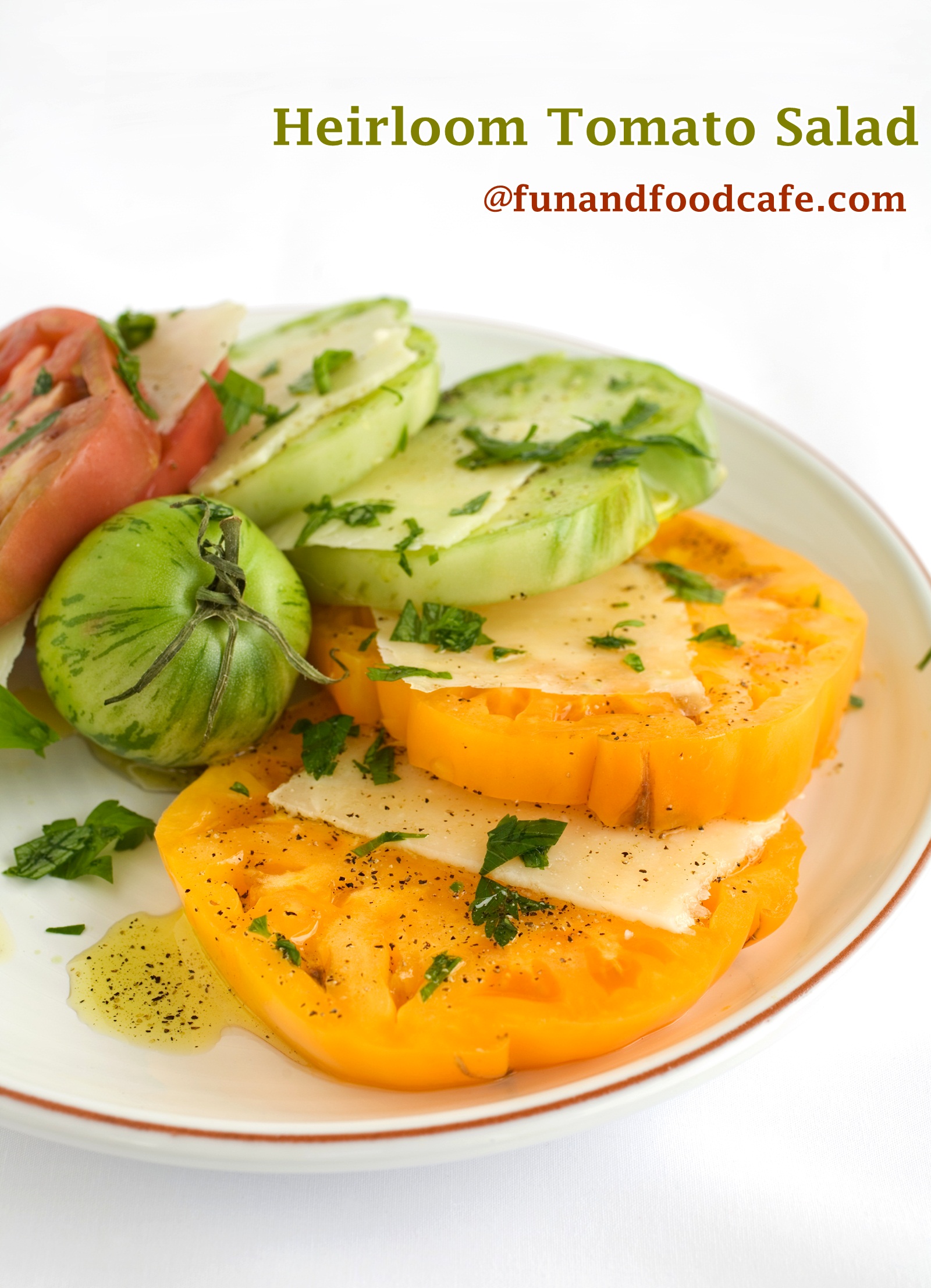 Tomato Salad with shaved Pecorino cheese, olive oil dressing, crushed pepper and chopped cilantro
These days Heirloom tomatoes are flooding the markets, and we have a similar overflow of big fresh tomatoes in our garden too, as all the giant heirloom tomatoes ripen up at the same time, bringing me this bounty of fresh juicy tomatoes that I am struggling to use up before they turn bad! One of the easiest ways to enjoy heirloom tomatoes is by roasting them and making a salad. For those of you who have never seen or eaten an Heirloom Tomato, it is actually an open-pollinated (non-hybrid) heirloom cultivar of tomato, which lacks the genetic mutation that gives tomatoes an appealing uniform red color while sacrificing the fruit's sweet taste, as well as nutrients like carotenoids. So don't go by their non-perfect shapes and a variety of colors – yes, they are not always red and not perfectly round in shape, but that's just because they are pure, non-mutated heirloom species, and will provide you with the best sweet & tart taste that a Tomato should have! Just look at the salad above, doesn't it look nice and bright and colorful? [Photo courtesy of Karcich via StockFreeImages] It is packed with flavor and nutrition, plus it looks colorful on a plate, and it takes less than 10 minutes to prepare – could you ask more from a winning salad recipe?!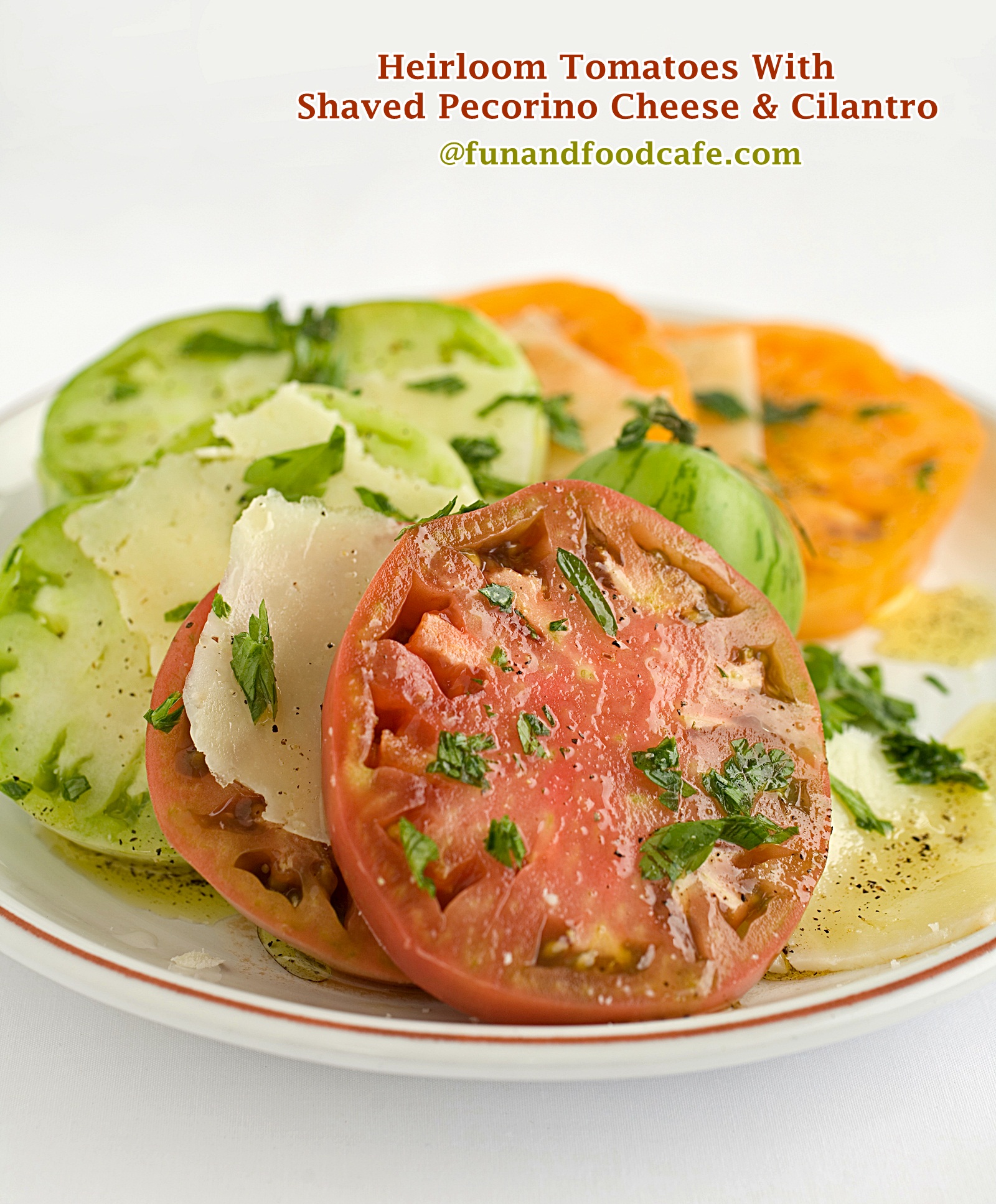 This weekend, we picked out our fresh bounty from the garden and decided to use it to make a simple but satisfying salad, pairing heirloom tomatoes with Pecorino cheese, a drizzle of olive oil, pepper and some chopped cilantro, again from our garden. Pecorino Romano is a hard, salty Italian cheese made from Sheep's milk. Due to its characteristic aroma and sharp salty taste, it is often used for pasta dishes or salads. You can find it in the special cheese section in any grocery store. In this recipe, it balances the tartness of the ripe tomatoes, while the crushed pepper and cilantro leaves give it the flavor boost that it needs. You could even roast the tomatoes if you like, but I wanted somthing quick and easy on the table, so I chose the simplest option, and tossed it all together.

Fresh and juicy heirloom tomatoes topped with shaved pecorino cheese, drizzled with olive oil, crushed black pepper and some freshly chopped cilantro, an easy salad recipe for a side dish, perfect with pasta or soup.
Author:
www.funandfoodcafe.com
Ingredients
5 big heirloom tomatoes, thickly slices
½ cup chopped fresh cilantro leaves
3 tbsp extra-virgin olive oil
1 tsp finely crushed black pepper
shaved pecorino cheese, one slice for each tomato slice
Directions
Wash the tomatoes and slice them thick, then place them on a serving dish.
Add your crushed black pepper to your olive oil, and drizzle it evenly over the tomato slices.
Top each slice of tomato with one thin slice of shaved pecorino cheese
Sprinkle the finely chopped cilantro leaves over the salad. Chill for at least 10 minutes, then serve.
This is one of the simplest Salad recipe, where the highlight is on the key ingredients, the heirloom tomatoes and the cheese. there's nothing fancy about the dressing, or no extra frills added for the taste; the olive oil helps tie it all together to naturally bring out the flavor of the fruit. This salad tastes great with any Pasta Recipes, or even as a side dish to another Italian main course. If nothing, just make this to enjoy the authentic taste of non-mutated form od tomatoes, you will love the taste, I promise!