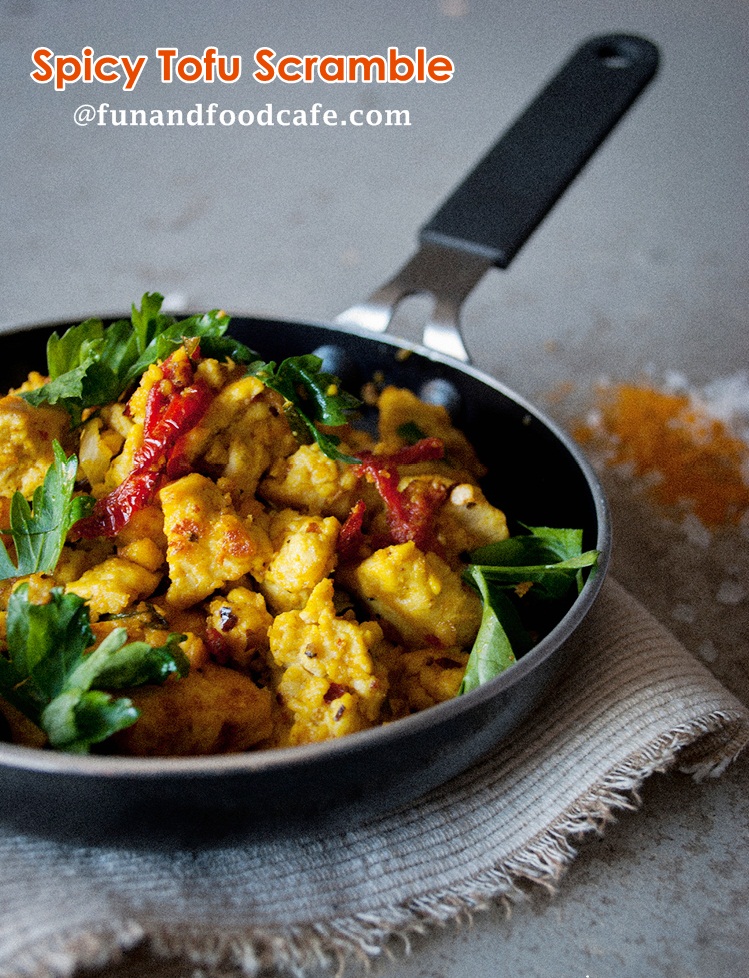 Tofu Scramble
Looking for a quick and healthy yet tasty alternative to weeknight dinner? try this spicy and tangy Tofu Scramble with veggies. And its Vegan too!
Author:
www.funandfoodcafe.com
Ingredients
1 block (375g) extra firm tofu
3 tbsp nutritional yeast flakes
1 tbsp dijon mustard
1 tsp garlic powder
1 tsp onion powder
½ tsp cumin
½ tsp turmeric
¼ tsp saffron
1 tsp dried chilli flakes
1 tsp salt and pepper
2 tbsp olive oil
½ cup roasted red pepper strips
½ cup diced tomatoes
5 spring onions, sliced thinly
a handful of parsley or cilantro, chopped
Directions
Drain excess water from the tofu and use your hands to crumble it up into thick, chunky cubes. Or cut them with a sharp knife.
Stir fry in frying pan over medium-high heat for 3-4 minutes, until the tofu releases its water before adding the olive oil and the remaining dry ingredients.
Continue to stir for another 5-10 minutes, breaking tofu chunks into smaller pieces so the consistency resembles scrambled eggs. Add a splash of lemon juice or olive oil if the tofu starts to dry out or stick to the pan.
Once the tofu has reached the right consistency, with a nice crunchy golden color on the outside, add the red peppers, tomato and spring onions and toss around the pan until well combined. Season with extra salt and pepper, if desired. To serve, sprinkle with parsley or cilantro.
Serve with some Jasmine or Jeera Rice on the side.
So there you have it – a wonderful and easy Vegan recipe that you can customize in a jiffy, to suit what's available in your pantry. For added nutrition, chop in some more fresh veggies like peas, corn or spinach, throw in some toasted bread crumbs for a bit of crunch, or use crushed peanuts to top it off. I loved how creamy the dish was, without using too much oil in the recipe. I have to admit I am now a fan of Nutritional Yest, and will be suing it quite a lot to make my recipes healthier than they can be!