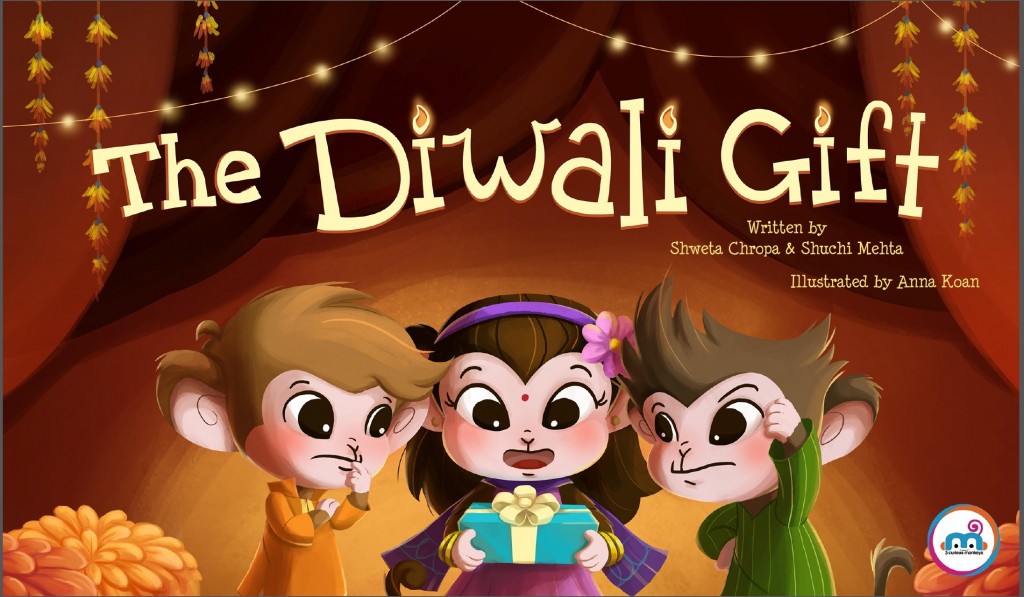 Diwali, the enchanting festival of lights is right around the corner, and people all around the world are gearing up to celebrate this in a grand way. Diwali is as important as Christmas for Indians all over the world, and preparations start almost a month in advance. The celebration itself lasts for 3-5 days, and food, lights, clothes & gifts are all an essential part of this beautiful festival. Speaking of gifts, if you are still looking to please the little ones or young readers in your family, then I have a lovely gift to discuss – its called The Diwali Gift, a book written by Shweta Chopra and Shuchi Mehta that exposes kids to this wonderful festival in a fun and enchanting way.
The Diwali Gift is a perfect book to introduce a young kid to this festival, and is especially helpful in generating enthusiasm for Diwali for Indian kids that are living out of India. Featuring 3 Curious Monkeys, Suno, Dekho and Jaano, the plot focuses on a mysterious package that arrives at their door a day before Diwali. The kids get excited trying to figure out what it could be, and the authors walk you trough their thoughts and excitement using lovely words and even lovelier images. Suno, the female monkey is pictured in a beautiful Indian Lehengha, complete with bangles and bindi. My daughter loved looking at her picture in the book. There's a scene where the kids video chat with their grandma while discussing the imminence of the gift that she sent, and the conversation between them is truly engaging and will definitely bring a smile to your face. Plus, the authors are highly successful in building up a mystery and sense of intrigue around the secret gift, so your child will be on board with the excitement as she reads the book. When the secret gift is revealed at the end, it leaves you with a meaningful message about the importance of the festival.
The pictures and illustrations need a special mention. The colorful imagery showing the kids making Rangoli patterns, decorating their home with the Diyas, and enjoying fireworks creates a lively image about Diwali in your child's mind so they want to do all those fun things that the kids in the book are doing. My daughter read this book every night since we received it, and she's been making Diwali drawings, making diyas with playdough, and she's excited about what she's going to wear for the festival! That's proof enough that the book is powerful in kindling the Diwali spirit in your kids.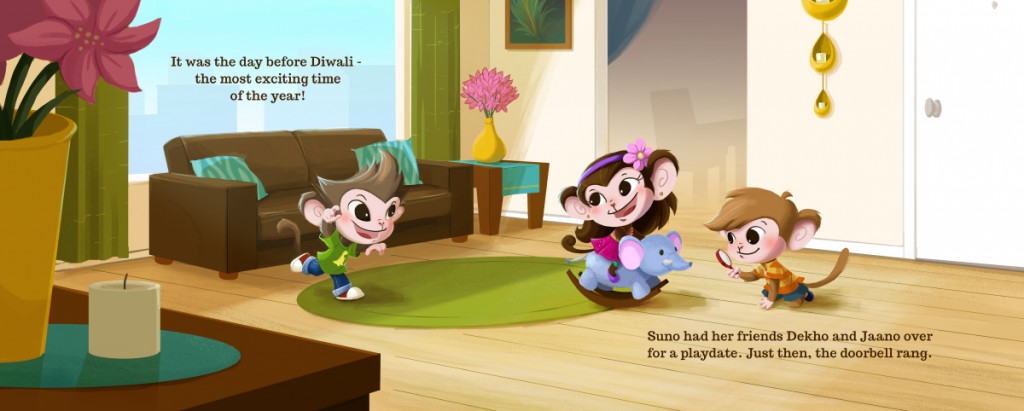 I'd say that this would be a perfect Diwali gift for kids under 6-7 years of age. There's a glossary of Indian words at the end, along with a paragraph on how Diwali is celebrated and what is the history behind it which is a great way to educate your kids about an important legend in the Hindu culture. My 5 year old loved every page of the book, and even my 15-month old gets excited looking at the colorful and vibrant pictures. He can even identify a Diya and Rangoli now:) All in all, it was a wonderful and meaningful Diwali gift for my kids, and I urge you to give it a shot too. It is available online at Amazon and a lot of local bookstores are carrying it too. So head out and get a copy for yourself or to give as a gift. Believe me, it will be cherished by kids as well as their parents!
Related Articles:
What is Diwali? Know the Customs Festivities & Fun During the Festival
DIY – Make Flameless Flower Candles for the Holiday Season
Fun Party Ideas for Celebrating Halloween
DIY: 5 Fabulous Foodie Gifts for the Holiday Season