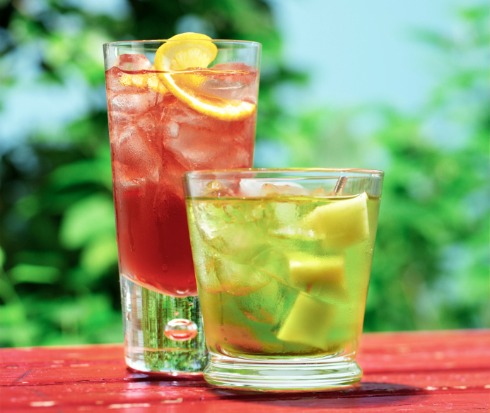 Summer means long nights of sipping bright beverages on beautiful open patios. Trends in summer drinks focus on the continuance of the farm to table movement, as well as place an emphasis on high quality. On trend beverage lists feature drinks concocted with an alchemy of local and fresh ingredients. Its very easy to add a new variety and dimension to simple summer drinks by adding a few twists to the ingredients. You can indulge in frozen mixers or packaged drink options, but its better to stock up on a few essential ingredients at home, and see how you can spruce up your drinks without any added cost.
The following is a list of ideas, ingredients, and beverages for ensuring that this year's summer beverage selection is a fresh one:
Sparkling Water

Restaurants featuring the new "Water from a Tap" filtration systems may provide customers with an elevated tasting experience. Water from a Tap, a cousin of newly popular wine taps, provides customers with the option of ambient, chilled, or sparkling water. The well-filtered water ensures that guests' experience isn't weighed down by muddied or metallic tap or beverage gun water. If you don't have access to ice you may want to look into an ice machine rental for summer fun.

Another great benefit of this kind of filtered water is getting all the nutrients and minerals of water without having to worry about toxins. And if you want a bit of tinge to your fresh sparkling water you can always throw on a wedge of lemon, lime, or orange.

Premium Tea

High quality roobios, white, and black teas feature nicely in tall drinks and punches lending their well-textured flavor profile to refreshing summer drinks. Mix tea with your fruit juices to make a half and half combo, along with herbs and spices to add boldness to your drink.

Unusual Herbs & Spices

Look for the farm to table movement to show up in the use of herbs and spices. Adventurous palates will enjoy the use of traditional herbs like sage, rosemary, and thyme to add complexity and mystique to average drinks.

Use the world around you to add bold tastes to your beverage. Sodas are great with certain herbs and spices – mix and experiment!

Fresh Pressed Juices

People who are seeking added health benefits from their beverages should look no further than fresh pressed juices to liven up their cocktails with vitamins and nutrients. Far from being limited to staid citrus fruits, guests may indulge in vegetable juices as varied as carrot, beet, or rhubarb.

You can ask to mix juices and sodas for a more crisp, refined taste. Orange juice and tonic goes well, as well as cranberry juice and mint leaves!

Cocktails

Alcohol will add an adult twist to your beverage – mix taste and fun by ordering cocktails tailored for the summer.
Keep your summer cocktails light, bright, and sophisticated. Look for cocktails on the menu that employ the use of local and fresh ingredients, are adventurous in their flavor pairings, and emphasize quality over quantity. Long summer nights deserve drinks that sip smoothly and offer drinkers a complex profile to ponder as the nostalgic summer breeze blows across the patio.
Recipes:

Watermelon Lemonade: Courtesy of Delish.

1 1/2 pound(s) sliced seedless watermelon, rind removed

Zest of 1 lemon

3/4 cup(s) fresh lemon juice

1/2 cup(s) mild honey (such as orange blossom)

1 lemon, thinly sliced, for garnish

Directions

In the bowl of a food processor, place watermelon and process until very smooth. Strain through a coarse sieve set over a bowl, stirring to push through any pulp. Pour juice into a large pitcher. Add lemon zest.
In a bowl, whisk lemon juice and honey until honey dissolves; stir into watermelon juice. Stir in 1 1/2 cups cold water; cover and refrigerate until very cold. Serve over ice and garnish with lemon slices.

Mint Limeade: Courtesy of Epicurious.

1/4 cup mint leaves

2 ounces honey syrup

1 1/2 ounces lime juice

chilled club soda or seltzer (or carbonated Water on Tap)

Directions

In 12-ounce glass, muddle mint and simple syrup for about 8 seconds. Add ice and lime juice, then fill with club soda. Stir well and serve.
Featured above are two of my favorite Summer Drink recipes, because they are non-alcoholic, and combine the fresh fruity flavors of summer! Enjoying drinks should not be a task suited to foodies and chefs only – with a few simple ingredients and 5 minutes of your time, you can whip up Drinks that will appeal to all kinds of guests on your Summer entertaining list! Hope you enjoyed these tips and recipes.
What are some of your favorite Summer Drink recipes?