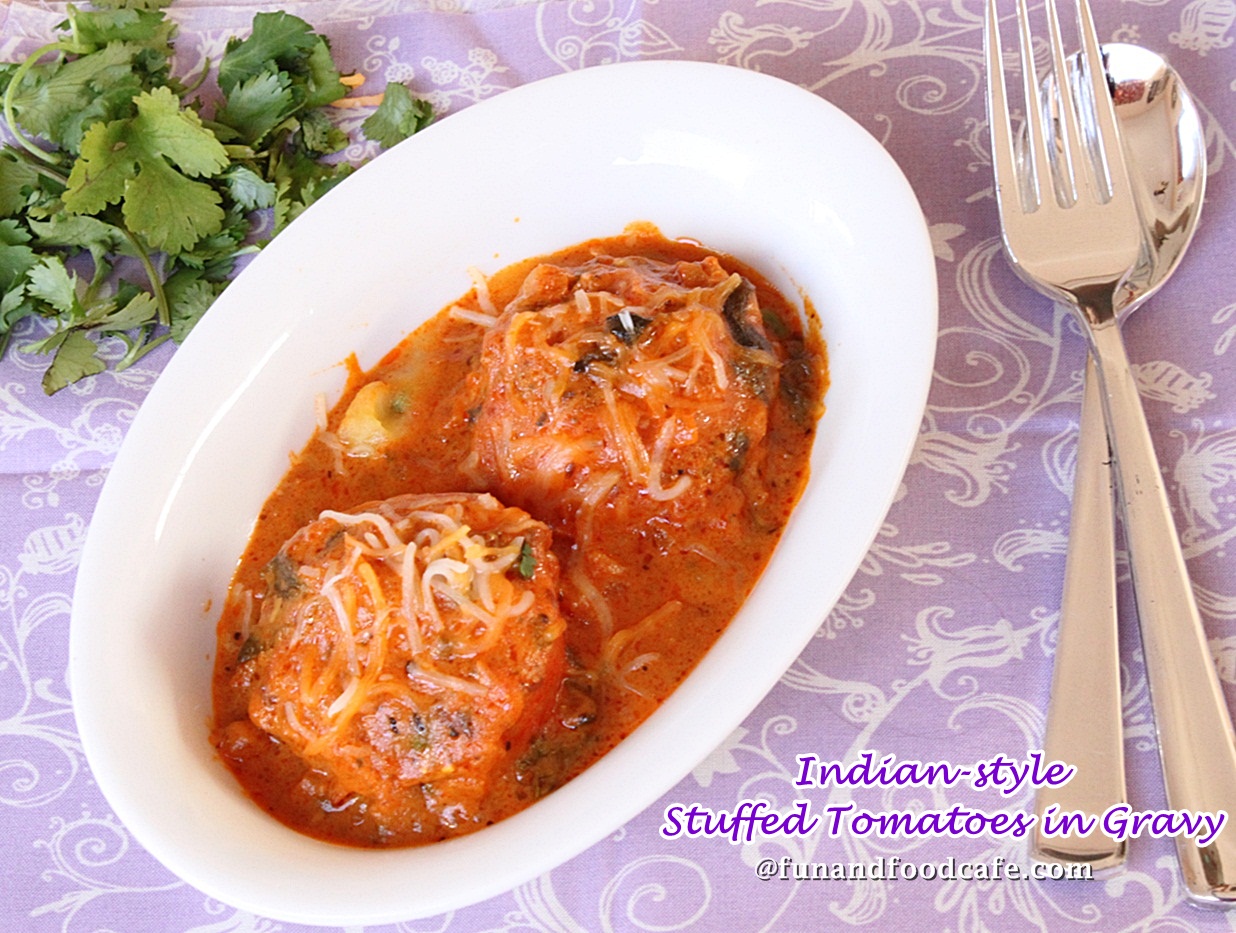 It's getting really chilly out here, with temperatures reaching in the 20's, noticeably cold for the bay area. So I decided to harvest all the tomatoes from my garden before they died in the frost, and also because I was craving for something hot and comforting on the weekend menu, and Soup was not on my mind, as you can guess form the title of the recipe. We picked about 30 large, red tomatoes from our backyard! So we will be enjoying these in several colorful ways, like this Heirloom Tomato Salad, a rustic Tomato Cheese Tart, or the exotic Paneer Tikka Masala
I love to experiment and see how I can improve a tested recipe. So for this one, I combined the idea of using Cheese-Stuffed Tomatoes that we use as appetizers, and add them to a rich and creamy Indian-style gravy that makes a perfect accompaniment to any flat-bread or rice dish. For the success of this recipe, you need to choose fresh and firm tomatoes, so they can be easily scooped out and filled with stuffing. Choose medium to large tomatoes as they will shrink once they cook in the gravy. And of course, opt for the best cheese – I went for the Kraft Shredded Cheese, which is our family's favorite. Plus they have some great coupons redeemable at Target stores.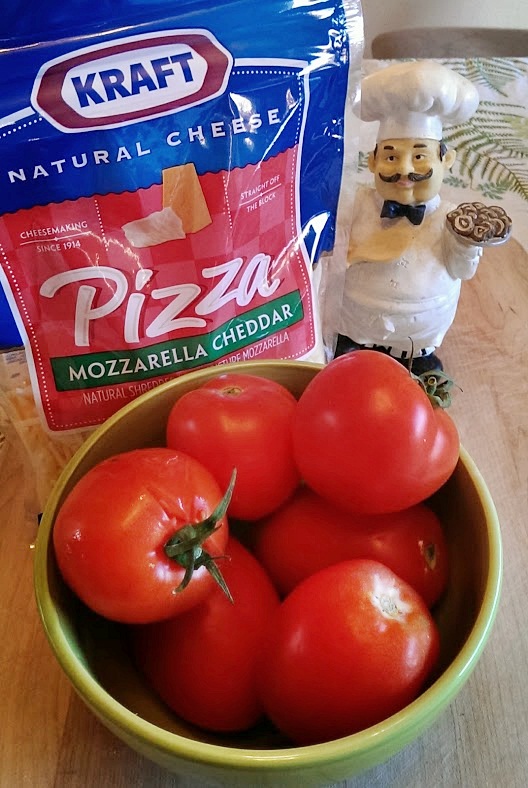 I used boiled potatoes, green peas and shredded cheese for the filling. However, this recipe is very versatile and you can use whatever you like to stuff the tomatoes. Paneer would be an ideal choice for a rich Indian gravy, but you can use only cheese, or a mix of boiled and mashed veggies like broccoli, potatoes, carrots, zucchini, corn in such a way that even the pickiest eaters will find hard to find and resist! Pair this with Homemade Tandoori Naan for an unforgettable Indian meal that's really easy to pull off, and presentable enough to impress the most picky guests.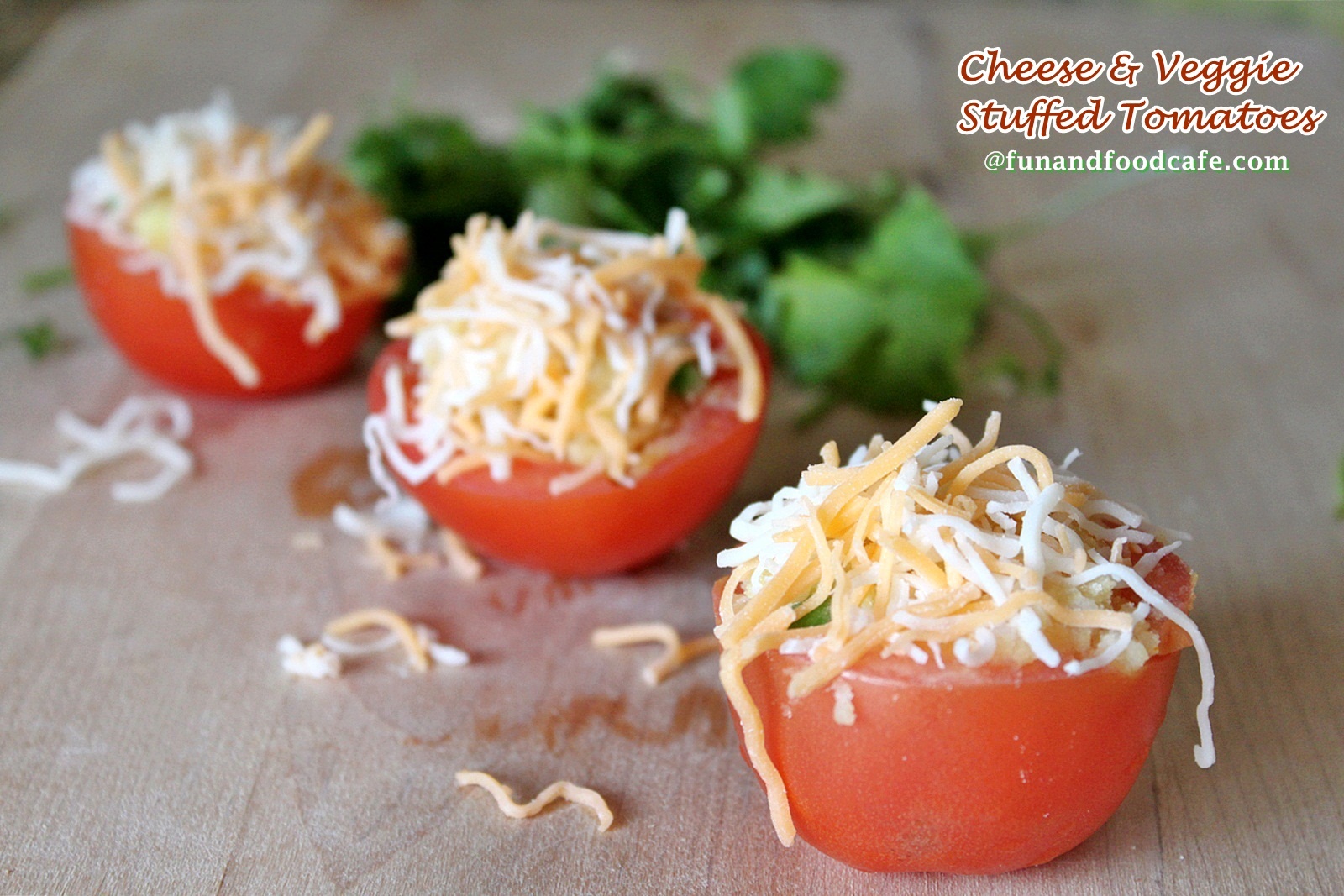 Stuffed Tomatoes in Indian Gravy
Big red tomatoes stuffed with potatoes, cheese, garlic and cilantro mixture, then simmered in an Indian-style gravy made with onions, tomatoes and heavy cream, this is a perfect main course entree to be paired with any flatbread or rice dish
Author:
www.funandfoodcafe.com
Ingredients
For the Tomatoes:
4 large tomatoes
1 cup shredded mixed cheese
1 cup boiled and mashed potatoes
¼ cup boiled green peas
½ tsp garlic salt
1 tbsp cilantro, finely chopped
pinch of salt, adjust to taste
For the Gravy:
1 cup tomato puree
½ onion – finely chopped
½ tsp jeera(cumin seeds)
1 tsp ginger garlic paste
½ cup heavy cream or whipping cream
1 tsp chili powder
1 tsp turmeric powder
1 tsp garam masala powder
1 tsp coriander powder
1 tbsp oil
Directions
Wash the tomatoes and cut off their tops, scooping out the pulp from the center, and keep it aside to use in the gravy later.
Mix the mashed potatoes, boiled peas, garlic salt, chopped cilantro and scoop it into the cleaned tomato bowls, filling them upto the middle. Now take the shredded cheese and sprinkle it on top of the potato filling.
Heat oil in a wide and deep non-stick pan, add jeera and allow it to splutter. Then add the onions and saute until slightly golden brown. Add ginger garlic paste and saute for one more minute. Add salt, turmeric and coriander powders and mix well.
Now add the tomato puree, along with the reserved tomato juice, chili powder and saute until oil oozes out on the side and the gravy thickens. Add about ½ cup water and allow it to boil for 2 mins. Add the garam masala powder, and adjust salt if required.
As the gravy thickens, remove it from the heat, and stir in the heavy cream and mix well.
Place the tomatoes into the pan gingerly, and cover them with some gravy. Reduce heat to low flame, and place the pan back onto the stove. Cover with a lid and let it simmer for another 6-7 minutes.
When ready to serve, transfer to a serving plate, being gentle with the tomatoes, and sprinkle some more chopped cilantro on the top.
Playing Around With the Recipe
This is a beautiful recipe for the chilly weather outside, and as I said earlier, it is highly versatile. If you don't like the gravy, just bake the tomatoes in an oven for 10 mins, at 400 degrees, and you'll end up with a beautiful Appetizer recipe. Serve it with some grilled bread and pesto sauce on the side. Or you could even bake the tomatoes, and them mash them gingerly to make a Chutney or Pesto, that you can slather over garlic bread to make a unique version of Bruschetta. Remember to enjoy it nice and warm, and yes, don't forget to add a generous helping of cheese on the top!