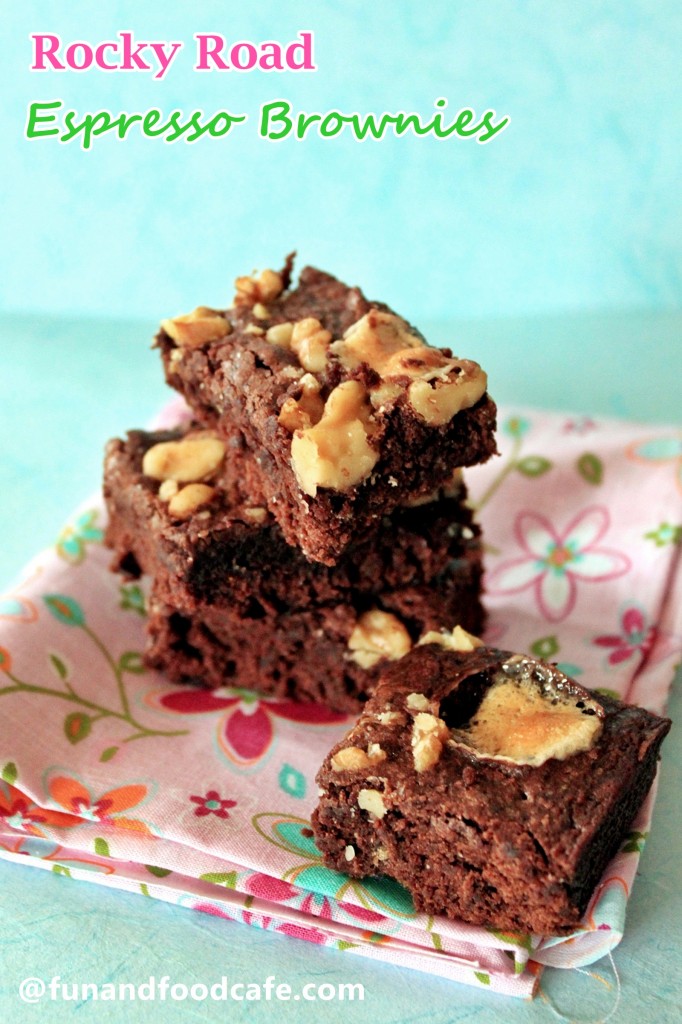 Back-to-school Night is coming up, and my Kindergartener is as excited as can be! I have never seen her so meticulously arrange and sort out all the things she needs for school. From supplies to notebooks to her lunch and snack boxes, she is really excited about getting everything in order. Whether she's trying to impress Mommy, her new teacher, or her new friends at school, I am hushing with pride and affection as I see my little one becoming responsible. I hope this attitude sticks around after a week, but I can only hope! For now, I am trying to make it a special night for her by baking her favorite Brownies to take to back-to-school night.
I love these brownies because they have all my favorite ingredients – really, what's not to like about chocolate, marshmallows, espresso and nuts! Plus I really like their texture – they are rich, fudgy, sticky, gooey, and crunchy, and the energy-boosting kick from espresso is an added bonus. It's like enjoying a gourmet coffee drink, something like Hot Mocha with Marshmallows and Walnuts, just in a dessert form. Oh, and to kick things up a notch, I sometimes add a teaspoon or two of Kahlúa coffee liqueur – it might just be the recipe you are looking for to celebrate Tailgating season in your college, or perhaps at a Girls' Night Out. On that same note, Your favorite pizza brands, Tony's®, Red Baron® and Freschetta® are kicking off Tailgate at Your Place –a whole new tradition and virtual hub where you can earn sweepstakes entries for the chance to WIN prizes totaling $150,000! Go to www.TailgateAtYourPlace.com now (through 1/10/2015) and begin by designing your virtual living room!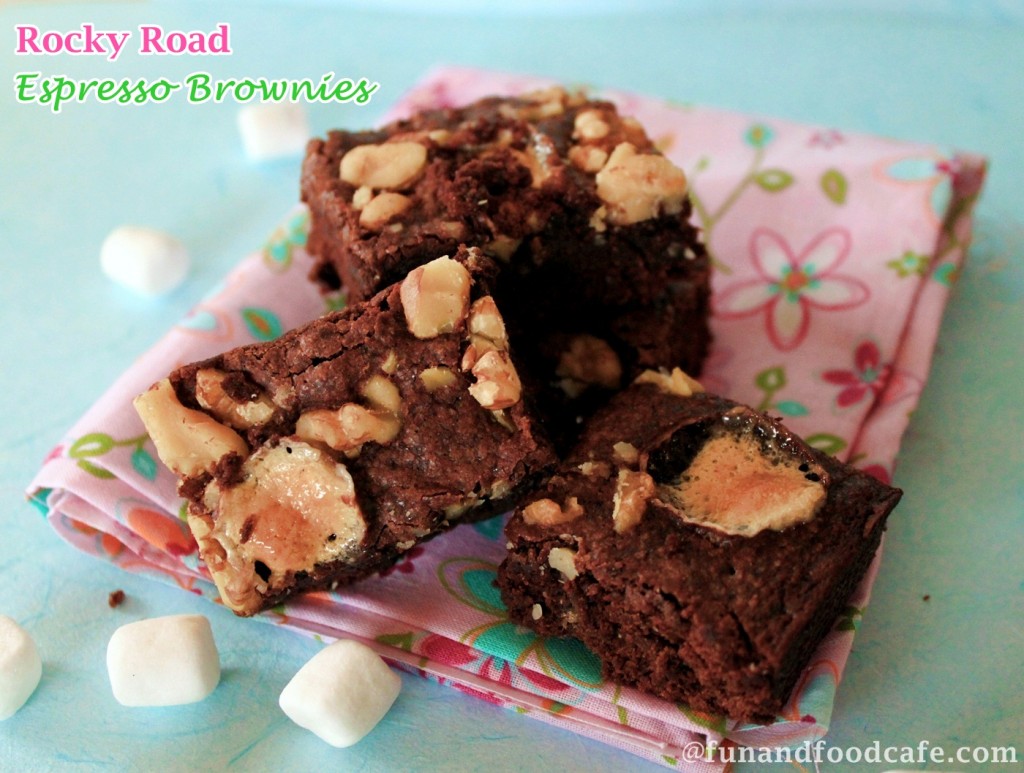 This brownie recipe is extremely versatile. You can modify it partly to suit your taste. However, when making Espresso brownies, it is very necessary to use high-quality espresso powder and cocoa powder to get the best taste. You can use instant coffee powder if you like, but please be warned that the brownies will not taste the same, as the latter cannot infuse enough coffee flavor into a baked dessert. In that case, coffee-flavored syrup would be a better alternative.

Rocky Road Espresso Brownies
Chewy, fudgy and gooey all at the same time! classic Rocky Road Brownies with a twist - add some espresso and Kahlua liqueur to make a holiday dessert, or enjoy them in the kid-friendly version that is perfect for entertaining and social gatherings!
Author:
www.funandfoodcafe.com
Ingredients
10 tablespoons unsalted butter
3 ounces semisweet chocolate, chopped
1¼ cups sugar
½ cup cocoa powder
¼ teaspoon salt
1 tablespoon espresso powder (or instant coffee powder)
½ teaspoon vanilla extract
2 large eggs, cold
½ cup flour
¼ cup chopped walnuts
10 mini marshmallows
¼ cup white or dark chocolate chips
Directions
Preheat oven to 350*F. Prepare an 8×8 pan by greasing and lining with parchment paper and set aside.
Using the double-boiler method, add butter, chocolate, sugar, cocoa, and salt to a large mixing bowl. Stir to combine until butter is melted and the mixture feels hot to the touch. Set aside and allow to cool to just warm.
Using a wooden spoon, stir in vanilla, then, add eggs one at a time, stirring vigorously after each addition. Next add the espresso powder and the coffee liqueur (if using) and mix. Add flour and combine. Once flour is incorporated, continue to stir vigorously for about 40 strokes. Pour into a prepared 8×8 baking pan, top with the chopped walnuts and bake for 20-25 minutes, or until a toothpick inserted into the center of the brownie comes out with a few moist crumbs.
Remove the brownie from the oven, top with marshmallows and chocolate chips. Return to the oven, turn off heat, and allow the topping to melt onto the brownie for 3-5 minutes in the still warm oven. Remove and cool completely on a wire rack before cutting.
Brownies are an all-time hit dessert, because they can be really simple where you whip up a quick batch for a snack, or they can be really elaborate, like the ones that I baked – perfect for a social gathering or a holiday celebration where you need to show off your baking skills! I am sure everyone in school is going to love them, and my daughter is super-excited to share them with her friends. This is a truly decadent and sophisticated dessert with a lot of potential. Try it yourself and let me know what you think!This is a sponsored post written by me on behalf of Red Baron. The opinions and text are all mine.