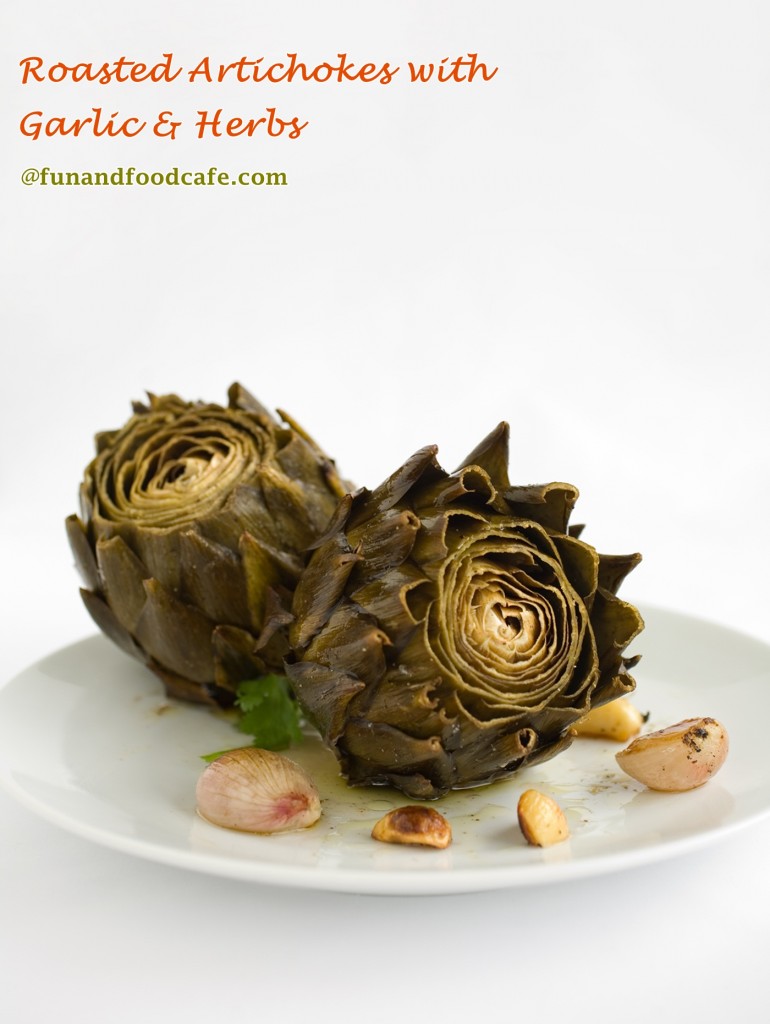 I have to admit I am not a complete Artichoke fan yet, and perhaps will never be a dedicated one. But over years, after having been subjected to numerous instances of tasting them in various ways, one is bound to develop a certain respect for them, given the fact that they are locally grown in California, and are nutritious too, and can actually do good to your body. The "fleshy" leaves have a pre-dominant taste, a little salty and tangy at the same time, which can be further enhanced by adding a mixture of herbs and spices to the Artichoke while cooking it. Garlic can lend an amazing taste to almost any vegetable, so no doubt, in this recipe too, it adds a whole load of flavor to the artichoke as it gets roasted in the oven.
If you want to enjoy Roasted Artichokes in their most basic self, then a simple sprinkling of salt, herbs, olive oil and fresh garlic bulbs are enough to impart flavor. Just toss it all into the oven covered in an aluminium foil, go watch your favorite show on the TV for an hour, or catch up on your reading, then come back to open the foil and eat the roasted artichoke, peeling one layer of leaf at a time, perhaps dipping in a bowl of Mayonnaise or Garlic Aioli, for a guilt-free treat that brings out the inherent flavor of this leafy vegetable.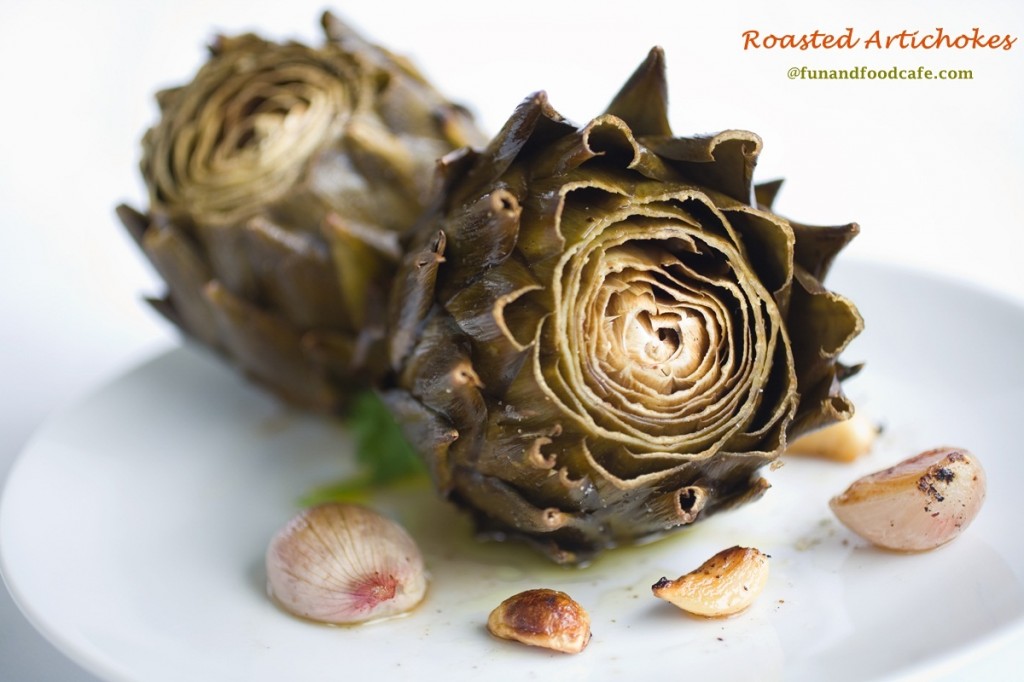 However, for those who can't take artichoke by itself, you can still use this recipe to prepare the basic Roasted Artichokes, and then slices them up, peel them, or mash them to use in making dips, sauces, as a pizza topping, or in a salad. Spinach & Artichoke Dip is an eternal favorite, and a must-try if you would like to venture into the artichoke world. However, I have recently discovered that a simple yet delicious way of enjoying this vegetable is by serving it with Lemon Butter on the side – just mix softened butter with some real lemon juice, add a splash of mayo or ranch if you want to make it creamy, and spread it over the artichoke as it comes out of the oven – Quick, simple yet delicious!
How do you like to eat your Artichokes? Do let me know, as I'm always looking for more ideas!

Roasted Artichokes
Author:
www.funandfoodcafe.com
Ingredients
2 whole large artichokes
1 lemon, halved
4 cloves garlic, peeled, left whole
4 tbsp olive oil
1 tsp salt
¼ tsp mixed dried herbs
1 cup softened butter
1 tbsp lemon juice
1 tbsp chopped chives
Directions
Using a serrated knife, cut off the stem of the artichoke where it meets the base. Turn the artichoke around and cut off 1-inch of the top. Quickly rub each artichoke with a lemon slice so they don't discolor.
Tear off 2 large square pieces of heavy-duty foil. Rub a few drops of olive oil on the foil and place an artichoke stem side down. Stick a couple cloves of garlic into the center and push down an inch or so. Sprinkle the herb and salt mixture over the top. Drizzle 1 tbsp olive oil over the top. Finish by squeezing the remaining lemon juice over the top.
The lemon juice will help the salt and olive oil mixture to seep down into the leaves. Gather up the corners of the foil and press together on top to tightly seal the artichoke.
Repeat with the other artichoke. Place in a roasting pan and bake at 425 degrees F. for 1 hour and 30 minutes. Let rest for 20 minutes before unwrapping and serving.
Once it's cool enough to handle, just gently peel the layers of the artichoke, and eat warm. It tastes great just like that, but for an extra kick, you can serve it with a side of dipping sauce.
To prepare the Lemon Butter, just mix freshly chopped chives into the softened butter, add lemon juice according to your taste, and whip it all up. Slather it over the artichoke as it comes out of the oven, or use as a dip on the side.
There you have, a wonderful tutorial to Roast Artichokes, in 4 easy steps. And if the recipe is not enough, just follow this video which will walk you through the whole process, one more time!
Artichokes are available in all seasons, though Spring and Fall are two biggest harvest seasons. But if you are anywhere in California, you will have access to these leafy greens throughout the year. SO use it to your best advantage, and try a Roasted Artichoke at home. Perhaps it will help you get over the artichoke-hiccup, just as I did.