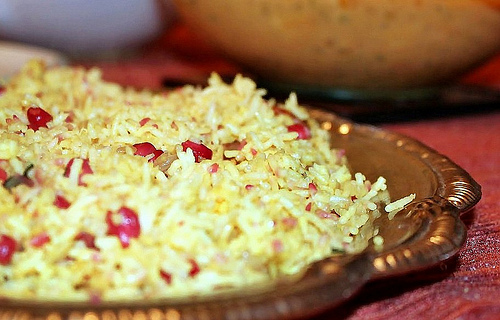 Pomegranate Rice with Toasted Pecans
When you think about fruits, more often than not you'll end up enjoying the fruit by itself, or try to use it in making a dessert. However, once you start using fruits to cook savory recipes, you will so enjoy the experience of opening a new channel of cooking! Indian dinners generally feature a Rice dish, so I was looking to make some thing different and interesting, rather than the traditional Pulao that we make all the time. As I racked my brains for an innovative inspiration, my eyes fell upon the lone pomegranate lying in my fruit basket, and I knew my quest was over. I decide to make Pomegranate Rice. Once the main ingredient was finalized, I needed something to compliment the taste. So I chose roasted Pecans and shredded coconut, to add a crunch in every bite; I opted for shallots, cilantro and lemon juice as my main flavor enhancers, as I knew they would pair well with the sweet and tart taste of pomegranate. The result – a delicious recipe for Pecan Pomegranate Rice that made a lasting impression on friends and family!

Pomegranate Rice with Toasted Pecans

Ingredients
2 medium shallots, chopped
2 tbsp oil
1 cup long grain white rice (Basmati rice)
1 tsp grated fresh ginger
1/4 cup toasted pecans – halved
1 cup pomegranate fruit – peeled and seeded
2 tbsp lemon juice
2 small green chillies – chopped
salt – to taste
1/2 tsp cayenne pepper (or garam masala powder) – adjust spice level to your taste
2 tbsp shredded coconut
2 tbsp freshly chopped cilantro

Method
If you want to toast the pecans at home, line a cookie sheet with parchment paper. Preheat your oven to 350 degrees F, and melt about 1 tbsp butter in a microwave. Coat the pecans with the melted butter, and spread them on the cookie sheet. bake them for about 7-8 minutes, until lightly browned and aromatic. Do not burn them.

Cook the Basmati rice as you would, in a rice cooker or on the stove, taking care to not add too much water, so the grain remains whole, instead of becoming mushy.

Take a pan and add oil to it. Add some cumin seeds, and as they sizzle, add the chopped shallots and ginger. Cook until the shallots turn tender, and lightly browned. Now add the toasted pecans and the shredded coconut.

Next add the cooked rice, salt, green chillies, cayenne pepper (or garam masala) and lemon juice, and mix well to evenly coat the rice. Add in the pomegranate seeds. heat through for about 5 minutes, then turn off the flame and let the rice soak in the flavors.

When ready to serve, garnish with the chopped fresh cilantro and serve hot!
This is a very simple yet delicious recipe that will match any other item on the Menu. Serve it with some Curry or as a side dish with your Turkey and you'll instantly add flair to your dinner table.
Related Recipes
Vegetarian Hyderabadi Biryani
Spicy Spanish (Mexican) Rice
Simply Beautiful Pomegranate Ice Cream