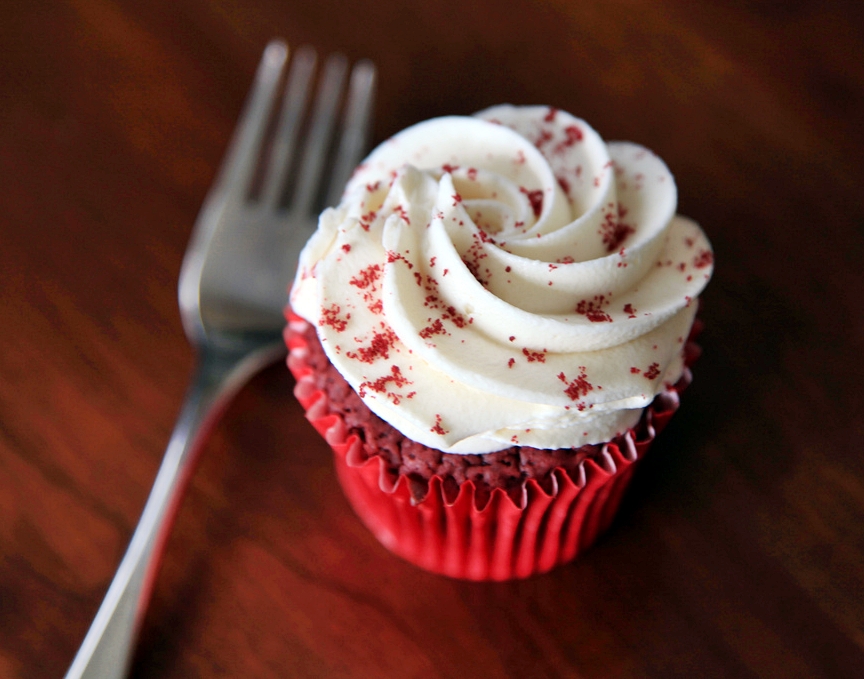 Valentine is still 2 weeks away, but I have already received tonnes of requests for Valentine Day recipes, and the one that tops the list is none other than Red Velvet Cupcakes! And why not, these pretty red cupcakes topped with luscious butter-cream or cream-cheese frosting are perfect to express your love to someone, and the bite-sized desserts help enjoy the pleasure without feeling guilty. I have already posted a recipe for Red Velvet Cake before, but this one is for all those out there who wanted the same recipe in a cute cupcake version. I adapted this from Stephanie's recipe on Joy of Baking. Go ahead and bake these for the love of your life, and don't blame me for any thing else that happens afterwards:) Images courtesy of April Bern and Shimelle Liane, shared via CC license.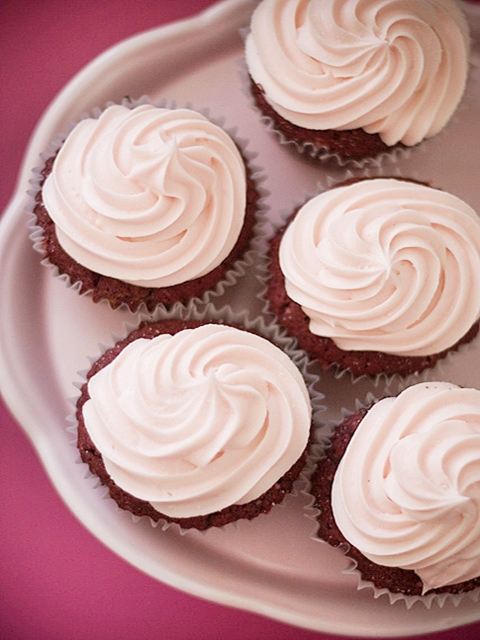 For a long time I used to keep thinking why are they called Red Velvet cupcakes? Do they have something special that gives them that deep red color and the smooth velvetty texture? Sadly, my fantasy was brought to an end when I started baking and blogging, because I realized that there was nothing special about these, except addition of red food color. It is believed that traditionally, 1 tablespoon of unsweetened cocoa powder was added to the cake batter, and the reaction between cocoa powder and baking soda gives a red tinge to the batter. However, I guess that was not enough, because over the years, the recipe was adapted to add a tinge of liquid red food color to produce those garish red, almost dark brown-red color of these cupcakes. But the secret to the moist and tender crumb of this cake goes without doubt, to the addition of Buttermilk, which gives it that smooth velvetty texture.
As for the frosting, its a standard cream cheese frosting recipe with one additional ingredient – cold heavy cream. The latter makes it rich and creamy, and firm enough to hold its shape when whipped, so you can get the beautiful swirls using a star-shaped frosting tip. And for the red sprinkles on the top, you can use ready-made sprinkles, or just break one cupcake into fine crumbs and sprinkle it over the remaining frosted ones. Just to make this extra simple, here's a video recipe that will guide you through the process.
Red Velvet Cupcakes
Prep Time: 15 mins
Cook Time: 30 mins
Servings: 12 cupcakes

Ingredients

For the Cupcakes
1 1/4 cups sifted cake flour
1/4 teaspoon baking powder
1/4 teaspoon salt
1 tablespoons regular or Dutch-processed cocoa powder
1/4 cup unsalted butter, at room temperature
3/4 cups granulated white sugar
1 large egg
1/2 teaspoon pure vanilla extract
1/2 cup buttermilk
1 tablespoon liquid red food coloring
1/2 teaspoon white distilled vinegar
1/2 teaspoon baking soda

For the Cream Cheese Frosting
8 ounces cream cheese, room temperature
1/2 teaspoon pure vanilla extract
1/2 cup confectioners' (icing or powdered) sugar, sifted
2/3 cup cold heavy whipping cream

Method
Preheat oven to 350 degrees F (175 degrees C) and line 12 muffin tins with red paper cupcake liners.

In a large bowl sift together the flour, baking powder, salt, and cocoa powder.

In the bowl of your electric mixer, or with a hand mixer, beat the butter until soft (about 1-2 minutes). Add the sugar and beat until light and fluffy (about 2-3 minutes). Add the egg and beat until incorporated. Scrape down the sides of the bowl. Add the vanilla extract and beat until combined.

In a measuring cup whisk the buttermilk with the red food coloring. With the mixer on low speed, alternately add the flour mixture and buttermilk to the butter mixture, in three additions, beginning and ending with the flour.

In a small cup combine the vinegar and baking soda. Allow the mixture to fizz and then quickly fold into the cake batter.

Working quickly, divide the batter evenly among the 12 muffin cups and smooth the tops with an offset spatula or the back of a spoon. Bake in the preheated oven for approximately 18 – 23 minutes, or until a toothpick inserted in the center of the cupcakes comes out clean.

Cool the cakes in their pans on a wire rack for 10 minutes and them remove from pan. Let cool completely before frosting. Either spread the frosting with a knife or offset spatula, or use a large star-tip to pipe the frosting.

For the Cream Cheese Frosting, take your electric mixer or a hand mixer, and beat the cream cheese until smooth. Add the vanilla and confectioners sugar and beat until smooth. Using the whisk attachment, gradually add the heavy cream and whip until the frosting is thick enough to pipe. Add more sugar or cream as needed to get the right consistency.
These gorgeous ruby red cupcakes are fun to make, no matter what the occasion, and they are especially suited for Valentine's Day. So whether its a Friday social, an event to celebrate, or a special dessert for two, Red Velvet Cupcakes will never fail to impress.