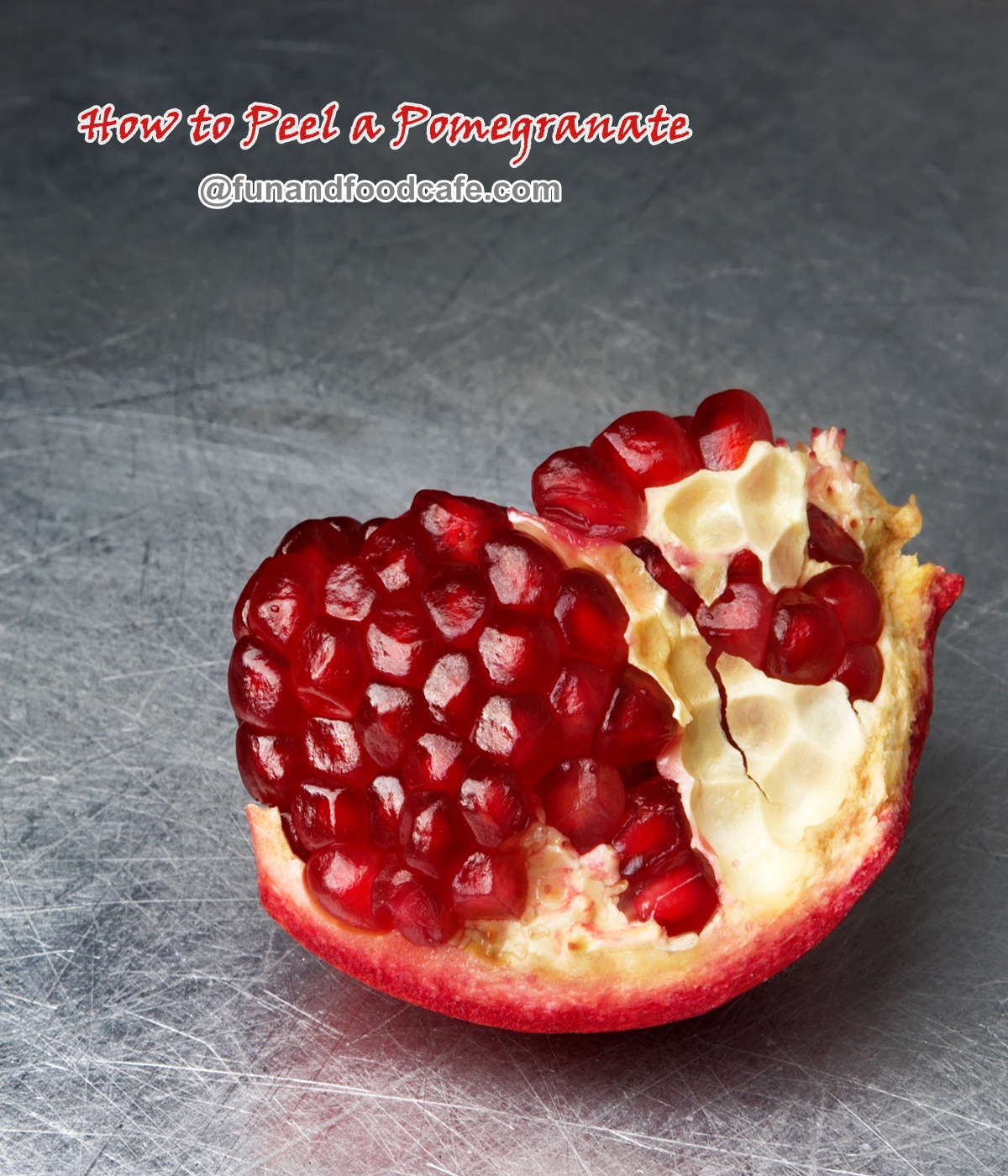 Pomegranates are a Fall to Winter fruit, and I am seeing a lot of them in the farmer's markets, as well as hanging on some trees in the neighborhood, ready to be picked, if they can survive the attack of the birds and squirrels! The ruby red fruit has been added to the list of Superfoods recently, due to its several health benefits. However, when it comes to enjoying this fruit, people tend to neglect it for the mere fact that it is so hard to cut and de-seed! But not any more – I was traveling in the same boat as you all, until I was determined to use the power of the internet and search for a simple solution that makes peeling a pomegranate easy. And to my surprise, I found not one, but two efficient ways to Peel a Pomegranate in less than a minute, so now there's no excuse to stay away from this fruit! Go on and embrace it, use it to make juice, or as additives to salads, fried rice or smoothies. And no matter how you enjoy it, your body will be thankful to the tonnes of good stuff that it brings with it! [photo by Starush via stockfreeimages]
How to Peel and De-Seed a Pomegranate
One of the easiest ways to choose a good Pomegranate is to feel its weight; a heavier fruit means more juice inside, and avoid picking any fruits that are shriveled, bruised, or have super soft spots. Wash it, clean it, and proceed with one of the two methods below to indulge in the sweet 7 tart flavors of this delicious fruit.
The Bang & Bash Method
This is a really simple method, and will not take you more than 1 minute to de-seed your pomegranate, I promise! All you need is a pomegranate, knife, spoon, and a big bowl. Its pretty mess-free too, just a few splatters of juice on your cutting board, but otherwise, clean and efficient, and definitely the fastest way to eat pomegranate arils (seeds), without losing its juice!
The Mess-Free Method
In this one, you can cut open a pomegranate and use the arils for use in salads or other recipes. It is completely mess-free, however, you do end up losing some juice in the water. So its great for just removing the arils, but if you want to drink fresh POM juice too, then you should go with the earlier method.
Pomegranate Benefits
Pomegranate is a really nice fruit to eat, and if you've never eaten it before, or shy away from it thinking its a pain to peel, then this post is for you! Pomegranate is loaded with antioxidants, prevents cartilage deterioration. provides resistance against several types of cancers, helps regulate cholesterol and blood pressure, and has even been studied t show that it can help prevent the onset of Alzheimer's Disease. And if that's not reason enough, then just go by the fact that it is a very delicious fruit, a perfect snack for your kids, and can be incorporated into your diet in several ways.
I love adding it to my salads and sides, like this Rice Pilaf with Pomegranates & Toasted Pecans. What are some of your favorite pomegranate recipes?
Must-Try Pomegranate Recipes
Classic Pomegranate Martini
Pomegranate Ice Cream with Candied Pecans
Pom Velvet Cupcakes
Pomegranate Sorbet or Granita
Pomegranate Limeade Popsicles
Pomegranate Lemon Panna Cotta