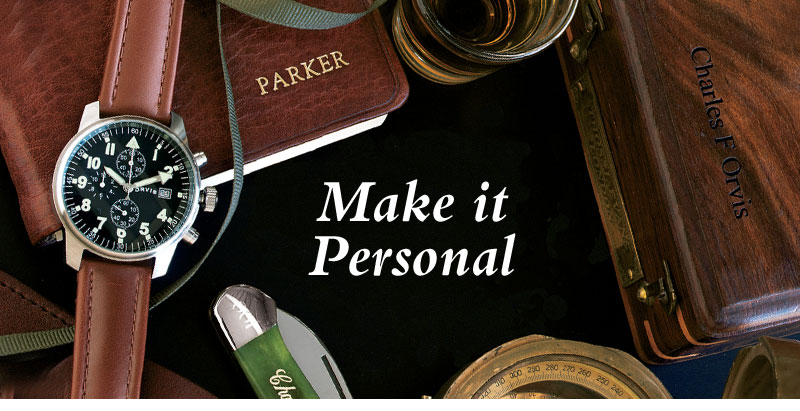 There is always someone special in your life and what better way to show them how special they are than a personalized gift. Below are a list of gift ideas that are perfect for any occasion, weddings, anniversaries, or just because you are feeling grateful. The vacation season is upon us, and there will be lots of occasions coming up which will compel you to succumb to the art of selecting gifts! Whether its a Graduation, Father's Day, Mother's Day, a Homecoming, a Housewarming or any other summer event, choosing a gift can be difficult. But with a little thought, you can come up with ideas for gifts that will fill your heart with joy because you did something special for a person you love, and of course, it will create everlasting memories for the recipient too.
Personalized Photo Items

Photos bring out the memories and serve as a great reminder to the highlights in their life so consider a scrapbook or photo album. Take the photo concept to a larger scale and print them onto apparel or coffee mugs which shows a great deal of effort. Of course you have to consider what fits in your price range, a scrapbook may be cheaper and it is definitely a fun gift to create.

DVD Video Slideshow

Take the idea of personalizing gifts with photographs to another medium and create a DVD of memories, a cheap gift of great value. It is rather simple to assemble a collection of photos or short videos and make a compilation. Add your favorite song and you have a home video that can be replayed time and time again and still never lose personal value.

Home-made gift basket

Yes, you can easily buy a gift basket at your local body care store but the best baskets come with a personal touch. Those store bought gift baskets may have an assortment of foods or different types of lotions and shampoos but they still won't amount to the product you can assemble. A gift basket with personal touch focuses on the person more than the products that are included.

Mix his or her favorites together, scented candles and a package of their favorite snack. It is a good idea to include some do-it-yourself items in their too, like these homemade a Spiced Nuts in a Jar. The main concept is to include all the little things that they like most and to show the real thought that you put into it. Or stick to simple but personal favorites, like someone's favorite Perfume or Deodorant, combined with some seasonal goodies for added pleasure.

Monogrammed Smartphone Cases

Almost everyone carries a Smartphone these days, and what better way to make them think about you than gift them a Monogrammed cover, with a special message, their name, or a secret phrase that is special between you and him! With lots of options to choose from, you can create really unique covers, or just use the online portals and ask your friend to create a unique one for himself.

Gift of the Month

What is better for a woman than a monthly membership or a subscription to her favorite magazine? You should go to a local spa or subscribe that special person online to their personal favorite. They will think more of the gift because you knew what they liked and disliked then took initiative. But above all they get to enjoy a luxury they didn't have before and they get to enjoy it for a good amount of time.

Sew Your Gift

Have a talent in sewing? Apply it to your gift giving skills and create a scarf or quilt.  Hopefully you have a sewing machine which will make the process much faster. Allow your creative juices to flow and pour onto your project and what will come of it will be a gift your special person will love. Not only will they like the offer but sewing your gift is useful as well.

Engraved items

Personalized items may be best suited engraved, and you can engrave about anything these days. From jewelry to coffee mugs, they may not seem homemade because they are professionally done but it's the thought that counts. I once had to think of a gift to give my mother. Although she's a foodie, I still found a way to give her a, useful, personalized gift with an engraved knife set. Forbes also created a list of their Unique Personalized Gifts so be sure to take a look.

Indoor or Outdoor Plants

Though this may seem like a less obvious choice, you'd be amazed at how many people actually like receiving a plant as a gift! It is such a versatile, beautiful, refreshing and everlasting gift. Choose potted plants that are easy to carry, and wrap the pots or paint them for a personal touch. You can choose Flowering plants, Fruit plants, indoor plants, or even Succulents depending on the person's choice. Something that is small and easy to maintain, it can be kept in a home, in an office, or even outdoors, and will always be cherished by the recipient.
Gift-Giving is an art, and yes, it does take some serious thought and action, but it is not a difficult task if you put your mind to it. Buying something off-the-mill will solve the purpose, but if you are looking to create everlasting memories, then choose Personalized Gifts, because it shows that you care for the person, and are ready to spend some time thinking about what makes him happy. Put effort into your gift and the personal touch will definitely show. And remember, the smile on their face when they see what you've created is the most rewarding part.