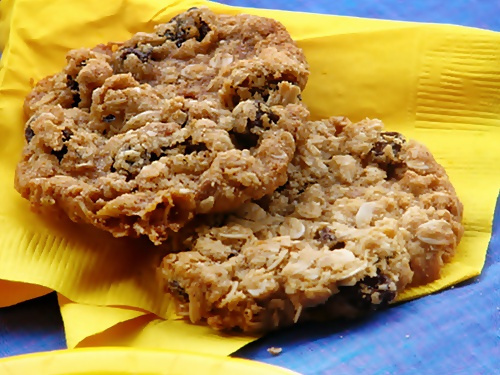 Soft and Chewy Oatmeal Raisin Cookies
Oatmeal Raisin Cookies may be a second-runner to the more favored Chocolate Chip Cookies, but they have their distinct fan following, especially among those who want to choose something healthier from time to time. Plus, the classic combination of Oatmeal flavored with nutmeg and cinnamon, combined with sweet golden raisins and a handful of nuts is too good to resist! I got my first taste of these babies in Subway, and I instantly became a fan – the crunchy chewy texture that is only accentuated by the additives makes oatmeal cookies ideal for tea time, or a quick sweet tooth craving.
These cookies are inspired by the ones I used to have at Subway. Yes, you'd be surprised I am giving credit to a local food chain rather than some gourmet bakery, but that's the truth! My first job as an international student in US was at a Subway, and I was head-over-heels about the chewy choco-chip and oatmeal raisin that I baked and served to my customers. So now, when I have the expertise to re-create it without using a pre-made mix, I feel ecstatic about it, and still look back upon those days as my source of inspiration! and if you are planning a get-together at home and looking for a healthy serving option, try the Subway sandwich platters, they are great for kids and adults!
In order to get soft and chewy cookies, it is imperative to do one thing right, and that is, you should beat the wet ingredients until they are light and creamy, especially the butter and the sugar. This usually takes about seven to eight minutes and this is a very important step so do not get lazy and stop after a few minutes. The idea of creaming is to get the most air bubbles that you can into the mixture so that the dough will properly rise in the oven. Also, for chewy cookies with crisp edges and soft centers, use a melon scoop to drop dough on the baking sheet – if you want thinner crispy cookies, flatten the dough a little before baking.
Some say that replacing Butter with Shortening in the recipe will also help you get chewy cookies. I haven't tried it myself because I prefer the real butter to the shortening, and plus, if you follow my tip of chilling the dough before baking, you will end up with deliciously chewy cookies, no matter what! Every chance that you get, stick the batter in the fridge, like while prepping, cleaning, etc. You can even drop the cookies on the baking sheet and keep the cookie sheets in the fridge until the oven is pre-heated and ready to bake. Bottom-line, KEEP THE DOUGH CHILLED until it hits the oven, and you'll end up with lovely, soft and chewy cookies that are not flat, and taste wonderful!

Oatmeal Raisin Cookies with Slivered Almonds
Prep Time: 20 mins
Cook Time: 20 mins
Serves: 2 dozen cookies

Ingredients
1 cup (1/2 pound or 2 sticks) unsalted butter, softened, OR 1 cup shortening
1 cup brown sugar, packed
3/4 cup granulated sugar
1 1/2 cups all-purpose flour
1 teaspoon salt
1 teaspoon baking soda
1/2 teaspoon freshly grated nutmeg
1 teaspoon cinnamon
2 large eggs, well beaten
1 Tbsp vanilla essence
3 cups Quaker rolled oats (you can use Quick or Old Fashioned, but DO NOT use Instant oats)
1 1/2 cups raisins
1/4 cup slivered almonds (or macadamia nuts, or white chocolate chips)

Method
Pre-heat oven to 350 degrees F. Grease two large cookie sheets or line with parchment paper or waxed paper.

In a large mixing bowl, beat butter until creamy. Add both the brown and white sugars; beat until fluffy, for about 5-7 minutes. Beat in the eggs, one at a time, folding them well into the mixture. Finally add the vanilla and give a final mix.

Mix flour, salt, baking soda, cinnamon, and nutmeg together in another medium bowl. Stir dry ingredients into butter-sugar mixture. Stir in raisins and almonds, followed by oats. remember to just stir the ingredients together, so not beat it like a cake, or your cookies will never be chewy!

Spoon out dough by large tablespoonfuls onto prepared cookie sheets, leaving at least 2 inches between each cookie. Do not flatten the cookies, or they'll become hard and not chewy. Just drop them by spoonfuls and let the oven do its work!

Bake until cookie edges turn golden brown, 10-12 minutes. Cool 1 minute on cookie sheets. Then carefully remove them, using a metal spatula, to a wire rack and allow to cool completely. They will be quite soft initially but will harden as they cool down. You can store them in an air-tight container for about 12-15 days.
Related Recipes
Soft and Chewy Orange Cookies
Homemade Chocolate Oreo Cookies
Chocolate Peanut Butter Cookies