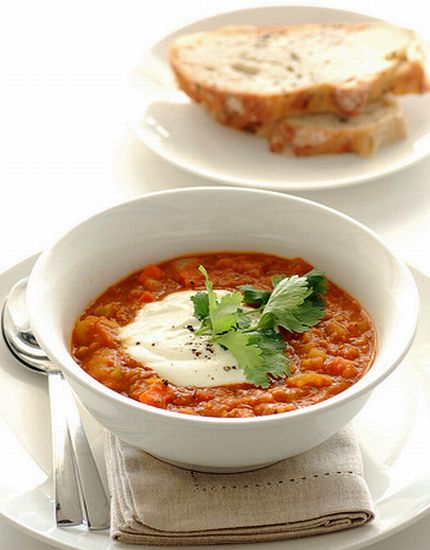 Red Lentil & Mixed Vegetable Soup
2012 has begun, and I am sure you all have a list of goals or resolutions that you'd like to stick to, at least until the end of January, when the fervor dies and its all back to normal. Like most other people, weight-loss is at the top of my New Year resolutions too. And one way that I'm going to achieve this is by including more protein and veggies in my diet. As Vegetarians, we tend to neglect proteins in our daily diet, and have to make a conscious effort to eat protein-rich foods, so we can build more muscle, which in turn can help burn fat and make you lean and fit. There are quite a few protein-rich foods for Vegetarians like Quinoa and Whole grains, nuts and seeds, soy products, tofu, etc, but the one that tops the list is definitely Lentils.
There is a wide variety of Legumes and Lentils available in the market these days, and most of these are very well accepted in Indian foods. In fact, using lentils in curries and soups is quite common throughout India, so I was very happy to see this flavorful and hearty Lentil Soup on Jule's Stonesoup Kitchen, photo by Jules Clancy, which is very similar to Dal or Lentil curry that we make. But a touch of spices like fennel and cumin, mixed with some more vegetables like celery, carrot and potatoes, it becomes a thick flavorful stew that you can eat just like that, or serve it with Chapatis or Rice. Onions, garlic and ginger give it a characteristic aroma, but few would know that these are also essential in maintaining a healthy heart condition, and cumin helps in digestion, so the lentils do not make you bloated or overly full. Its a very versatile recipe too, just change the types of lentils, like use Black or Yellow instead of red, and change the veggies that you add in, and you can have flavorful soups almost every other day!

Red Lentils & Mixed Vegetable Soup
Prep Time: 30 mins
Cook Time: 60 mins
Serves: 6

Ingredients
3 tbsp olive oil
3 small red onions, finely chopped
5 cloves garlic,
2 tbsp grated ginger
1 tbsp cumin seeds, ground
1 tbsp fennel seeds
3 cloves
1 1/2 inch cinnamon stick
1 tsp chilli flakes, or to taste
2 carrots, finely diced
3 sticks celery, finely diced
1 potato, scrubbed & finely diced
3 (14 oz) cans of chopped tomatoes
1 1/2 cups red lentils, washed and soaked in water for at least 30 mins
2-3 tbsp lemon juice
coriander leaves, to garnish

Method
Heat oil in a large saucepan over medium heat. Add onions, cover and cook, stirring occasionally until the onion is soft. Add garlic, ginger and spices and cook for a couple of minutes. Then toss in all the remaining ingredients, and bring to a simmer. Add the soaked lentils along with the water, so you don't lose the soluble nutrients. Add more water if needed only.

Cook gently, partially covered for about an hour, stirring occasionally and adding more water if it starts to look too dry and thick. When the carrot and potato are tender and the lentils have broken down and become mushy, but not squished, you know that the soup is ready. Taste and season with more salt, lemon juice and red pepper if you like.

This soup has a texture, and the full lentils give it a bite. However, if you prefer smoother soups, you could run this through a blender briefly.

Serve hot, garnished with some fresh sprigs of coriander. You could even add a dollop of butter or Yogurt on the top to make it even more flavorful.
This hale and hearty soup is a meal by itself. But you could even serve it with some Rice on the side. It is similar to Indian lentil curries that we make, however, I love the addition of Fennel to this recipe. it gives it a unique taste, and also the addition of veggies, which makes it more filling and highly nutritious. I am going to stick to having this soup for dinner at least 3 times a week – just keep changing the lentils and veggies that you use, and you could create so many flavor variations!
Related Recipes
Roasted Red Pepper Soup
Creamy Butternut Squash Soup
Mix Vegetable Soup with Beetroot & Coconut Milk