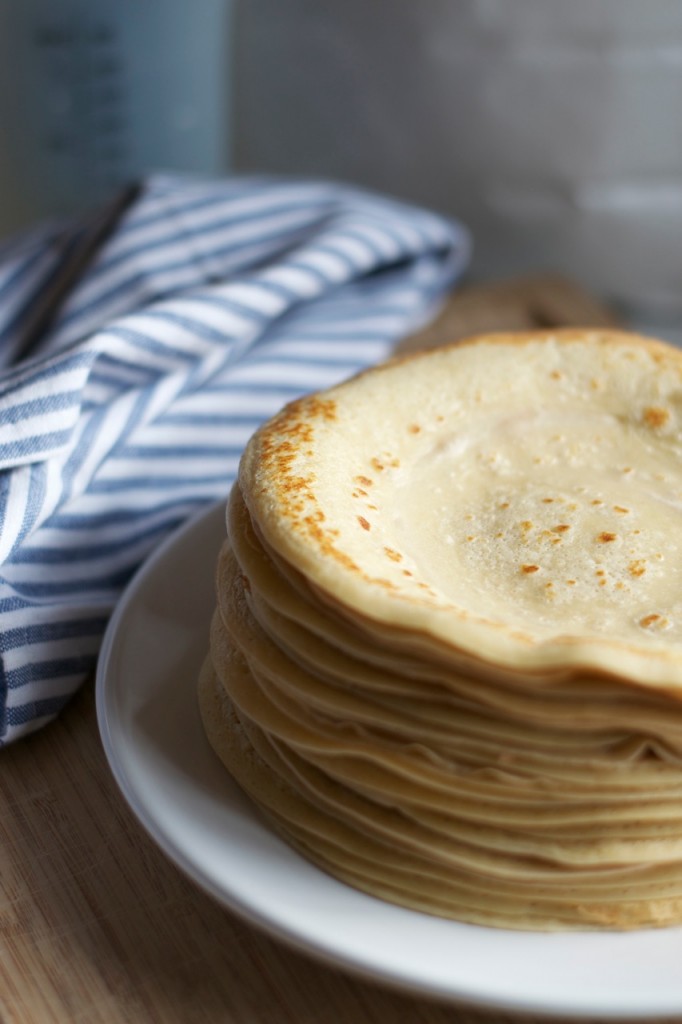 Last week, the folks from Honest Cooking challenges a bunch of us bloggers to try our hand at Nordic cooking, and believe me, I had no idea what that meant! With a little bit of research, I found that The Nordic countries is a term used collectively for five countries in Northern Europe,  namely Denmark, Finland, Iceland, Norway, and Sweden. I was specifically asked to work with the cuisine of Iceland. As luck would have it, the challenge turned even bigger for me, when I found that most of the food in Iceland revolves around lamb, dairy, and fish, due to Iceland's proximity to the ocean. So for a vegetarian like me, that left little choices to explore. As always, I turned to Desserts for inspiration, because no matter what cuisine it is, there is always a dessert that rules everyone's heart!
A quick search revealed that Icelanders like to start their morning with a traditional Pancake called Pönnukökur. Hmm, not very different from Americans, right? In fact, these pancakes look very familiar. They are just like French Crepes, thin, light, and served with jam or whipped cream. I guess all kinds of cuisines are tied to each other, or inspired from each other. These are traditionally cooked in an Icelandic Pancake pan, which is basically a round skillet with a thick bottom, which helps to cook the pancakes quickly at a relatively high temperature. The pancakes are really thin, and are dusted with powdered sugar before stacking on top of each other, to prevent them from sticking. You can easily eat 3-4 of these. Light and a bit crispy on the edges, they are a perfect way to start your day!
Recipe adapted from The Great Scandinavian Baking Book, by Beatrice Ojakangas ; photo by Lisa Hjalt
Icelandic Pancakes (Pönnukökur)
These thin crepe-like pancakes are a family favorite in Icelandic cooking. Rolled up with sugar, they make an excellent addition to afternoon tea, or spread with jam and folded up with whipped cream, they are a delicacy fit for festive occasions.
Author:
www.funandfoodcafe.com
Ingredients
2 c flour
1 tbsp sugar
⅛ tsp baking soda
2 eggs
1-2 tsp cardamom (or vanilla)
¾ c margarine or butter (melted)
milk, as required
Directions
Mix the dry ingredients together in a bowl. In another mixing bowl beat the eggs,
melted butter, and vanilla extract.
Gradually add the ingredients together to make a smooth thin batter.Then add milk slowly as needed,and whisk together to make a batter of runny consistency.
Let the batter stand for 30 minutes, to let everything settle.
Butter a skillet, and heat over medium heat until the butter is fragrant; pour in enough batter to coat the skillet in a thin layer (pancakes should be very thin). Allow to cook until the bottom is lightly browned, then turn the thin pancake over to brown the other side.
It is key that when you pour the batter into the pan, you need to rotate the pan. This helps the batter spread thinly and quickly over the surface.
Once cooked, flip it on a plate to sprinkle with cinnamon and sugar and roll up tightly or stack on a plate for folding in whipped cream and preserves or fruit.
While this recipe looks really simple, it is the technique which needs to be mastered. You will not get your perfect Pönnukökur at the first try. The pancake pan used is an important element in making perfect pancakes. A good Pönnukökur pan is passed down from one generation to another, and is already well "seasoned". If you are starting out with a new one, you may have to use some oil to grease the pan periodically after making 4-5 pancakes. And remember, the thinner the pancakes, the more compliments you will get!
To keep the Icelandic tradition alive, serve these with either regular granulated sugar in the middle, or with jam and whipped cream topping, then folded into triangles.
If you still need help in nailing the recipe, here is a video that will help

Learn more about Nordic cuisine at the NORTH Festival 2013 in New York City. This post is a collaboration between the blogger and NORTH Festival 2013.