"This shop is part of a social shopper marketing insight campaign with Pollinate Media Group® and BJ's Restaurants, but all my opinions are my own. #DineInOrderAhead #pmedia http://my-disclosur.es/OBsstV"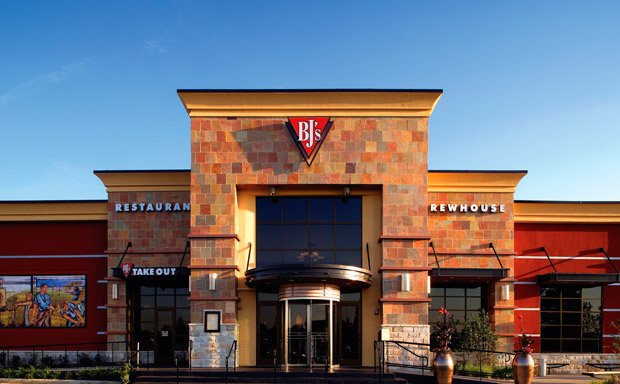 If you are anything like me and my hubby, you definitely like trying out new places to eat, and then maintain a lost of favorites that you visit every other weekend, or at least a month! There were times when we scoured the areas for new restaurants and critiqued every dish as we patiently enjoyed our food. However, with 2 kids in tow, those days are long gone, especially the younger one being just one year old. IN fact, these days eating out is a luxury we can hardly afford, and even when we do indulge to eat out, we go with the mindset that one of us would have to entertain the kids while we waited for the food to be served, and then took turns eating it:) But thanks to BJ's restaurant and their new Dine In Order Ahead Mobile app, there is at least once place where we can be in and out in less than 30 minutes. Sounds like something you need too for your family, then read on…
I first heard about this app from a friend who had tried it and was raving about it. We have been to our neighborhood BJ's Restaurant several times before, but those were pre-kiddo days, when we had lots of time to spend waiting for us to be seated. And there's always a long wait time at this place, especially if you go around peak dinner time. SO when I heard about this new app that makes it a breeze to order your food as well as pay for your meal, and get on their Preferred WaitList, I knew I had to try this! It was super easy to search in my Google Play store on Android, and once installed, it asked me to register my account so I could use the app, as well as get onto their Preferred Customer list. This not only allows you to use the app, but also sends you emails about specials and promotions. In less than a minute I was set up to place my first order!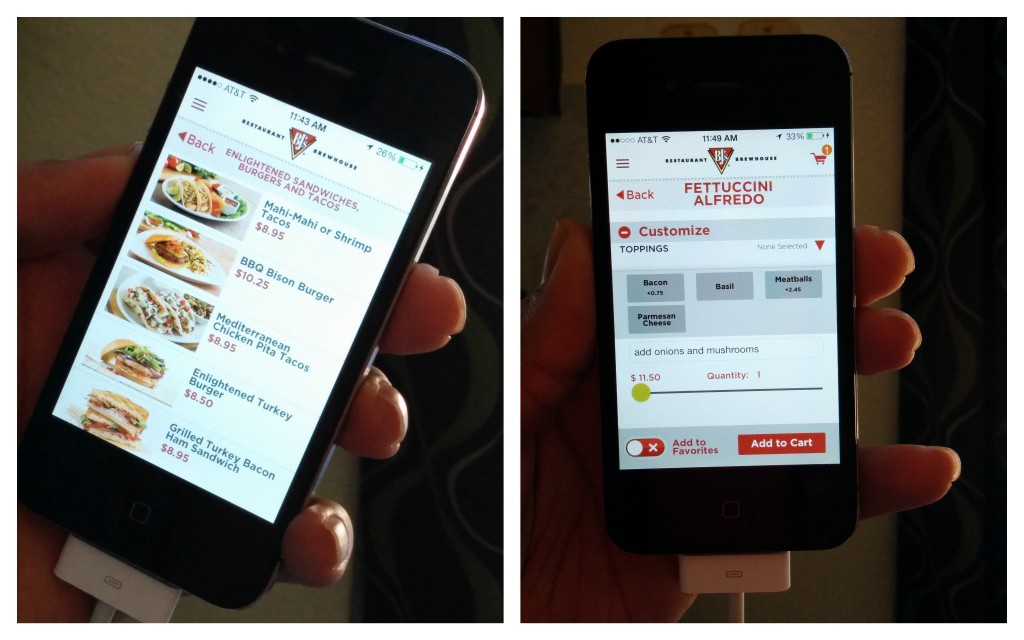 Open the app and click on their Dine-in-Order Ahead tab, which will take you to a full-blown menu to choose what you are in the mood to eat. I saw the option for Fettuccine Alfredo, but we always customize our pasta by adding some veggies, and I was sure the app would not let me do that. But what a pleasant surprise it was when it popped a tab beneath our Menu choice called Customize – perfect, I added a bunch of veggies to our pasta, then went back and selected the Avocado Egg Rolls to add to my order, and hit Continue to witness the magic. Voila, it gave me a Confirmation page with my Order number, and automatically added me to their Preferred Waitlist option, which means as soon as I reached there, I would mention to th e server that I had ordered ahead using the app, and they would immediately start preparing my meal, even without waiting for us to be seated.
We got a table in less than 10 minutes, and were told by a waitress that our order was already being cooked, and if we'd like to order anything more. We splurged on some Broccoli Cheddar soup and some Drinks, and she left us with some coloring sheets and crayons for the kids. I was thankful for that because I didn't know how long we'd have to wait. But while we were still working on the soup, she brought in the rest of our order, in less than 10 minutes! This was Awesome – no more entertaining the kids till we waited for our food. And the food was good, as it usually is, so no complaints there.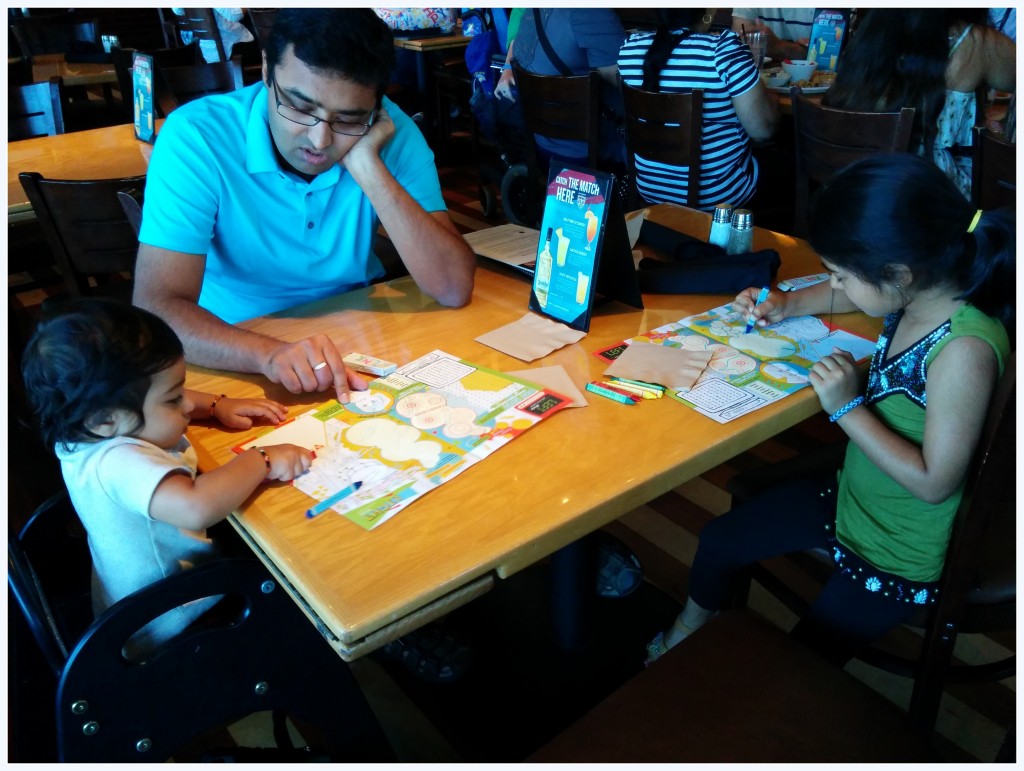 The icing on the cake – even before finishing our meal, we used the Mobile Pay feature on the app again to submit our check. We didn't have to wait for our server to bring the check, take my card, wait for another 10 minutes till it got cleared – everything was quick and smooth, and we were out of the place all fed and contented, in a little more than 30 minutes! Amazing, and totally cool for a family with kids.
If you haven't tried their app yet, I hope this post compels you to give BJ's Mobile app a serious try. You can download it for iPhone or Android. Use it to Order Ahead and cut your wait time into half, and then use the Mobile Pay feature to clear your tab. Its super easy to use, very intuitive, and a blessing to families with young kids, or even when you are in a rush and don't want to get caught in long wait lines.