Any Indian recipe is incomplete without Cilantro, except Desserts, I think:) and personally, I love this fragrant herb – it is not only pretty to look at, it smells great, lends a deep flavor to my food, and also has tons of vitamins that go with most of the greens. I love using it in all of my curries, Dal, even Pulao or Pasta! Usually, I tend to buy 2 or 3 cilantro bunches at a time. And while we do use it heavily in our house, these 3 bunches will last me for at least 3 weeks. If you've used it yourself, you know that Cilantro is a very weak herb, in the sense that it can go from fresh to feeble in a few days. I was tired of wasting so many greens just because it turned brown or black and soggy in the refrigerator, and when Fresh & Easy approached me to share a Kitchen Hack with them for the upcoming Holiday season, I knew it was time to find a real working solution to keeping my Cilantro fresh for a longer time! Speaking of hacks, Fresh & Easy grocery store is my new hack to serve my family's need for fresh, organic produce. When you see the Fresh & Easy label, you know that product is all natural – guaranteed to be free of artificial colors, flavors, and any other other nasties. Not only that, they even have organic Grab-n-Go breakfasts, Take & Bake artisan Pizzas, sandwiches and fresh fruit Smoothie Kits which are perfect for time-starved, socially aware individuals, who aspire to lead a modern, healthy lifestyle.
Anyways, coming back to the kitchen hack and cilantro, I've been using this method for a couple months, and it has served me well. No more throwing away expensive herbs in the garbage – Yeaaa!! This works for Cilantro, but I've also tried it more fresh Fenugreek leaves, Parsley and even fresh Basil. So here's a Fresh & Easy hack to keep your greens looking young and fresh for a long long time!
Take a bunch of cilantro and lay it flat on a cutting board. Remember – DO NOT WASH the Cilantro before cutting and storing. Even a little bit of moisture is detrimental to the preservation process. Just store them dry, and wash them before using to cook.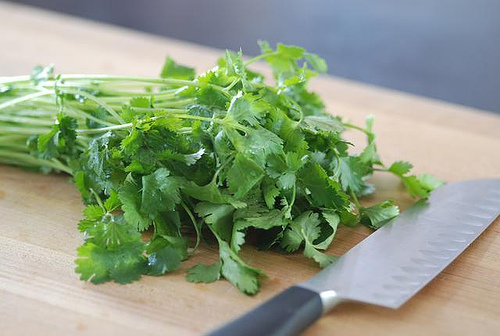 Trim the sticks from the cilantro bunch, leaving a 1/2 inch tail right under the spot where the leaves begin. This helps maintain moisture in the leaves and keeps them fresh.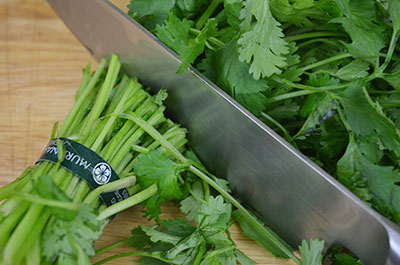 Now lay the cilantro leaves on a large paper towel and completely pat dry. Remove any soggy or brown wilted leaves at this time. Discard the wet paper towel.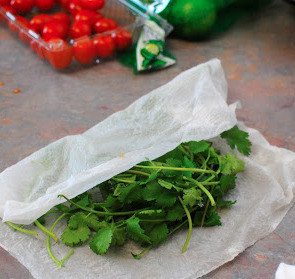 Transfer the cilantro onto a new DRY paper towel and lightly roll it up. Then transfer it into an air-tight container, along with the paper towel. Store the air-tight container in your refrigerator for upto 3 weeks. You might have to remove a few wilted leaves every week, but that's minimal damage, and you will not be wasting your precious greens! Look how fresh my Cilantro looks even after 16 days in the refrigerator!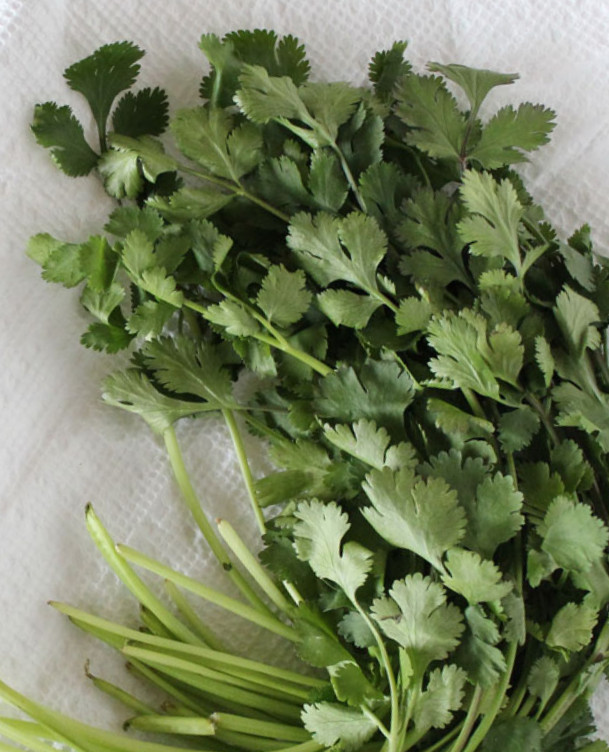 Still Looking Fresh After 16 Days in an Air-Tight Container in the Fridge
This is a very easy and a handy Kitchen Hack that I hope proves to be useful to you too, especially as the Holiday cooking season approaches. This is just one of a few different hacks that I have been collecting to make my life Easy around the kitchen. And if you are interested in more of these, do check out Fresh & Easy's Pinterest board featuring Hacks of Life. It's filled with a TON of genius cooking hacks. And while you're at it, you can enter their Holiday Sweepstakes to win $150 in groceries or $300 cash. Check out the Terms & Conditions for the sweepstake!!!
To enter, participants must:
1.) Visit Pinterest.com/freshandeasy/the-hacks-of-life.
2.) Pin their favorite kitchen hack (they may use images from Fresh & Easy's The Hacks of Life Board located here: http://www.Pinterest.com/freshandeasy/the-hacks-of-life, though they may pin their own image and the images they select will not impact their odds of winning the Sweepstakes.) They are only required to pin one image to gain entry into the Sweepstakes; multiple pins will not gain additional entries into the Sweepstakes during the Promotion Period and
3.) Include #HacksSweepstakes in the description of the pin they submit for the Sweepstakes.
4.) Once these steps are completed and "Pin It" is clicked, they will receive one (1) Sweepstakes entry.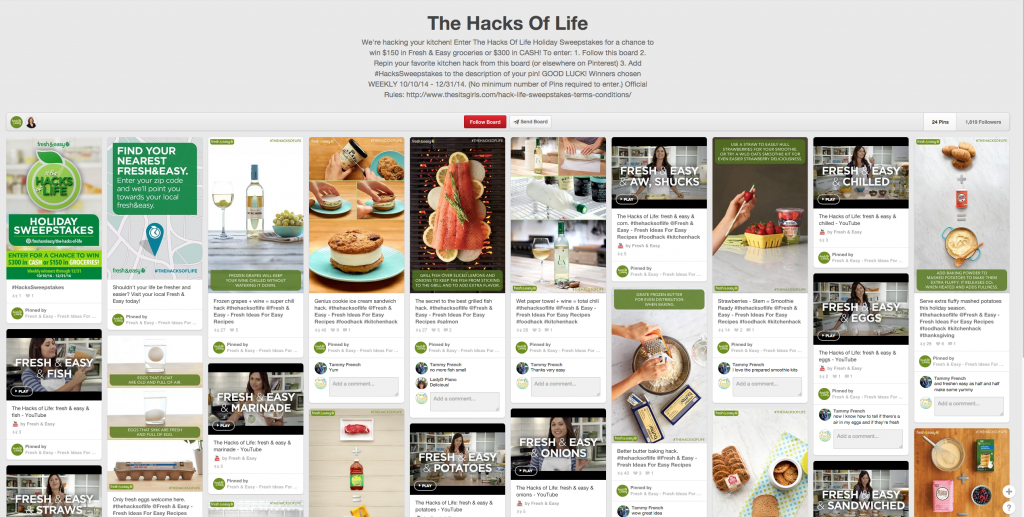 I'm always looking for more tips & tricks that will help me in the kitchen. What are some of your favorite Kitchen Hacks? Please share your ideas with the readers so we all can benefit from them!
Disclosure: This is a sponsored post written by me on behalf of Fresh & Easy. The text, images & opinions are all mine.
Related Articles:
How To Cut & Cook Pumpkin + Seasonal Pumpkin Recipes
How To Peel a Pomegranate in 5 Minutes Without Making a Mess
How To Roast an Artichoke with Garlic + Lemon Butter On the Side
How To Boil An Egg Perfectly Each Time