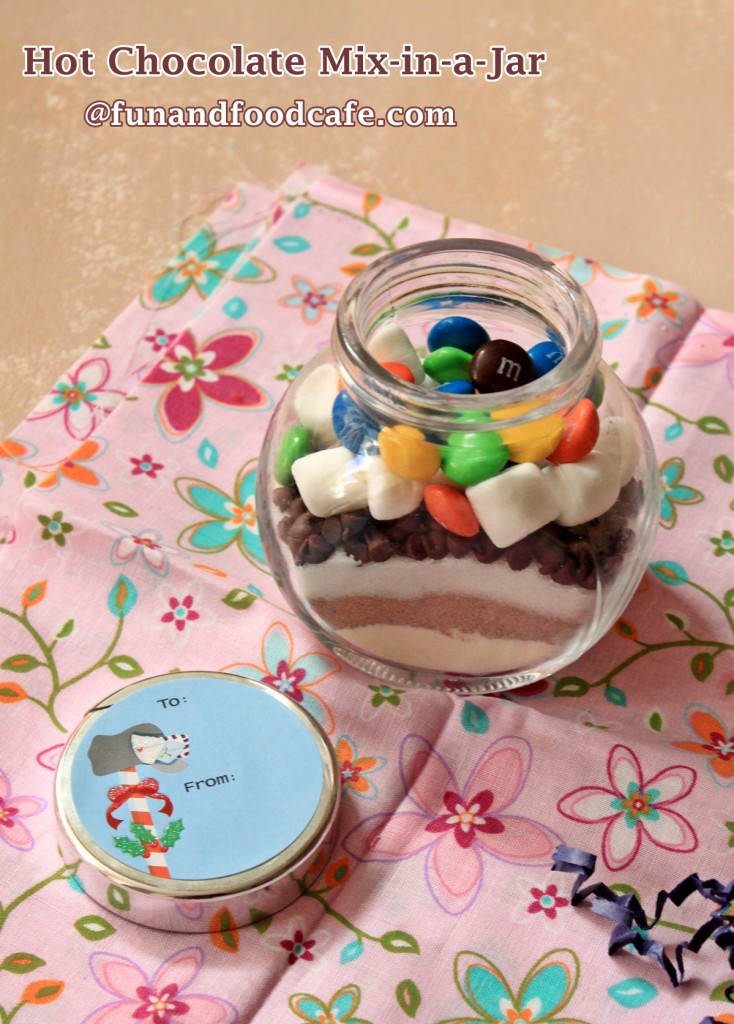 I spent the last two hours browsing the internet for Christmas gifts, and boy, it is hard work! Luckily, I have to do this only for the kids on the list. For all the adults, I can just use my culinary skills to create edible foodie gifts that they can enjoy during the holiday season. I was very keen on doing a gift-in-a-jar kind of thing this season. So instead of packing cookies or candies in a cookie jar, I thought I'd create something more unique, yet simple enough that anyone can enjoy. One of the things that people enjoy during chilly winter evenings is HOT CHOCOLATE! Especially when it's blurry or raining outside, you have a fireplace going, there's a lovely Christmas tree decorated right by it's side, and the whole family is sitting around the tree, exchanging stories, guessing what gifts Santa would bring them this year, all while sipping piping hot cocoa, decked with chocolate shavings and delicious marshmallows!
If this thought itself puts you in a happy mood, imagine how happy your friends would be to receive a yummy Hot Cocoa Mix in a Jar, which they can simply pour into boiling milk, and treat themselves to a deliciously smooth and creamy cup of Hot Chocolate! And if you are looking for quick and easy ideas to entertain friends or family for Christmas, try the Hot Cocoa & Cookie Bash, something that I've planned to do myself!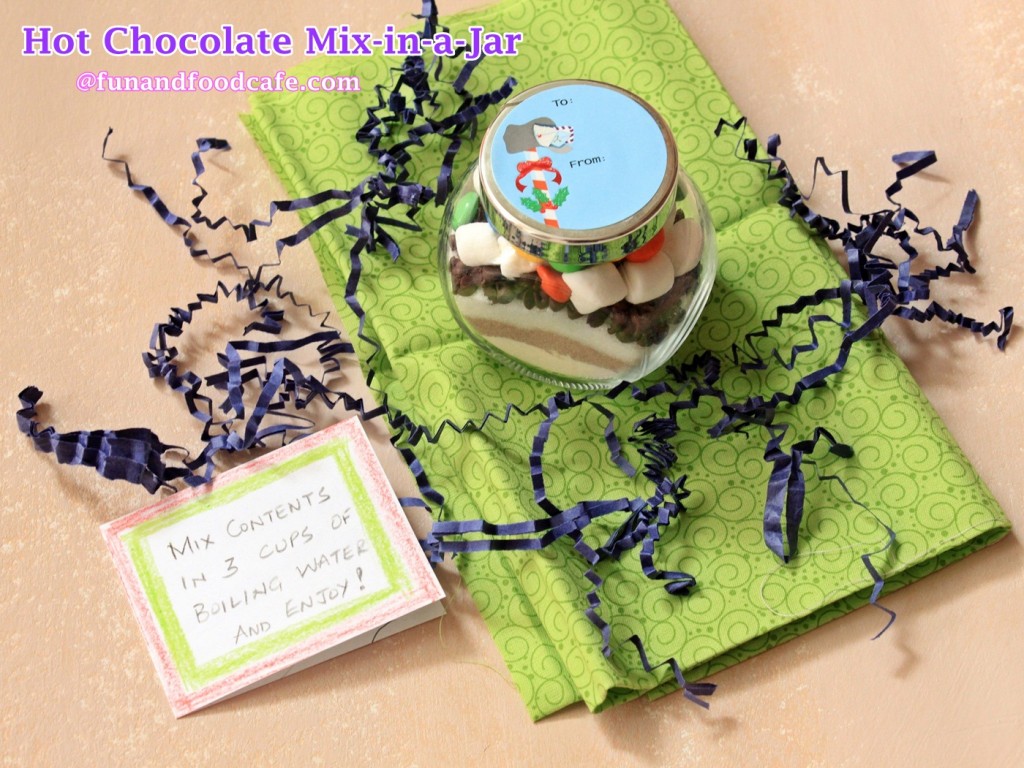 Hot Chocolate Mix-In-a-Jar
Hot chocolate is a favorite in every family, and what better way to bring a smile to someone's face this holiday Season than to send them a Festive Hot Chocolate Mix in a jar!
Author:
www.funandfoodcafe.com
Ingredients
1 cup powdered milk
1 cup unsweetened cocoa powder
1 cup granulated sugar
½ teaspoon salt
½ cup miniature chocolate chips
½ cup mini marshmallows
⅓ cup mini M&M candies
Directions
Layer the powdered milk, cocoa powder, sugar & salt, chocolate chips, mini marshmallows and M&M candies in the jar to create colorful layers in a 1-quart jar.
Add a festive ribbon and gift tag or label and attach to the jar to make it a wonderful Holiday Gift.
Print a recipe tag to attach with your gift, or just have your kids create a hand-written label which says "Mix ⅓ cup Hot Chocolate mix in a mug and stir in 1 cup boiling water. Store remaining mix in airtight container."
Notes
This mix will fill a 1-quart jar, but you can use different jar sizes as long as you keep the ratio of ingredients constant.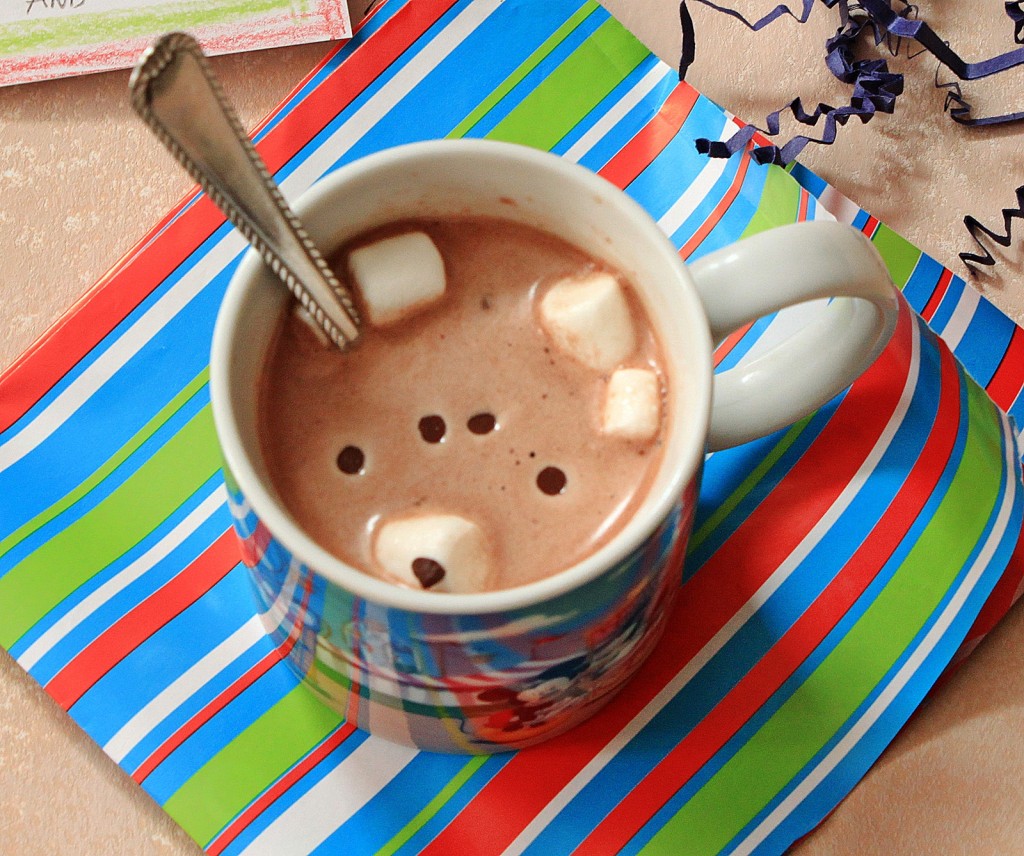 Planning a "Cookies & Cocoa" Night
I am thinking about whipping up some basic Hot Chocolate, and keep a tray filled with mix-ins, so people can customize their own cocoa. Just line up a tray with some mini marshmallows, chocolate shavings, mini M&M's, crushed caramel candies, or crushed peppermint candies. You can choose whatever you and your party group fancies. For the cookies, I am inclined to bake a batch of some of my favorite holiday cookies – the Cranberry Pistachio Biscotti and the Snowflake Sugar Cookies.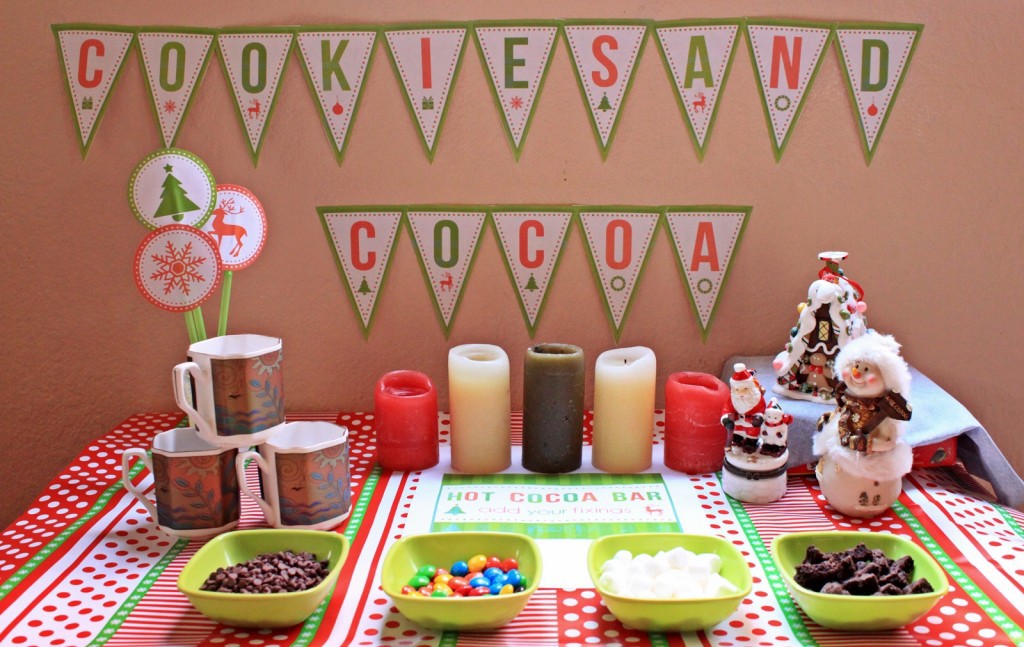 Holidays are all about spending quality time with your loved ones, and sometimes, a cup of hot chocolate and a walk down the memory lane is more than enough to make it an everlasting moment. Giving gifts is a cherished tradition in the holiday season, and if you make something yourself, that gift becomes even more valuable. So even if you are not a foodie, try this simple homemade gift that will bring a smile to the recipient's face. Hope you enjoy this Holiday season and cherish every bit of it!