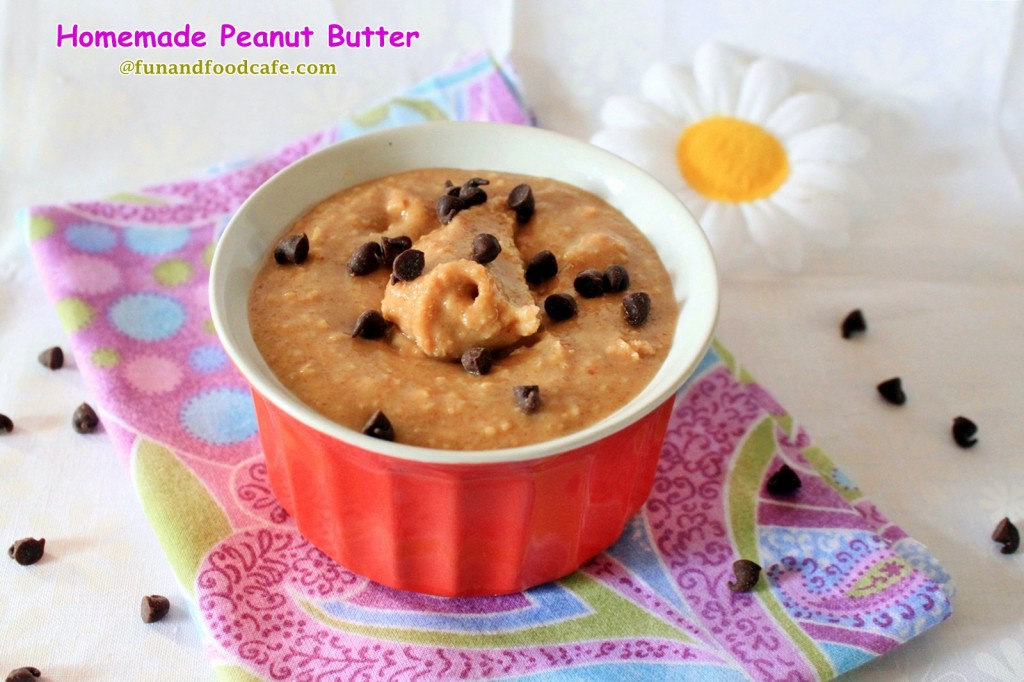 Peanut Butter is a staple in almost every household, and though a jar of peanut butter will not cost more than 3 or 4 bucks in a grocery store, let me tell you that it is easier and much less expensive to make this at home. Plus you get the added benefit of serving fresh and healthy food to your kids and family, as homemade peanut butter will not contain any added chemicals or preservatives. With just 2 basic ingredients, and a couple other mix-ins for flavor that are optional, you can make a jar of Homemade Peanut Butter that will thrive in your refrigerator for minimum 2 weeks, by which time it would be empty anyways, and its time to whip up another batch!
My daughter loves honey-roasted peanuts, in fact, she loves anything that's sweet, just like me! And I usually end up buying the honeyed butter from the fresh and organic section at Safeway, where you churn your own peanuts and make your butter. But after trying that for a few times, I saw that it would be just as easy to do this at home, and it would save a significant amount of money too. Plus, my daughter can still turn on the mixer and see the butter being made right in front of her eyes, so it satisfies her urge to "make my own PB" – works for both of us. I have tried this with unsalted peanuts, honey-roasted peanuts, as well as made my own Chocolate Peanut Butter, and the recipe has never failed me ever.
When there is only one star ingredient in the recipe, there is no doubt that the quality of peanuts that you choose will make or break the recipe. Choosing good dry roasted peanuts is the key, so don't skimp on this step, and buy the best available ones. Make sure you use the unsalted ones, so you can add honey, chocolate chips, or any other flavor additives if you like, without leaving a salty edge to the taste. The next step is peanut oil, and make sure this one is also as pure as possible. Depending on how long you churn your peanuts, you can make smooth or chunky butter as you like.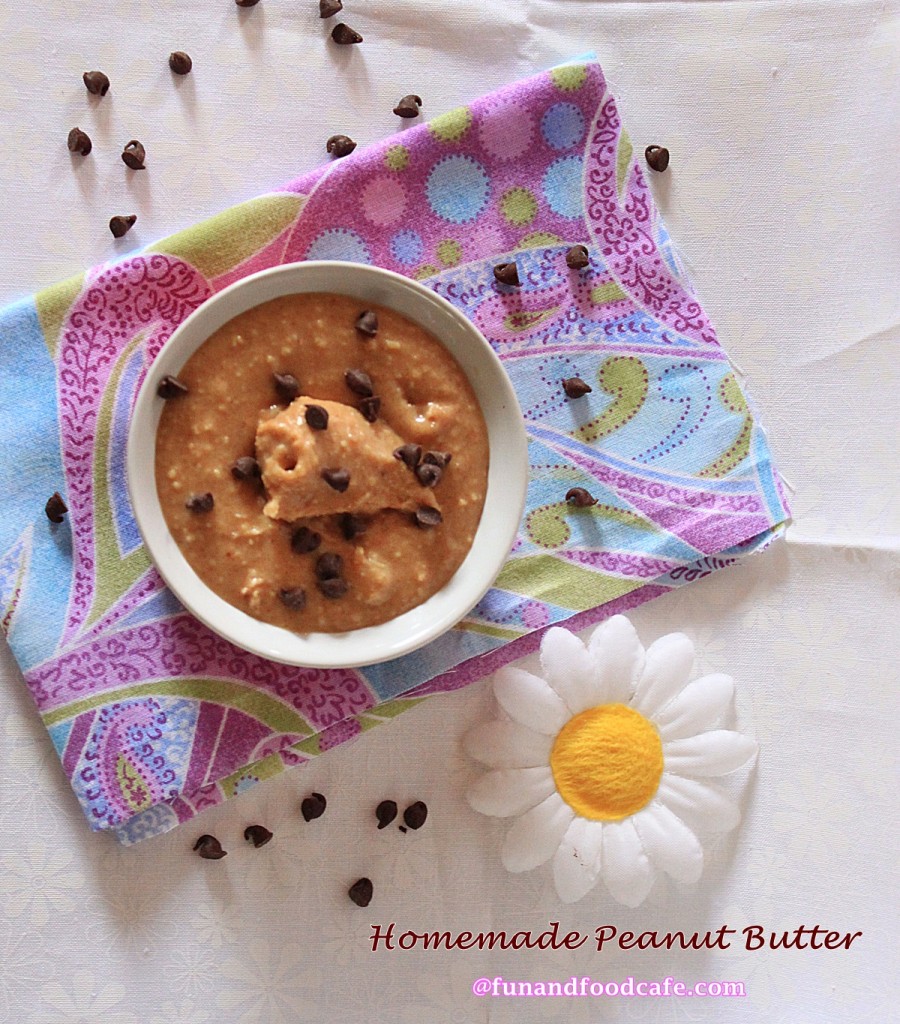 Homemade Peanut Butter
Save money and eat healthy by making your own Peanut Butter at home. Try adding honey, chocolate or other add-ins for a customized recipe, and its so easy, your kids can do this by themselves!
Ingredients
1½ cup unsalted roasted peanuts
1 tbsp peanut oil
1 tbsp honey (optional)
1 tbsp semi-sweet chocolate chips (optional)
Directions
Mix the peanuts with the peanut oil, and pour the mixture into the food processor.
Process the mixture until it's very smooth.
Store your smooth peanut butter in a sealed container in the fridge. It will be good for 2 weeks.
For making Chunky Peanut butter, reserve about ¼ cup of peanuts and set them aside. Proceed same as above to make smooth PB, then stir in the remaining peanuts and blend for a few more seconds to create the chunks in your chunky peanut butter.
You can do the same thing with honey-roasted peanuts, and if you are making chocolate peanut butter, just add the semi-sweet chocolate chips along with the peanuts, so they get incorporated into the mixture. Or you can add them to the peanut butter at the end, just mix them in, so your kid can see and taste them in every bite.
In olden days, Peanut Butter was also known as "Monkey Butter", and somehow I think it suits it better! Because unlike regular buttery spreads, this one is thick and chunky, more like a topping than a spread. IN fact, you can store this Homemade Peanut Butter for a month, and use it in your baked goodies as well, or spread it on fruit, like these Apple Peanut Butter Sandwiches
Have you ever made Peanut Butter at home? and what are some of your favorite ways to enjoy this protein-rich spread?