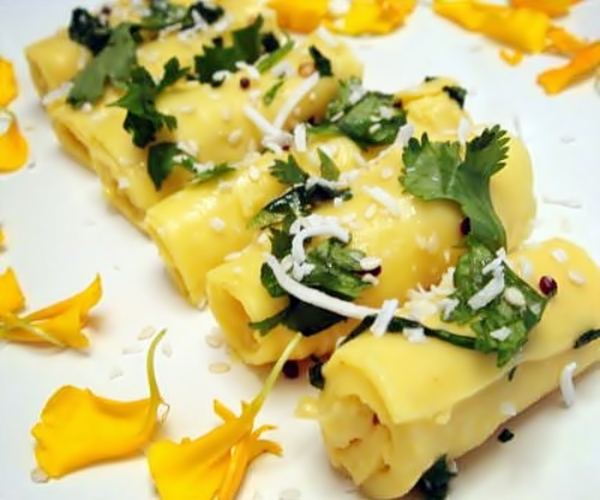 Khandvi – Rolls Made With Chickpea Flour And Tempered with Spices

Khandvi is an extremely popular Gujarati Snack made with Besan flour, and though it looks like a lot of work, it is actually very simple to make, and totally worth the effort! Besan is mixed with very sour buttermilk to create a lump-free blend, which is then heated, either on stove-top, or more conveniently in a Microwave, keeping a close eye on the mixture. After about 15 minutes of scrutinized heating, a lot of stirring in between, the mixture is ready to be rolled onto a flat tray, then cut into strips and made into mini rolls, all set to be served at the table once they are tempered with some green chillies, mustard sees, sesame seeds, fresh cilantro and shredded coconut. Doesn't that sound extremely mouth-watering?
Back in school days, I used to love to go home after school to find my Mom preparing the dough to make Khandvis. She knew we loved eating them, so she would patiently wait for the mixture to boil and thicken, all the while stirring it on the stove-top so that it doesn't burn or stick to the bottom. Khandvi mixture has the tendency to splatter quite a bit, so you have to be very careful not to burn yourself. It can be a long enduring process, but Moms don't think about time when it comes to catering to their children's taste buds:) And now I felt the same rush of motherly feelings drown me over as I made these for my little girl and watched her relish them with a smile on her face!
Anyways, I am so happy Microwaves have come to our rescue – now it is very easy to make the Khandvi mixture in the microwave, as long as you do it in short spurts, and stir it every time. Much better than ending up with burnt spots with the splattered batter! There are only 3 secrets to making the Perfect Khandvi – use correct recipe proportions, find really sour buttermilk, and be patient! As for the recipe, here's how you'll make it.
Khandvi (Suralichi Vadi)- Gujarati Snack Recipe

Ingredients
Makes about 20 small rolls

1 cup besan (chickpea flour)
2.5 cup sour buttermilk
1/2 tsp turmeric powder
salt to taste
a pinch of asafoetida (hing)

For Tempering
1/4 cup grated coconut
1/4 cup fresh cilantro – chopped
2 small green chillies – chopped finely
2 tbsp oil
2 tsp mustard seeds
2 tsp sesame seeds

Method
Prepare 4 medium-sized flat steel dinner plates (upside-down), or use a large pizza plate covered with aluminium foil. You can even use a large cutting board, wrapped with aluminium foil.

In a large microwave-safe bowl, whisk together the besan, buttermilk, turmeric, asafoetida and salt making sure there are no lumps. Cook the mixture by microwaving for 30-45 second spurts and stirring after each interval.

Repeat this procedure for about 4-5 times. After the 4th time, check to see if the mixture appears to be thick enough. Then perform the Test to see if it's done.

The Ultimate Khandvi is Done Test
Smear a small amount (teaspoonful) of the mixture on a steel plate and let it cool for a few seconds. Try rolling it off the surface. If it comes off easily and can be rolled, it is ready. If it sticks to the plate even after cooling, or breaks when you try to roll it, cook it for some more time.

Once done, evenly spread the mixture onto the upturned plates and spread it thinly, using a spatula. Let the mixture cool for 10 minutes or so.

Use a blunt knife to gently cut the sheet into 1 inch wide strips. Then gently roll each strip into a tight roll. Finish with all the rolls and arrange them in a serving bowl. Set in the refrigerator till its time to serve.

Meanwhile, take oil for tempering, add the mustard seeds to it and allow to splutter. Add the sesame seeds, cilantro and shredded coconut. Remove from heat and mix everything together.

Sprinkle this onto the Khandvi rolls and serve!
Khandvi is a healthy and comforting snack that was traditionally a bit cumbersome to make. But now, with this easy Microwave recipe, you can make it in minutes, and indulge in a favorite Gujarati snack whenever you feel the urge to try some!