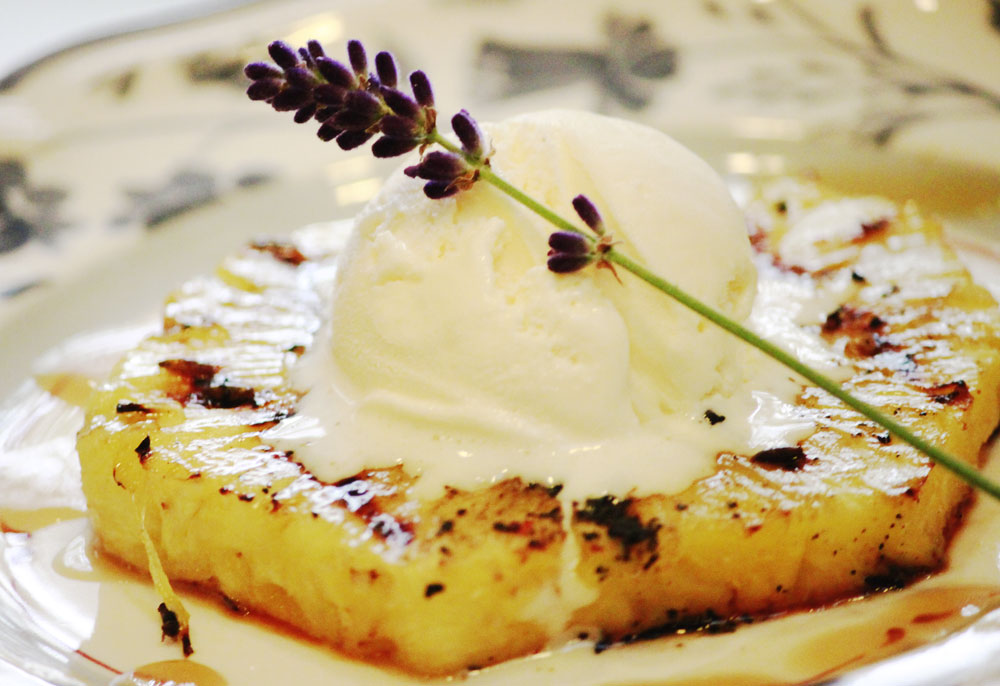 Memorial Day weekend is almost upon us, and for the few remaining days, we'll be focusing on recipes to suit the occasion! Burgers and Kabobs are indeed on the list, but being the dessert-lover that I am, lets begin with a fresh and fruity dessert first! – Grilled Pineapples are perfect for a quick and satisfying end to a bbq party. But I was even more inspired to try these when I saw this delectable recipe for Grilled Pineapples with Peppercorn & Lavender. What a perfect way to use a fresh, colorful and aromatic herb – Lavender has a lot of culinary uses, as you can see from Kathy's latest cookbook Cooking with Lavender. However, I wanted a sweet dessert sauce to top my grilled fruit, and that's how this lovely recipe was born.
Grilling Fruits is customary on this holiday, and frankly, there are some fruits like pineapples, peaches, plums and mangoes, whose flavor is enhanced when grilled. Fruit is basically made up of water and sugar and by grilling it you can concentrate the flavors by reducing the water and caramelizing the natural sugars.
I love the idea of pairing nuts with fruits, so when I was searching for a suitable sauce to pour over the grilled pineapples, this Bourbon Pecan Sauce recipe caught my eye. Even as I was reading the recipe, I could smell the sweet fragrance of vanilla and toasted pecans, combined with Bourbon, coming all together in a thick, creamy dessert sauce that would be perfect to serve over grilled or sauteed fruit. And of course, grilled fruit is incomplete without a serving of Ice Cream, so make sure to grab a pack of your favorite Ice Cream flavor.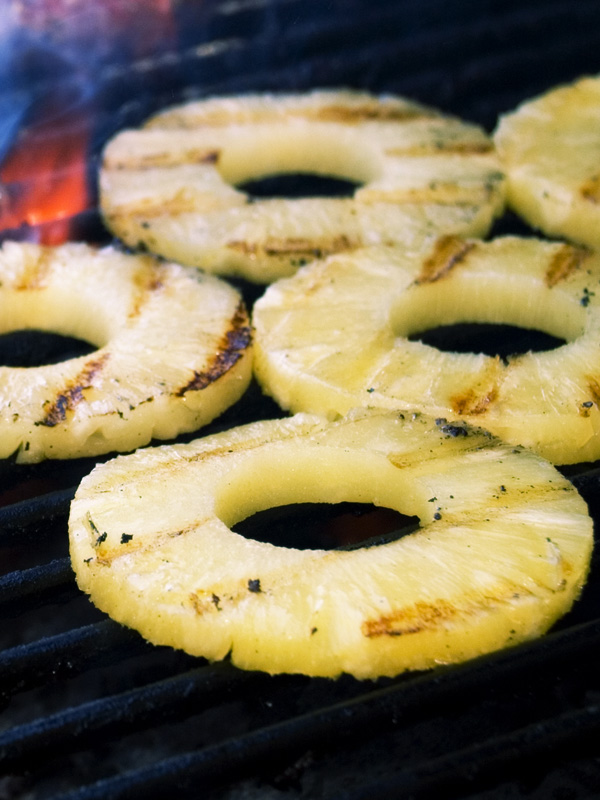 Grilled Pineapples with Bourbon Pecan Sauce & Vanilla Ice Cream
Prep Time: 15 mins
Cook Time: 10 mins
Serves: 4

Ingredients
8 canned pineapple rings, with juice cored
2 tbsp honey
1 tablespoon dried culinary lavender buds
1 tbsp freshly-squeezed lemon or lime juice
Vanilla ice cream for serving

Bourbon Pecan Sauce
1/2 cup sugar
1/3 cup water
1/3 cup chopped pecans, toasted
2 tbsp full-fat milk (you can use heavy cream for a richer sauce)
1 1/2 tbsp butter
1 tablespoon bourbon
1 tsp vanilla extract

Method
Remove the pineapple juice from the canned pineapples and keep aside. Combine the juice with rum, sugar, and toasted nuts and allow the flavors to sink in.

Meanwhile, remove the pineapple rings and pat them dry. In a small bowl, combine honey. lavender buds and lemon juice. Brush the glaze onto each slice of pineapple, coating completely.

Preheat your barbecue grill till hot and ready. Spray the grill rack with non-stick cooking spray. Place the pineapple rings on the grill and cook approximately 4 minutes on each side (turning around so that grill marks are on both sides) until the pineapple becomes fragrant and starts to dry out on the surface. DO NOT OVERCOOK, or they'll turn mushy.

To Make the Bourbon Pecan Sauce, combine sugar and water in a small saucepan over medium-high heat. Cook 5 minutes or until sugar dissolves completely, stirring constantly. Stir in the toasted pecans, milk, butter, bourbon, and vanilla extract.Then reduce the heat, and cook 3 minutes or until mixture is thick and bubbly.

To Serve
Transfer the pineapple rings to four dessert plates. Drizzle ample serving of Bourbon Sauce on the top, and add a dollop of Vanilla Ice Cream on the side.
Grilling the Pineapples brings out the flavor of this fruit in a much better way, as you will agree once you taste this exotic dessert. But if you fancy devouring some other fruits, here are some essential tips on basic grilling techniques for fruits.

How to Grill Fruits
# Hard fruits like apples, pears, and pineapples are the easiest to prepare since they hold their shape and texture while cooking. Softer fruits like peaches, nectarines, plums, bananas and mangoes can get mushy when overcooked, so try choosing hard varieties (not too ripe) when using such fruits.

# For easier grilling, dump the cut fruits into a large pot of ice cold water, splashed with 1-2 tbsp of lemon juice, to preserve the color and texture of the fruits. Soak them for at least 20 minutes prior to grilling, if possible.

# Fruits should always be grilled on medium heat, and only on a clean wire rack.
Hope these tips help you in making your perfect grilled Fruit entree on memorial Day. This can also serve to be an excellent side dish on any occasion. Be sure to check in every day as we dish up more BBQ recipes for the coming weekend.