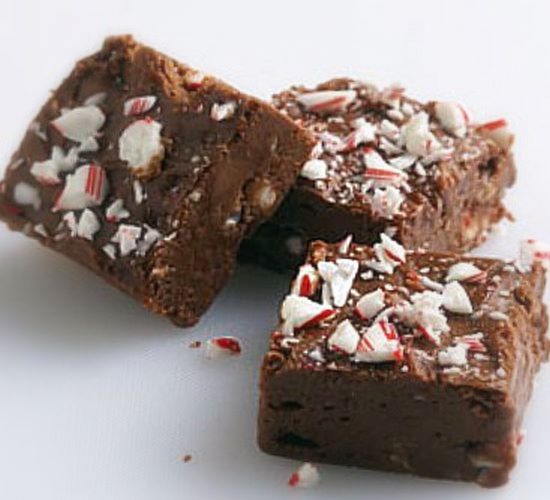 Just like cookies are an essential Holiday tradition, so is making Christmas Candy, and old-fashioned Chocolate Fudge tops the list, as it never fails to impress your guests. In fact, you can make a large batch, then pack a few pieces in a gift box, deck it with a ribbon and a Christmas message, and you have the perfect Gourmet gift to share with friends and family. The old-fashioned Fudge recipes took some time, and also the use of Candy Thermometer. These days, time seems to be a luxury, so a little less work as you try to juggle tonnes of Holiday activities, definitely brings a breath of relief. So we bring to you a fool-proof, fail-proof Fudge recipe, that will bring you the same amount of accolades, but without all the elaborate preparations. I have also included several creative flavor twists to the traditional Chocolate Fudge recipe so you can add a festive touch to your candies, just like the Peppermint Fudge featured above, photo courtesy of Fine Cooking magazine. From Mocha to Peppermint, Orange to Peanut Butter, and nuts to dried nherries, we have you covered!
So what exactly is Fudge, and what makes it so different from all the other candies? If you care to learn the secret behind making a good fudge recipe, you need to know that Fudge is a crystalline candy, which means that, unlike lollipops and caramels, crystal formation is desirable in this recipe, and by heating the candy to an appropriate temperature, these tiny micro-crystals are created in fudge, and when allowed to cool naturally to room temperature, they are responsible for the firm but smooth texture of Fudge. That was the scientific explanation, but in Gourmet language, Fudge is just a chocolate concoction that includes sugar, butter, and condensed milk, evaporated milk, or cream. And you can season it with your favorite flavor additions to whip up a batch of your preferred Fudge recipe. Use the best quality of chocolate that you can find, as that will form the base of a winning Fudge recipe, and for the rest of the magic, just follow the steps outlined below.

Fudge Recipe
Makes about 25 pieces

Ingredients
3 cups semi-sweet chocolate chips
14 + 1/2 ounces (or 435ml) sweetened condensed milk
1 cup walnuts, chopped
1 + 1/2 teaspoons vanilla essence
a dash of salt

Method
In a heavy saucepan over a very low heat, melt the chocolate chips with sweetened condensed milk and salt. Keep he heat low so the chocolate will not scald or burn.

Remove mixture from heat. Then stir in the vanilla essence and chopped nuts.
Spread mixture evenly into an aluminium foil-lined square pan (approx 8 x 8 inch)
Refrigerate to chill for approximately 2 hours, or until firm.

Turn the fudge out onto a cutting board and remove the aluminium foil. Cut your yummy fudge into squares, then decorate with more sprinkles if you like. You can store these at covered at room temperature for a couple days. Or refrigerate them to give them a longer life.
Once you have mastered the basic recipe, creating flavorful and seasonal variations is a piece of cake. Try some of these festive Fudge Recipe variations to suit any holiday celebration.
Mocha Fudge
Add couple teaspoons of your flavored coffee to 2 tsp plain water. Brew the coffee, then use it in the above recipe, replacing equal amount of condensed milk as called for.
Peppermint Fudge
Instead of chopped nuts, add some chopped peppermint and stir the mixture, then set to chill, Sprinkle some more candy on the top for added color.
Peanut Butter Fudge
Replace 6 ounces of condensed milk with peanut butter. First, melt the chocolate chips and peanut butter in the pan, then add condensed milk and let the mixture cook through till it forms a fudge like consistency. Follow the recipe to chill the fudge.
Orange Pecan Fudge
Instead of walnuts, use chopped Pecans, and add 2 tsp freshly-grated orange zest to the recipe, after the chocolate and condensed milk have been mixed, and the mixture is removed from heat. Blend well, and follow chilling instructions.
Dried Cherry & Almond Fudge
Substitute the walnuts in the recipe with equal parts chopped almond and dried chopped cherries (even cranberries are fine). Follow the remaining recipe as it is. Or you can even use White Chocolate chips instead of dark chocolate, to make White Chocolate Cherry Almond Fudge.
Related Recipes
Christmas Fruit Cake
Chocolate & Cherry Blondies
Chocolate Cake with Strawberry Creme Filling