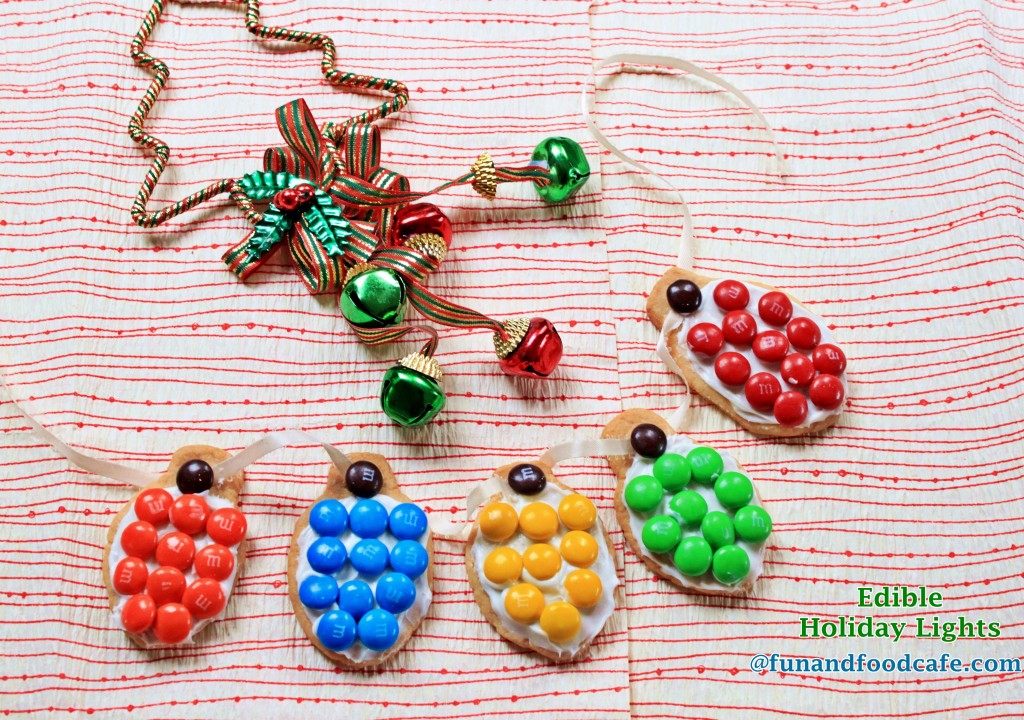 I am sure everyone has started preparing for Christmas, decorating their houses with festive lights and holiday decorations. And as you deck up your exteriors and hallways with Christmas lights, why not bring on a bit of holiday glitter to your dinner table too! As a cute and very festive dessert idea, try these Edible Holiday Table Lights, while entertaining friends and family. They are simply soft and chewy sugar cookies, baked and frosted, then decked up with mini M&M's to emulate the light bulbs in a series. Just string them together on a ribbon, and serve them directly on the dinner table. They will not only impress your guests, but will even live up to the holiday spirit!
This is a very creative and easy recipe, just like the Strawberry Santa Hats I did last year with Ritika. Sugar Cookies are everyone's favorite at this time of the year. But to give them a new look, just add some frosting and M&M power. I just used refrigerated sugar cookie dough, because it's quick and easy. But if you are one of those bakers who believes in doing things from scratch, then here's a Sugar Cookie Recipe that I normally use for my baking. Also, I used plain white frosting on all cookies, but you can even divide the frosting as per the M&M colors, and tint each batch to match the candy color, making it more authentic. In any case, these cookies look great on the holiday table, and will be gone in no time. So go ahead and spread the holiday cheer!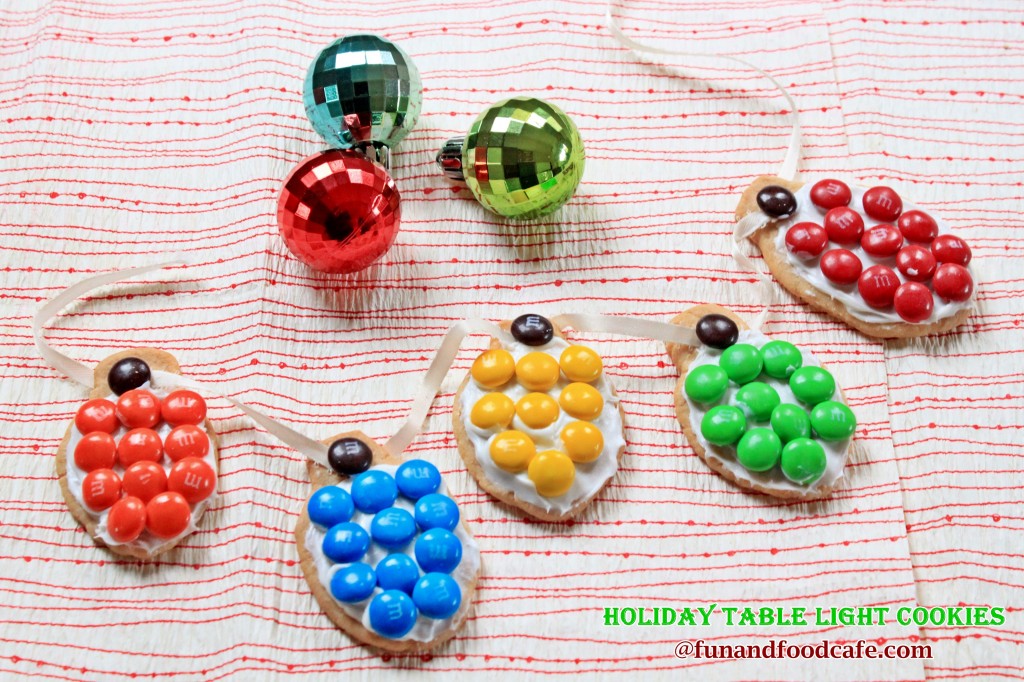 Edible Holiday Lights
This Christmas, bring the goodness of the Holiday Lights right on your dinner table! These delicious sugar cookies, decorated with colored frosting and mini M&M's are perfect to light up your holiday menu.
Author:
www.funandfoodcafe.com
Ingredients
⅔ cup flour
1 18 oz. roll refrigerated sugar cookie dough
1½ cups prepared vanilla frosting
3 cups M&M'S® Milk Chocolate Candies Holiday Blend
4 strands red licorice laces
Resealable plastic bags
Drinking straw
Christmas light shaped cookie cutter (small)
Directions
Preheat oven to 350°F.
Knead the flour into the cookie dough until smooth.
Roll the dough out to ¼-inch thickness. Then cut out mini light-bulb shaped-cut-outs by hand, or by using a Christmas light cookie cutter.
With a spatula, gently transfer the cookies to a baking sheet. Using a drinking straw, press a hole at the top of each cookie.
Bake for 12-15 minutes, until light brown. Transfer to a wire rack and let cool completely.
Separate different colors of M&M'S® Brand Minis Chocolate Candies, and set aside.
Spread vanilla frosting on top of each cookie. Arrange a solid color of M&M'S® Brand Minis Chocolate Candies on top of each cookie.
Let the cookies dry for 30 minutes. Run licorice laces (or a red ribbon) through each hole, connecting the cookies into one continuous strand, to depict a light series.
I loved making these cookies, but honestly, I think my daughter enjoyed them the most. She eagerly sorted through all the M&M candy packets to separate the colors as she prioritized the order in which she would be gobbling up her lights!! Using frozen dough, they were a snap to make, and if you are looking for a bright and colorful cookie recipe for Christmas, then I urge you to give this a shot. I am sure you will love it!