This shop has been compensated by Collective Bias, Inc. and its advertiser. All opinions are mine alone.#DisneyBeauties #CollectiveBias
Like almost every other young girl in the world, my daughter loves Princesses too. She has their stickers adorning her bedroom walls, loves watching princess movies, and more than anything else, she loves dressing up as a Princess herself! Thanks to Disney, you are always surrounded by a vast amount of princess merchandise, be it a mall or your local neighborhood Walmart – Princess costumes, dress-up kits, tiaras, dazzling jewels, fairy-tale characters, books, DVD's and even board games, there's enough to fill your little girl's life with princess stuff! Just like how we went to browse at Halloween costumes in Walmart, and ended up buying a Sleeping Beauty Diamond Edition DVD Gift Set, as well as a Dazzling Princess Dress & Guess board game! Oh, and she grabbed a pack of Disney Wall Decals for her room as well as a Comforter set featuring her favorite princess Rapunzel!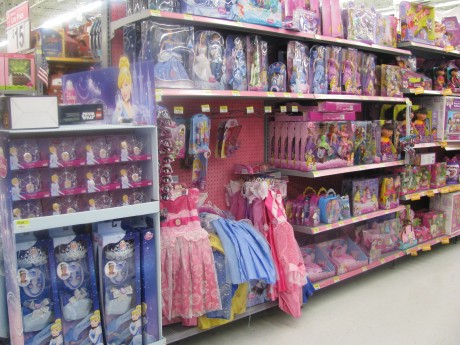 When I was growing up, we didn't have exposure to so many Princess activities, but these days, looks like there's no escape! I think every girl deserves her fair share of princess dreams, and its actually fun to dress-up and pretend to act like your favorite princess, but it also makes me sit back and think of the qualities that make you a real princess. Historically speaking, all Disney princesses, right from Sleeping Beauty to Cinderella to Snow White, they are portrayed to be as a damsel-in-distress who is rescued by Prince Charming at the end, and they live happily-ever-after. They all looked prim and pretty, but they didn't show any grit or character – the focus was more on outward beauty. And young girls fancied that – perhaps that was the reason why not many girls knew about Pocohontas or Mulan back then. But as feminism became more revolutionized, and women started getting a place of equality in the real world, Disney's fairy-tale world experienced a shift too, and that's when their princesses started showing a streak of character, whether it's the free-spirited Ariel, the authority-challenging Jasmine, the curiosity-driven Rapunzel revamped in Tangled or the brave-hearted Mirada, they each had something more than outward beauty, a strength of character that made them special, and a true princess in the real sense.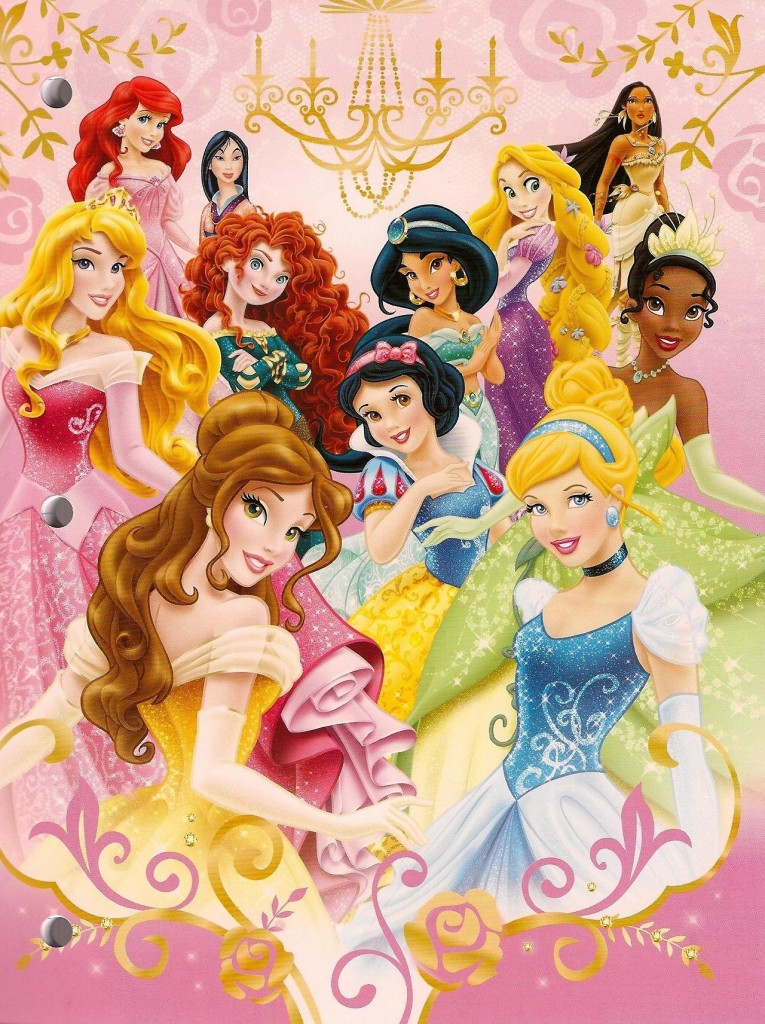 I know my daughter loves Rapunzel, and when I asked her why she loved her, she said "I love her beautiful purple gown and her long flowing golden hair" So then I gave her a hypothetical situation and asked her if she'd like to be just a helpless princess who wears a beautiful gown, or would she rather be a princess who is brave, courageous, kind and smart and can still dress up in a gorgeous gown for her dance parties at the castle – obviously, when explained that way, she quickly chose the second option! Believe me, I have nothing against pretty princesses, I adore all of them and they each have a quality which makes them special. But when it comes to making my daughter a princess, I want her to be beautiful from inside AND outside, and display that special strength of character which will help her win hearts in her hypothetical Magic Kingdom!!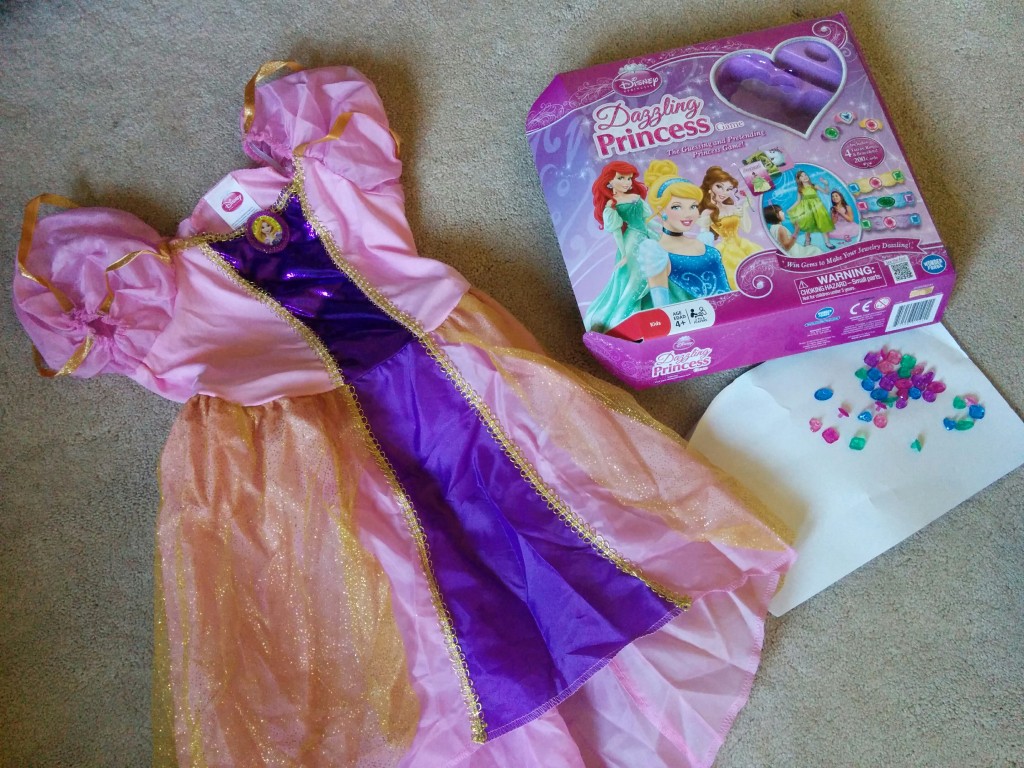 So, now that we have dealt with all the morals and character talk, its time to get fancy. After all, you do need to know how to walk, talk and dress like a princess, right? And I wouldn't dream of depriving my little girl from her imaginary princess land. So we bought a Rapunzel outfit and also a Disney board game where you earn jewels for identifying a princess correctly from the given clues, and the first one to get all her princess accessories ready with the gems wins!. I had so much fun playing with my daughter, but you can guess who had more fun – yup, she knows her princesses well, and had soon collected enough gems to decorate her Tiara, Bracelet and her Ring and win the dress-up game in no time! Here's how my little Rapunzel looked as we practiced for the Halloween party that takes place at Kindergarten next week.
Doesn't she look cute with her pretty pink dress, her lovely jewels and that big smile on her face?:) Thank you Disney, for making her feel like a real Princess!!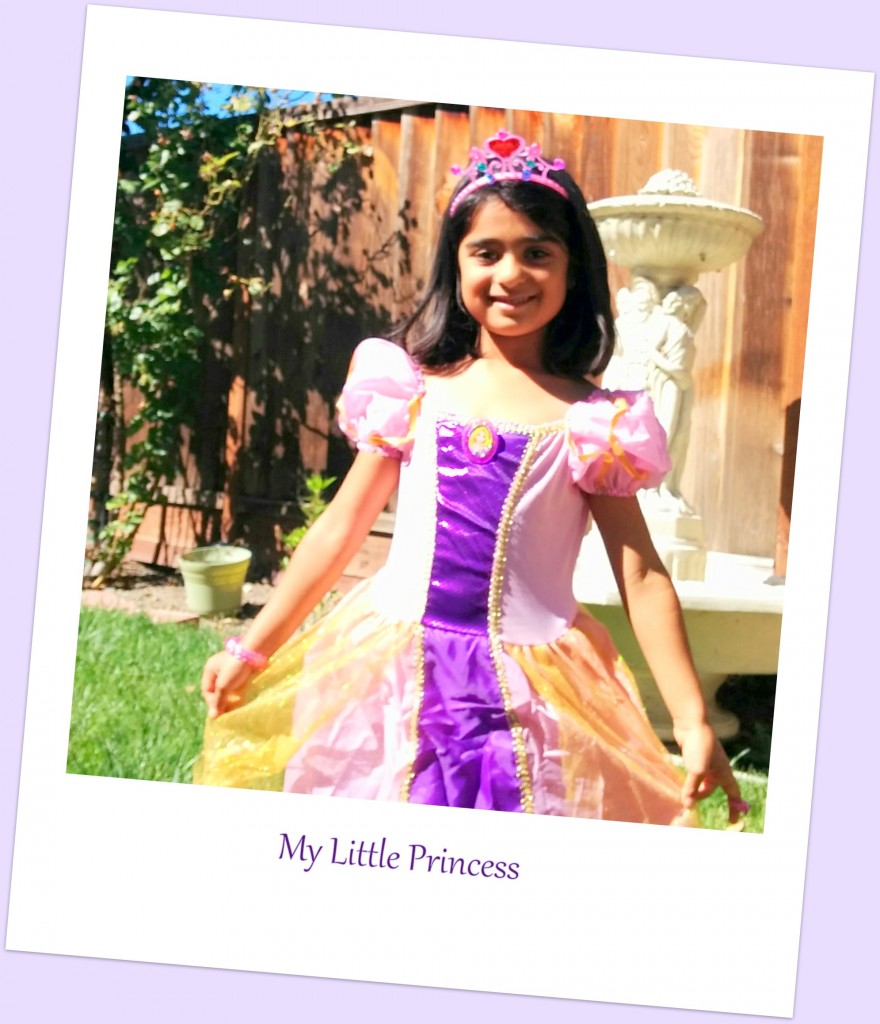 And now, just to add to the fun, in case you are wondering which kind of Princess you fancy to be, or are most closely related to, then here's a small Quiz, courtesy of Disney. Just answer these 10 questions below, and you'll be able to tell Which Disney Princess Are You? Its a great way to share a laughter or two with your little princess.