This is a sponsored post written by me on behalf of Rioja Wine. The text, opinions and images are all mine.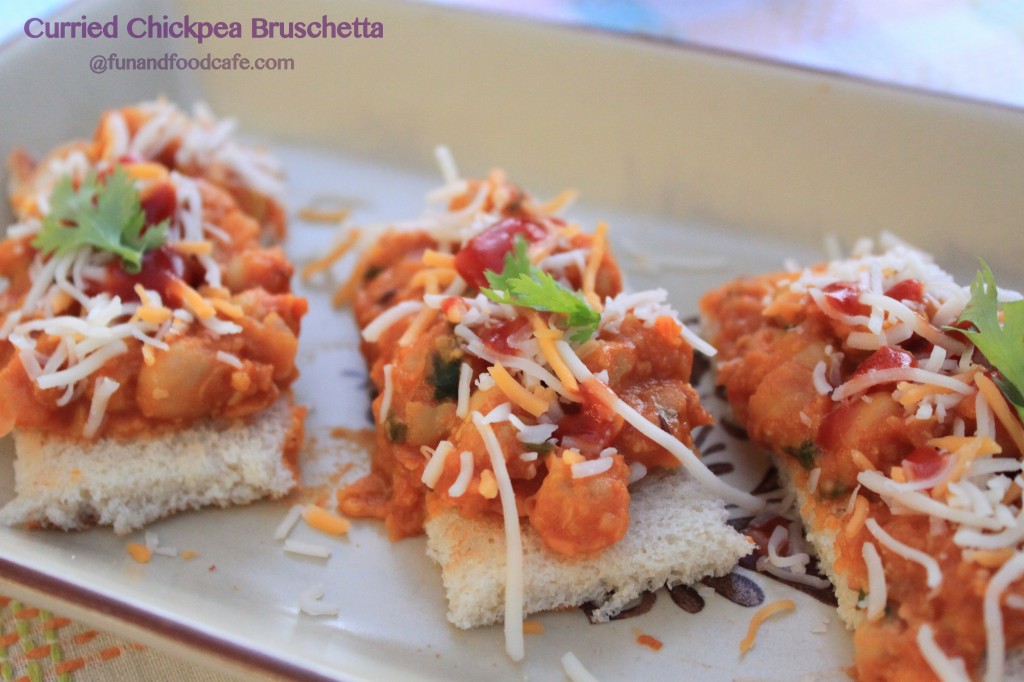 We have been blessed with nice sunny weather here in California, but the days have started to get a tad bit shorter, and the evenings now have a chilly draft to them. As I watched the pink and orange hues of the sky last evening, I felt like enjoying the best of summer before it was time to bid it farewell. I saw a bottle of Rioja wine lying on my wine rack, and I was inspired to make it a special evening that I could celebrate with my family. It you are not familiar with Rioja, it is a region in Spain that is famous for its vineyards, and of course, the wine varietals that emerge out of this crop. What I had in particular was Rioja Reserva, one of their highest-aged wines that is a trademark of the Rioja brand. Unlike other wine regions, winemakers in Rioja age the wine for you in their cellars. They don't rush their wines to the market and only release it when it is ready to drink. When you pick up a bottle of Rioja, you can be sure it will taste great right away. Filled with tannins, and aged for at least 12 months in oak barrels, this wine was perfect for the recipe that I had in mind. And at around $15 a bottle, its perfect for an occasional pour, or as a hostess gift.
I decided to create a Tapas recipe for the evening, especially since we wanted to eat out in the patio while enjoying the sunset and the weather. But I wanted it to be something filling that could satiate our need for a light supper, so I decided to mix Indian with Italian, and came up with the idea of creating a Chickpea & Cheese Bruschetta. Inspired by a traditional bruschetta, but using curried chickpeas and shredded mixed cheese instead of mozzarella, this was going to be something that would be perfect with our glass of Rioja.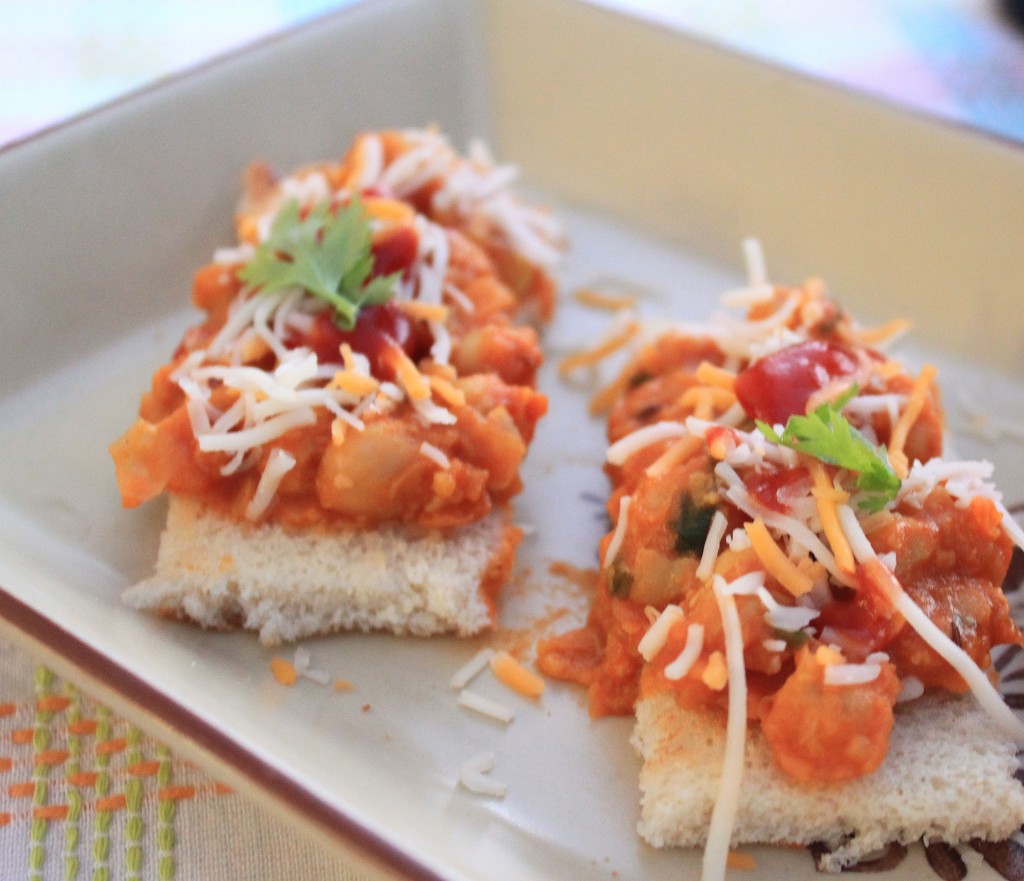 For the curried chickpeas, just use some canned chickpeas, boil them a little to make them soft and mushy, and saute them with some oil and Indian spices. I added some Garam Masala, the secret ingredient that lends flavor to most of the Indian curries, and replaced the basil with some freshly chopped cilantro. Then use a baguette or toasted bread, layer it with the curried chickpeas, top it with some shredded cheese, and enjoy while its hot with a glass of your Rioja Reserva – as the complex flavors of the Tapas recipe mingle in your mouth, the wine will help you wash it down with enhanced flavor as the strong tannins help break down the proteins in the recipe. What more can I say, its truly a Match Made in Heaven!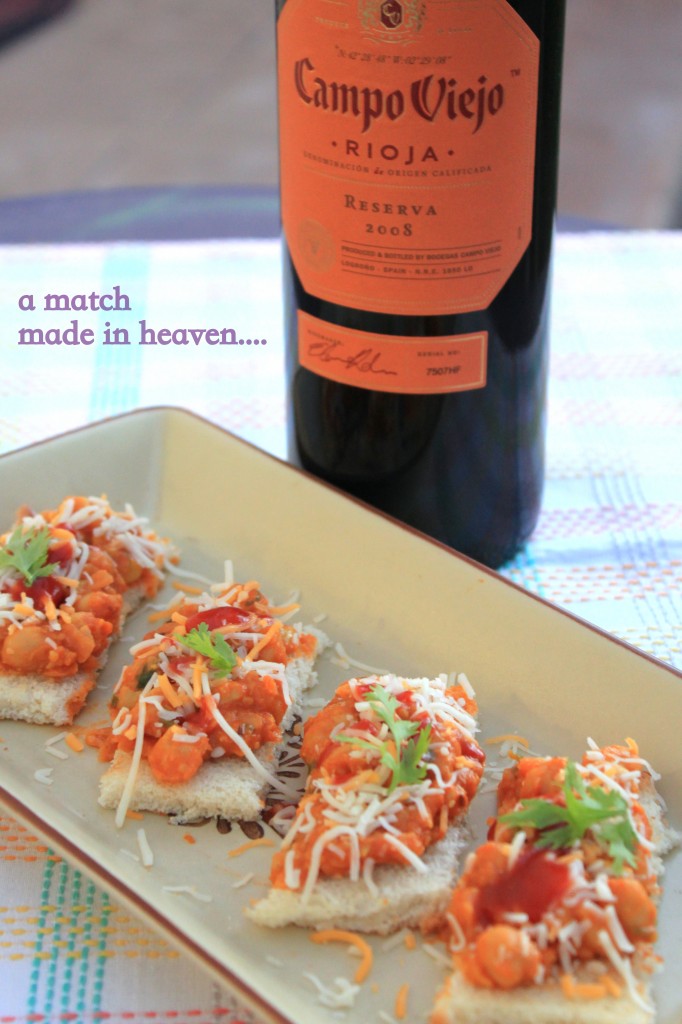 Curried Chickpeas & Cheese Bruschetta
Curried chickpeas flavored with Indian spices, layered on a baguette with some shredded cheese and finely chopped cilantro, creates a lovely fusion Tapas recipe that pairs perfectly with a glass of wine for a cozy evening supper.
Author:
www.funandfoodcafe.com
Ingredients
1 cup canned chickpeas, washed and rinsed
1 tbsp finely chopped cilantro
2 tbsp shredded mixed cheese (or mozzarella)
6 slices of baguette or toasted bread
1 tbsp butter or olive oil
3 tbsp tomato sauce
a pinch of turmeric and garam masala
salt and pepper, to taste
Directions
Melt the butter in a pan and add the tomato sauce/paste to it.
Let it sizzle and cook till the fat separates on the sides.
Add the turmeric, garam masala, salt and pepper and give it a stir.
Boil the canned chickpeas till they are soft and mushy.
Add them to the tomato sauce and mix it all well. Add half of the finely chopped cilantro, leaving some for garnish.
Take the baguette slices and layer them with butter.
Now spread a layer of the curried chickpeas on the top, followed by shredded cheese.
Layer them on a baking sheet and toss it into the oven. Broil it at 200 deg F for 20 seconds, just the cheese melts and gets a little brown.
Serve warm, garnished with some more cilantro, and pair it with your favorite wine.
This was a wonderful recipe that came out of a whim; me and my husband enjoyed the Chickpea Bruschetta on our garden swing, watching the sunset and feeling the cool breeze on our faces. It was totally relaxing as we talked and sipped on our wine in between – perfect way to spend an evening with your loved one. How do you like to enjoy your summer evenings?