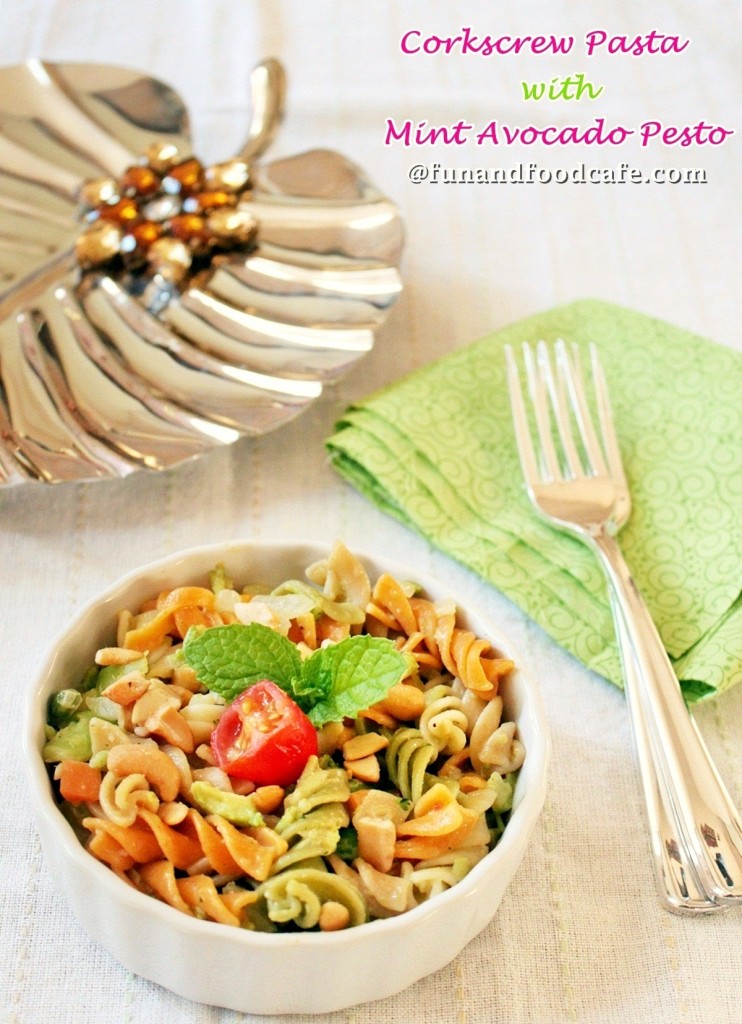 Pasta with creamy avocado mint pesto, cashews and cherry tomatoes
I love the abundant sunshine and bright long days that Summer brings, but where I live, evenings tend to become a bit chilly, even in peak summer, giving me and my family ample opportunities to indulge in warm comfort food, like this bowl of colorful pasta that you saw above. Farmer's markets are still thriving with fresh seasonal produce, and this time, my target ingredient was Avocado. But we wanted to have a family-style dinner outside in our backyard, so to compliment the chill outside, I needed a heart-warming recipe that is easy to make, can easily be transported to our patio, and used up the Avocados in my pantry. Pasta was the first thing that came to my mind, and thought I had heard about cold Pasta Salads with Avocados, I wasn't so sure about making a creamy sauce with it, but nonetheless, the chef in me was up for a challenge, so I proceeded to turn my vision of a nice and comforting bowl of veggie pasta with creamy avocado pesto, into a reality!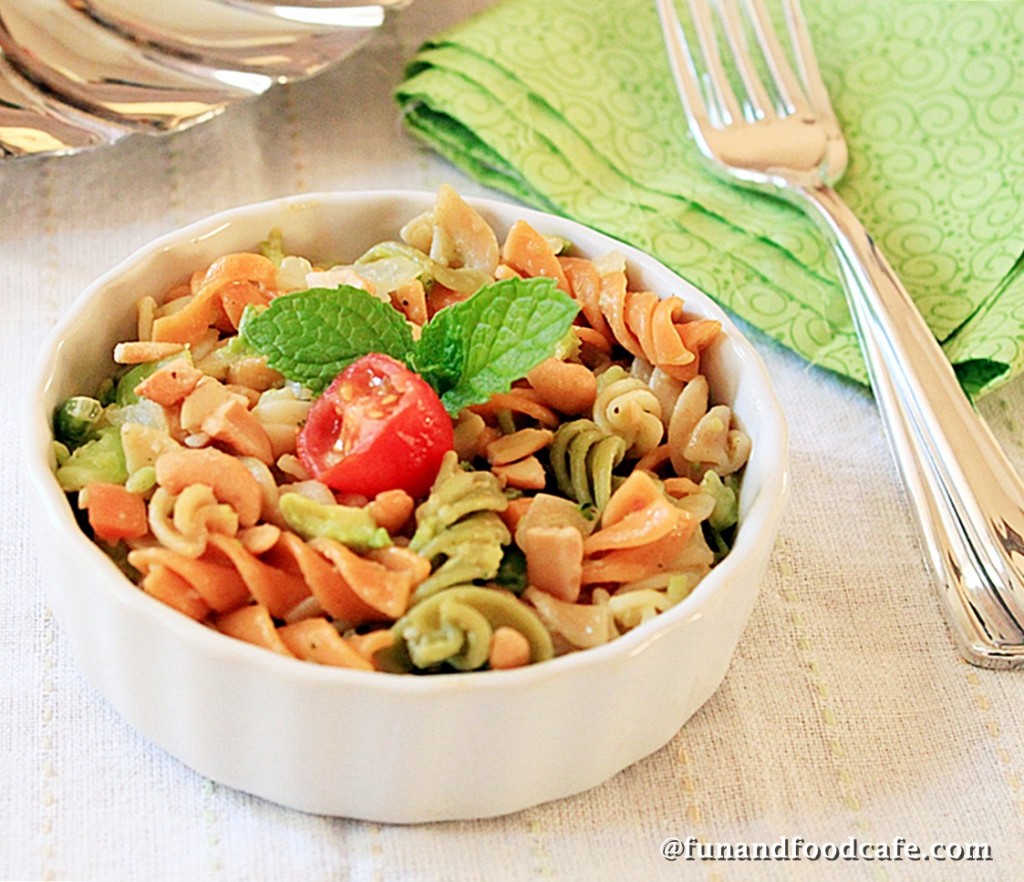 None of my meals can be devoid of veggies, especially when it comes to feeding my toddler, so I chopped up some carrots, peas, broccoli, and also threw in a bunch of roasted cashews, for crunch, taste and nutrition. After all, if pine nuts and walnuts can work with a Pasta dish, why not Cashews? Next came the sauce. I had seen several pairings of avocado with peas, and also the standard Basil-Avocado pesto. But I wanted to bring a new flavor in my recipe, so I went outside and picked up some fresh mint leaves from my vegetable garden, along with some cherry tomatoes. I made my Avocado pesto using mint, olive oil and walnuts – it tastes great, uses less oil because Avocado itself has enough fat, and can be preserved for at least 2-3 days (more than that, it might start getting brown in color due to oxidation)
I just made a normal white cream sauce (bechamel sauce) first, then added  heaping tablespoons of my avocado pesto to this mixture after taking it off the heat, and there,  I had my deliciously creamy, smooth and lime-green colored Avocado sauce, ready to be poured over my pasta dish! I urge you to give this a try – the flavors are really light and refreshing, with a mild but characteristic taste of mint that pairs beautifully with the other veggies. And the roasted cashews were a wonderful addition – you will have to try it yourself to feel the experience!
Veggie Pasta with Avocado Mint Pesto
Quick and hear-warming pasta with a unique avocado mint pesto sauce as its base, loaded with veggies, cashew and cherry tomatoes, this is a meal you will want to have every time!
Author:
www.funandfoodcafe.com
Ingredients
6 ounces pasta, ( I used corkscrew)
2 cups chopped veggies (I used a mix of peas, carrots and broccoli )
¼ cup roasted cashews, halved
1 tbsp butter
1 tbsp all-purpose flour
½ cup milk
2 large ripe avocados, pitted and peel removed
1 tablespoon fresh lime juice
1 clove garlic, minced
¼ cup chopped fresh mint, loosely packed (about 8 leaves)
½ teaspoon salt, or to taste
1 green chilli, slit and seeds removed
Directions
Bring water to a boil in a medium sized pot. Salt the water and add in your pasta, reduce heat to medium, and cook until soft, about 10-12 minutes. We like more cooked pasta, but if you like it al-dente, then do so according to your choice.
On other side, take your chopped veggies and steam them or par-boil them to make them soft.
While the pasta is cooking, make the pesto sauce by placing the avocado, garlic, lime juice, mint, salt and green chili into a food processor or blender. Process until smooth and creamy.
Take a non-stick pan, keep the heat on low-flame, and add butter to it. As it melts, add the flour and milk, and whisk until blended smoothly. Season lightly with salt and pepper if you like.
Then remove the sauce from heat and let it cool just a little, about 5 minutes. Now add the Avocado pesto to this sauce and mix everything together to form a smooth, creamy sauce.
When pasta is done cooking, drain and place pasta into a large bowl.
Take 1 tbsp olive oil in a pan, and add the chopped par-boiled veggies to it. Give it a stir to coat well with oil. Let them cook for a few minutes, until they become soft and tender. Toss the cooked pasta into the wok, and mix well.
Now add the avocado pesto sauce to the pasta and toss until pasta is well coated.
Sprinkle the roasted cashews on the top, along with the cherry tomatoes (if using), and serve immediately.
This pasta recipe is a perfect way to use your Avocados in a deliciously unique way. And if you are watching calories, or don't like a creamy sauce, then just add the avocado pesto directly to your cooked pasta, and skip the bechamel sauce altogether. It yields a healthy and filling lunch or dinner recipe that will keep you coming back for more!