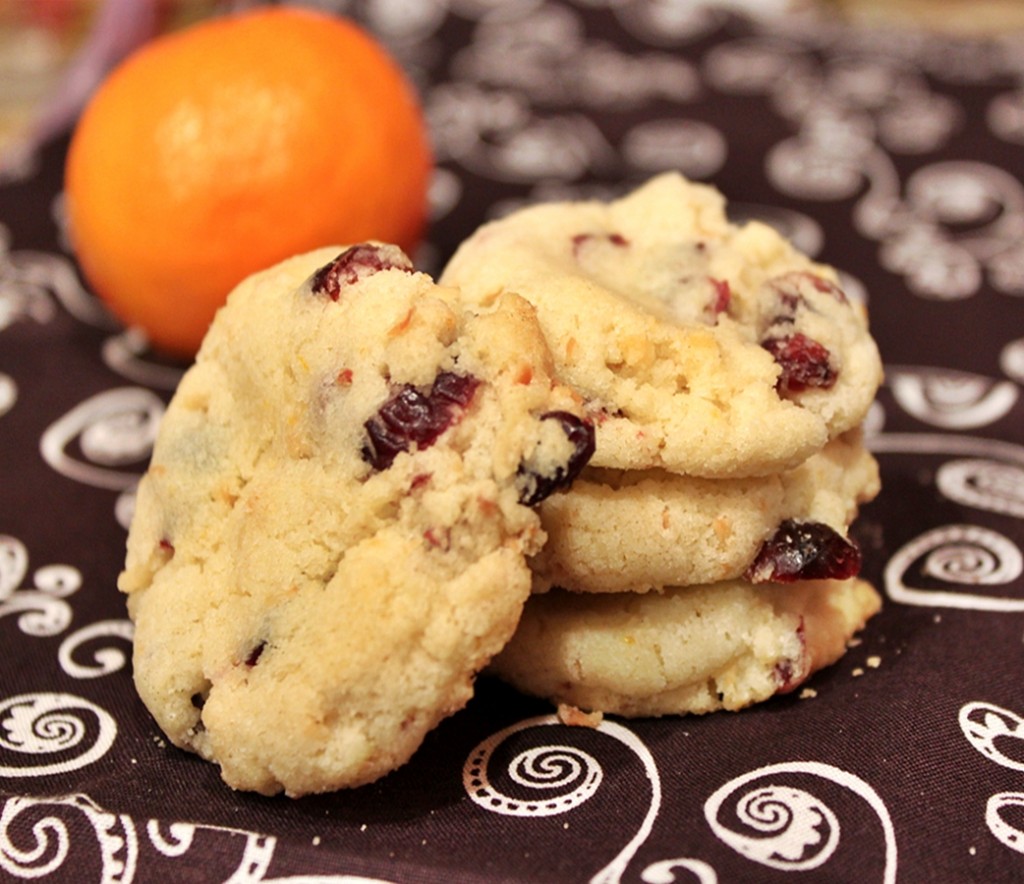 Super Soft Cranberry Orange & Coconut Cookies
Last weekend, I saw some tangerines that were lying on my kitchen counter waiting to be eaten, but my daughter seemed to have had her share of oranges for a while, and I was in a mood to bake something that's quick and delectable, so I settled on baking some Cranberry Orange cookies. I like my cookies to be soft and chewy, so they melt in your mouth as you bite into them, but I also wanted a crunch factor, so I decided to throw in a handful of dried coconut flakes because I was sure coconut would pair well with the citrus and the berries. My mind was already spinning with the citrus aroma that would soon fill my kitchen, and I picked up my grater to start making some fresh orange zest. Seriously, if you want to feel intoxicated without consuming any liquor, get a lemon or orange and start grating them, the citrus aroma from the zest will awaken your senses like never before!
Anyways, getting back to the recipe, there's not much needed to bake these cute and flavorful cookies. Plus, it hardly takes 10 minutes to bake a batch of 3 dozen cookies! The size of my cookies were smaller than regular ones, more like 2inches after baking, as I wanted to take these to a friend's potluck. So if you want larger cookies, you might end up with 2 dozen instead of 3, just take an estimated guess. This is a classic recipe to bake with toddlers. Ritika, my 2 1/2 year old helped me measure the ingredients, fluffed the butter with sugar, and gave a final stir to the batter as we mixed in the cranberries and coconut, so she was thrilled to take some of these cookies to her daycare and proudly show off her culinary skills!:) But no matter what your plans with the big batch of cookies that you'll bake, they are so delicious you'll have a hard time stopping yourself from grabbing a handful at a time. So bake more, and share some with your loved ones.
Cranberry Orange & Coconut Cookies
Prep Time: 20 mins
Bake Time: 8-10 mins
Yields: 3 dozen small cookies

Ingredients
1/2 cup (8 tablespoons) butter
3/4 cup sugar
grated peel of 1 medium to large orange
1 teaspoon vanilla extract
1/8 teaspoon baking powder
1/2 teaspoon salt
1 large egg
1 1/2 cups all-purpose flour
1 1/2 cups dried cranberries; or a mixture of dried cranberries and toasted chopped walnuts or pecans
1/2 cup dried unsweetened coconut flakes

Method
Preheat the oven to 425°F. Lightly grease two baking sheets with non-stick spray, or line them with parchment paper and set aside.

In a large bowl, beat together the butter, sugar, orange peel, vanilla, baking powder, and salt, until light and fluffy, and the mixture becomes pale white in color. Now beat in the egg; the mixture may look slightly curdled, but that's normal, don't worry.

Add the flour, dried cranberries (or cranberries and nuts), and the coconut flakes into the mixture, just stirring with a spatula until well combined. Do not beat it or blend it.

Drop the dough by heaping teaspoonfuls onto the baking sheets, leaving about 1 1/2″ between them. I used a simple teaspoon cookie scoop/measuring scoop, so that should work for you as well. Using the flat bottom of a glass dipped in sugar, flatten the dough balls only slightly, roughly about 1/2″ thick, so they get a more rounded appearance after they bake.

Bake the cookies for 8 to 9 minutes, until they're barely set, and a light golden brown around the edges. Don't over-bake; if you do, the cookies will be hard, not soft and chewy. Gently lift one of the cookies and look at the bottom; it shouldn't be brown.

Remove the cookies from the oven, and allow them to cool for about 5 minutes, right on the pan, then transfer them to a wire rack until completely cooled. If you try to lift them up before, they might break. Once they are completely cool, store them in an airtight container and enjoy for upto 10 days.
These super soft cranberry cookies are a real treat to indulge in, whenever you feel the need to tingle your taste-buds with something fresh, fruity and smelling of citrus! To make them healthier, use whole grain pastry flour, omit the sugar and use sweetened coconut flakes instead.