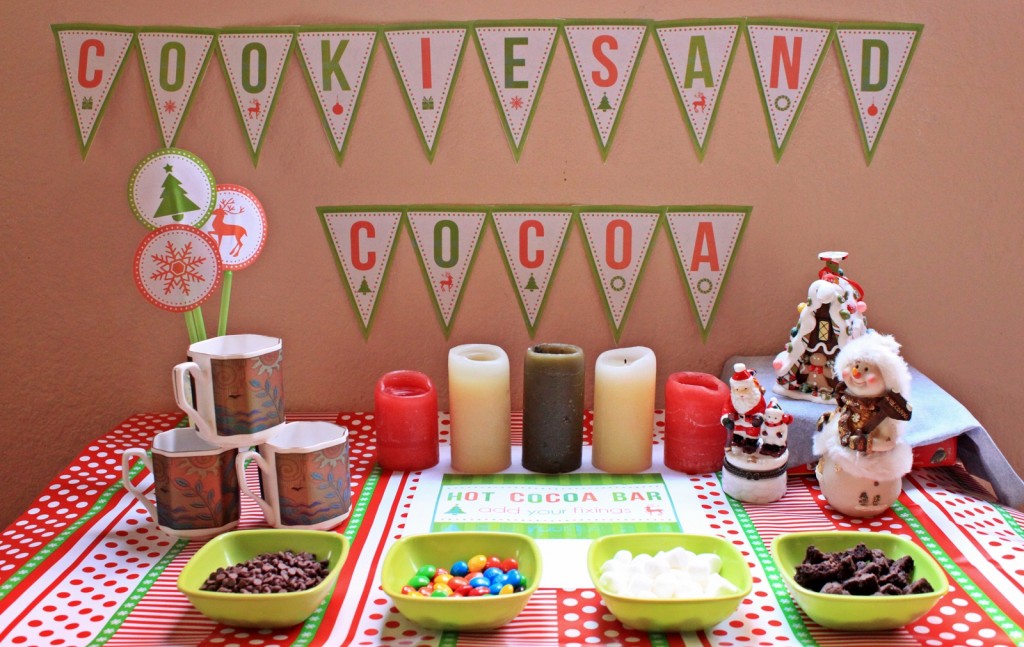 Holidays can become really stressful if you have large parties and gatherings to cater too. All the planning and preparation can take a toll, and instead of relaxing and enjoying quality time with your family, you end up doing more work during the holidays! Entertaining can be quick and fun, and with just a few simple ideas, you can still throw a perfect party that everyone will enjoy, without skipping a beat of the holiday spirit! This year, I decided to swap the big Christmas party at our house with a smaller, but more intimate and inviting gathering of close friends and family. And instead of anguishing over what I will serve, how much will I cook, and how many desserts do I need to prepare, I opted for an evening filled with fun and laughter, focusing more on the holiday tradition, rather than having an elaborate event.
So I started thinking of having a potluck initially. But then, it's hard to co-ordinate the efforts, and would end up as more responsibility anyways. So I started fishing for ideas, and asked the people in my family, "What are your two most favorite things that you'd love to eat on Christmas night?" Surprisingly, 3 out of 5 people zeroed in on Chocolate, the fourth one wanted something "warm and comforting", and the fifth person, who's my 3-year old, simply wanted "something sweet that I can eat sitting next to the Christmas tree, not on the dining table!:)"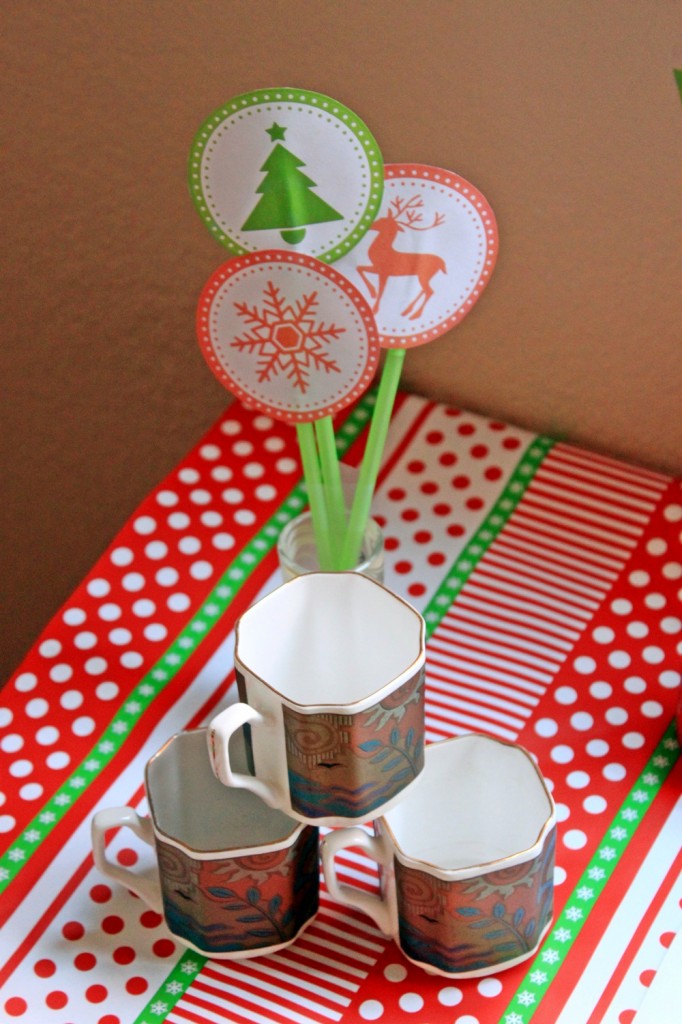 So when I put all those thoughts together, something immediately clicked into my mind – Cookies & Hot Chocolate – YES!! Wouldn't it be perfect to have your dearest friends over at your house on Christmas eve, and we all could sit near the tree, sipping hot chocolate and enjoying lovely homemade cookies for dessert as we chat and reminisce about our lives by the fireplace?! Yes, that would be perfect, and that's precisely what I knew I was going to do. Plus, when I received an opportunity from GLAM to share a holiday party idea with my readers, for which they would provide me with a custom printable, courtesy of HP and catchmyparty.com, I was delighted to get the ball rolling. So now that I've decided how I am going to celebrate my Christmas Eve, here's a little bit of inspiration to get you revved up. Look how pretty and perfect my party would look, with minimal effort and maximum enjoyment.
Planning My "Cookies & Cocoa" Night
I am thinking about whipping up some basic Hot Chocolate, and keep a tray filled with mix-ins, so people can customize their own cocoa. Just line up a tray with some mini marshmallows, chocolate shavings, mini M&M's, crushed caramel candies, or crushed peppermint candies. You can choose whatever you and your party group fancies. For the cookies, I am inclined to bake a batch of some of my favorite holiday cookies – the Cranberry Pistachio Biscotti, the Chocolate-Chip Gingerbread Cookies, and the Snowflake Sugar Cookies.
Get Creative With Your Mix-Ins
You can line up a few flavored syrups on one side like Hazelnut, French Vanilla, Gingerbread, Peppermint, etc. It would be a good idea to have a bowl or two of kids' favorites like Nutella, Cookie-dough or Peanut butter on the side, so they can add a dollop to their drink. Of course, old-fashioned Whipped Cream is always welcome, but this is the time to go crazy with mix-ins, so along with the favorites listed on the top, dare to try something new too, like Raspberry Liqueur, a dash of Chili pepper, or crushed Toffee bits.
Choose Small Disposable Cups & Plates
No need to spend time on dishes and silverware here. Just use small disposable cups, similar to coffee cups you get in a store, so people can just trash them once they are done, and also the smaller size helps them try more flavors by coming for seconds and thirds! Just print and stick some of the customized printables on each cup, to keep the holiday fever going!
Thanks to HP, I have some fabulous printables to highlight the theme of my party. I plan to use some of the thin banners to wrap them around the drinking straws, and attach the other circular ones as table-toppers, as pictured below. The big party banner highlighting the "Cookies & Cocoa" theme will go up on the Fireplace mantel, and I guess it would be a good idea to have a Menu card placed on the table, which shows the "Customize Your Cocoa" and the Mix-in options, along with the types of Cookies that I plan to serve. The party takes on a totally different meaning when you have special things going, and with these fancy printables that adorn the room, I'm sure everyone will get super-excited about the whole thing!
If you'd like to make it a big deal, send out invitations using the same custom printables for your party. I am thinking, to make it extra-special, I'll create a hot cocoa mix-in-a-jar for each family, mark it with the themed custom tags, and hand it over to everyone before they depart, just so they can wake up to a wonderful cup of Hot Cocoa on Christmas morning, and remember the fun times we shared last night! Doesn't that sound like a perfect Christmas Eve Celebration?!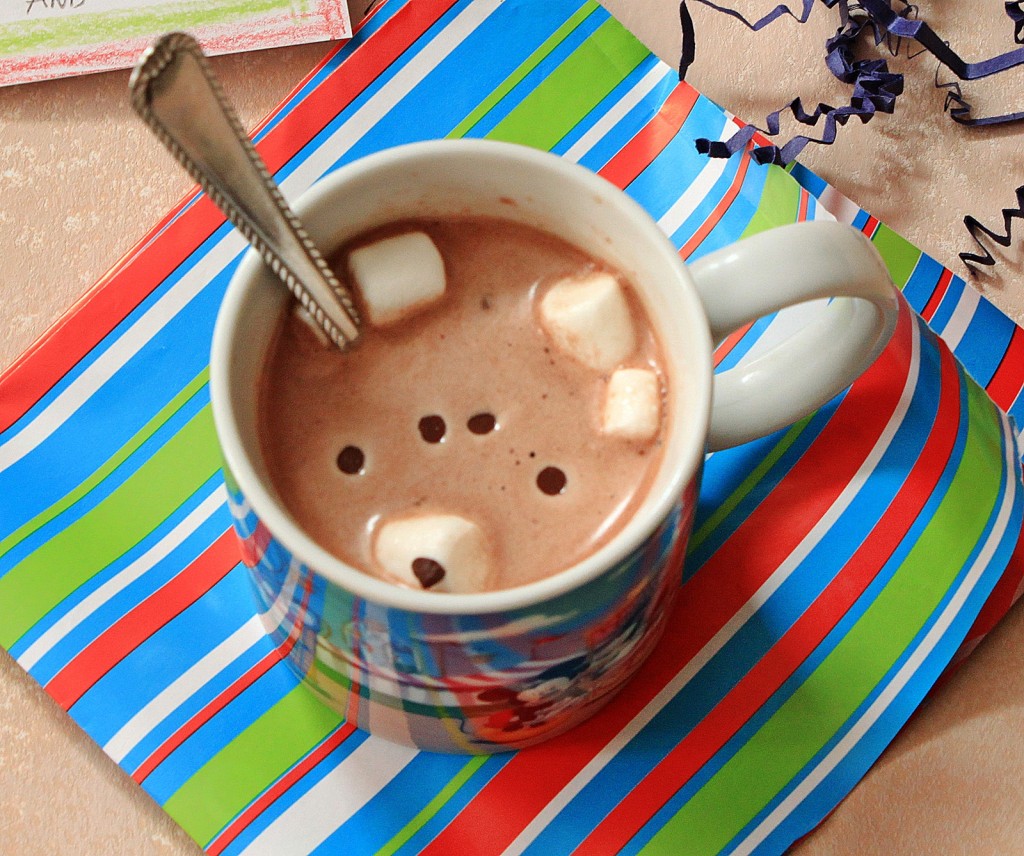 Steaming cocoa fragrant with chocolate and half melted marshmallows is a favorite with children and adults. In fact, it is a great way to mingle with new friends, invite some office colleagues over for a drink, or engage in a fun-filled Girl's Night Out! I had great fun planning this event, and I'm really excited to see how it goes on Christmas Eve! I will update this post with more pictures soon, of the actual event. Until then, if you like this idea, you can download the Cookies & Cocoa Party Printable yourself, or you can go to hp.com/holiday, and design your own printables!