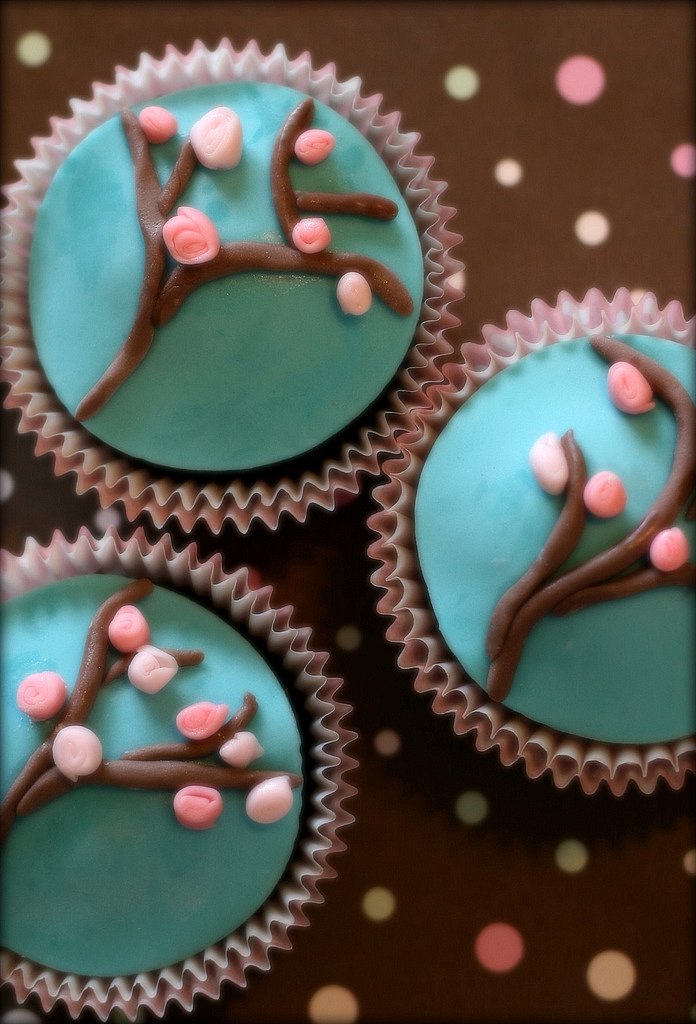 Cherry Blossom Cupcakes
It is so nice to have some fantastic sunshine around here; looks like Spring has finally arrived! The lush green mountains provide a perfect backdrop to the gorgeous pink and white Cherry Blossoms, and to celebrate the season, we have some beautiful Cherry Blossom Cupcakes that have Spring written all over them! Decorating cupcakes is always a fun exercise, where there is no limit to your imagination, as as the surface area to work with is considerably small, you are less prone to mess up with your cute or funky decorations. Though old-fashioned buttercream frosting works just fine for most occasions, when it comes to artistic creations, Fondant seems to be a better option to work with, especially if you do not have a steady hand with the frosting.
These beautiful Chocolate Cupcakes are perfect petite desserts for a lively girl's night, an afternoon high-tea, or just about any event that celebrates Spring! Working with Fondant is not as hard as one might think. The best part, you can choose ready-made fondant icing, and tint it with colors of your choice, then roll it out to create colorful edible creations that deck up your cupcakes.
This uses my favorite Chocolate Cupcakes recipe, and the cupcake photo credit goes to windy_sydney, who is a cupcake buff herself! The fondant holds shape much longer than regular frosting, and also is much cleaner to work with, as it is less prone to melting or wiggling with temperature changes. Look how clean the blues look, and how the stems and blossoms look perfectly fixed on the top.
For those of you who are not familiar with Fondant Icing, it is an alternative to butter-based frosting, and is used to decorate cakes and petit-fours. It includes gelatin (or agar-agar in vegetarian recipes) and food-grade glycerine, which keep the sugar pliable and creates a dough-like consistency, that makes it easy to roll out, then use to cover the cakes, rather than slathering it on like regular frosting. It can also be made using powdered sugar and melted marshmallows. Rolled fondant is rolled out like a pie crust and used to cover the cake, giving it a smooth appearance.
For the purpose of this recipe, you can use Wilton's rolled and tinted fondant, which comes in several primary or pastel colors, or you can even use their Fondant Custom Color chart to make your own colors.
Cherry Blossom Chocolate Cupcakes

Ingredients
Makes about 16 cupcakes

Chocolate Cupcakes
1/2 cup Dutch-processed cocoa powder
1 cup boiling hot water
1 1/3 cups all purpose flour
2 teaspoons baking powder
1/2 teaspoon salt
1/2 cup unsalted butter, room temperature
1 cup granulated white sugar
2 large eggs
2 teaspoons pure vanilla extract

Fondant Decoration
Ready-made fondant icing tubes in Acqa, Brown, Pink & White colors

Method
Preheat oven to 375 degrees F (190 degrees C). Line the muffin cups with paper liners and keep ready.

In a small bowl stir the boiling hot water and the cocoa powder until smooth. Let cool to room temperature.

In another bowl, whisk together the flour, baking powder, and salt.

Now cream the butter and sugar until light and fluffy. Add the eggs, one at a time, beating until smooth. Beat in the vanilla extract. Add the flour mixture and beat only until incorporated. Then add the cooled cocoa mixture and stir until smooth.

Fill each muffin cup two-thirds full with batter and bake for about 16-20 minutes or until risen, springy to the touch, and a toothpick inserted into a cupcake comes out clean. Remove from oven and place on a wire rack to cool.

Once the cupcakes are completely cool, you can decorate them with the fondant icing. Roll out the blue fondant on a floured surface. Use small cookie-cutters to make 16 blue circles, almost the size of the cupcakes, to cover the top.

Similarly, roll out the brown and pink & white fondants to make brown stems, and small pink/white flowers for the blossoms.

Line the cupcake tops with the blue fondant. Make sure that the side that is against the counter-top when rolled will be shiny. That side of the fondant should be face-up when applied to the cupcake.

Now take a paint brush, dip it in water, and apply lightly to one side of the brown stems. Then gently press the stems onto the blue fondant-covered cupcake. Repeat for all cakes. using the same procedure, brush lightly the pink and white dots with water and press them onto the stem to create a cherry blossom tree effect.

Work gently to finish decorating all your cupcakes. Store in a cool place until ready to serve, so that the fondant does not melt, and the colors do not get tinted into one another.
There, your beautiful Cherry Blossom Cupcakes are ready to be served at your spring gig! Besides being extremely pretty, these Chocolate Cupcakes are very moist and delicious too, so you won't lose on the taste factor either! Use them to liven up the mood as you celebrate Spring – they would be great for Mother's Day too!
Related Recipes
Mixed-Berry Mini Pavlovas
Pumpkin Cupcakes with Cheesecake Frosting
Coconut Cupcakes with White Chocolate Frosting