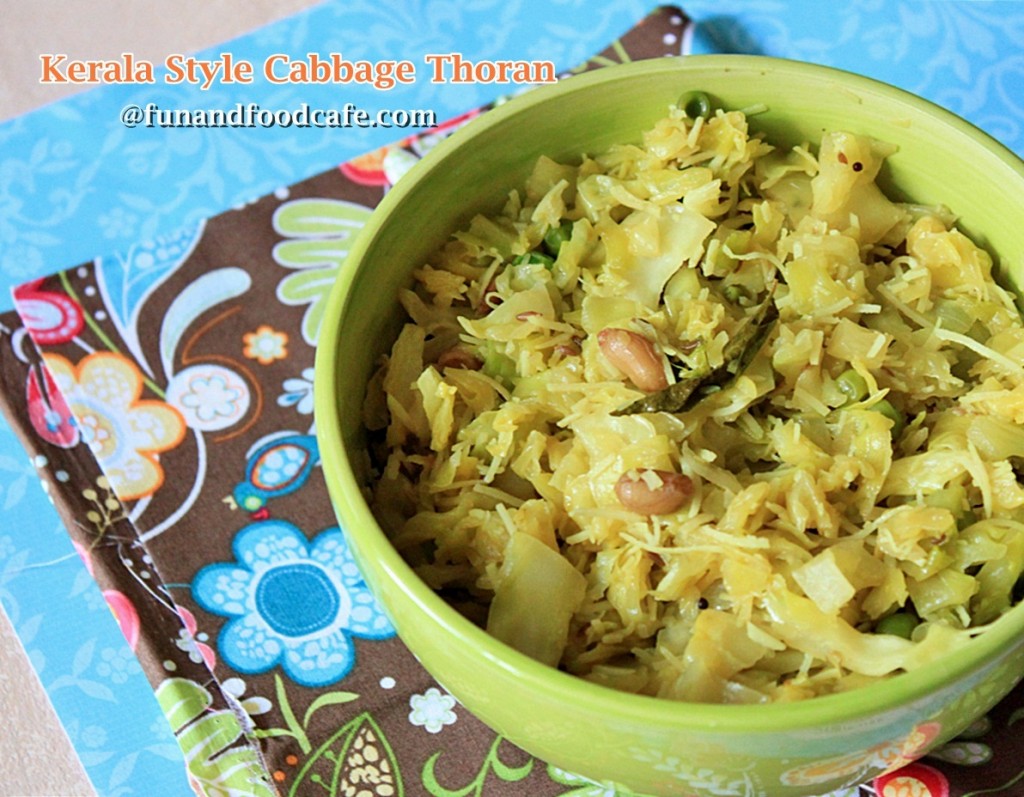 Cabbage Thoran, a Kerala-style recipe  that resembles a stir-fry
Indian cuisine is so versatile and diverse, and yet food that comes from every part of the country bears its own mark, in terms of ingredients, flavors, cooking methods, and recipes. A dish that represents the state of Gujarat will be totally different from that which stands for Punjab, which in turn is in stark contrast to a recipe that comes from Kerala! Its amazing how many flavors one can indulge in, all coming from the same motherland, and yet so unique in its standing. The dish I am describing today is called Cabbage Thoran, and it is a traditional recipe from Kerala, situated in Southern India.
Thoran, (which may remind you of Thor or Zoran, but has nothing to do with it even remotely, except that if served to them, they would love it!), is a Kerala recipe made primarily with chopped vegetables like Cabbage, Spinach or Green beans, mixed together with grated coconut, mustard seeds, curry leaves and turmeric powder and briefly stirred on a pan over a very hot fire. I guess the idea behind the recipe was that its wuick and easy to make, uses mostly staple ingredients, and when served with steamed rice, it makes a complete and filling meal. In fact, you will find this served in several temples in India in the form of Prasad (offering to God).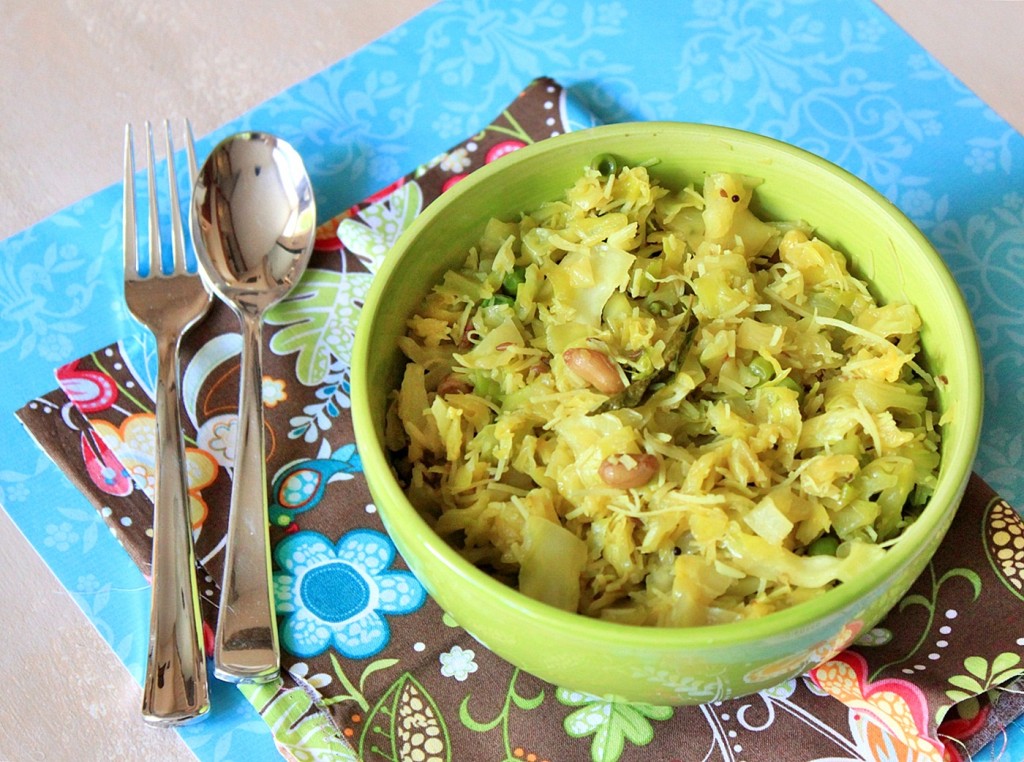 What I like about this recipe is that unlike other fully-cooked vegetable curries, the cabbage used in Thoran has a bite to it. Its almost like a steamed salad served with fragrant spices, and its highly nutritious too. The crunchy texture goes well with kids too, even my 3-year old loves eating Cabbage Thoran, and the addition of other veggies makes it tastier and more filling. It serves as a great side dish, or if you are looking to lose weight, just replace your dinners with this recipe 3 times a week and you'll start seeing a difference (go skimpy on the oil though!)

Kerala Style Cabbage Thoran
Indulge in authentic flavors of Kerala with this quick and satisfying Cabbage Thoran recipe. Flavored with ingredients like mustard seeds, curry leaves, roasted peanits and shredded coconut, its a treat to eat with plain steamed rice.
Author:
www.funandfoodcafe.com
Ingredients
2 cups finely sliced green cabbage
2 tablespoons coconut oil (or any vegetable oil)
1 teaspoon black mustard seeds
10-12 fresh curry leaves
3 small green chillies, slit lengthwise
1 medium-sized onion, sliced
½ teaspoon turmeric powder
½ teaspoon cumin seeds
salt - to taste
¾ cup freshly grated (or dried) coconut (flakes)
1 cup parboiled chopped veggies (green beans, carrot, peas)
Directions
In a large saucepan, heat the oil over medium-high heat for about 1 minute.
Add mustard seeds, reduce heat to medium-low, and allow the seeds to splutter.
Then add the cumin seeds and the green curry leaves, and cook for about 15 seconds.
Add the split green chillies and stir until fragrant, about fifteen more seconds. Add onions and cook, stirring constantly, until slightly softened, about 1 minute.
Add the turmeric powder and stir vigorously for a few seconds so the oil turns yellow, then add the cabbage and salt and stir fry until just starting to wilt, about 1 minute.
Put the lid on and let the cabbage cook, stirring occasionally, until wilted, about 7 to 10 minutes.
Remove lid, if the cabbage has released water, turn the heat up and dry it off. Once dry, add the grated coconut and stir until it's nicely mixed into the cabbage, about 30 seconds.
Season to taste with salt if needed, and serve hot with white steamed rice for a quick and satisfying meal.
Notes
The traditional recipe does not include any vegetables, but I have added beans, carrots and peas to increase the nutritional value. You can choose to add any other veggies that you like.
I love the simple and clean flavors in this recipe, and being that its kid-friendly too, I think we'll be making this more often than not. Did you like this one? what would you do different to make it suit your family's eating style? Please take a moment to comment and share!