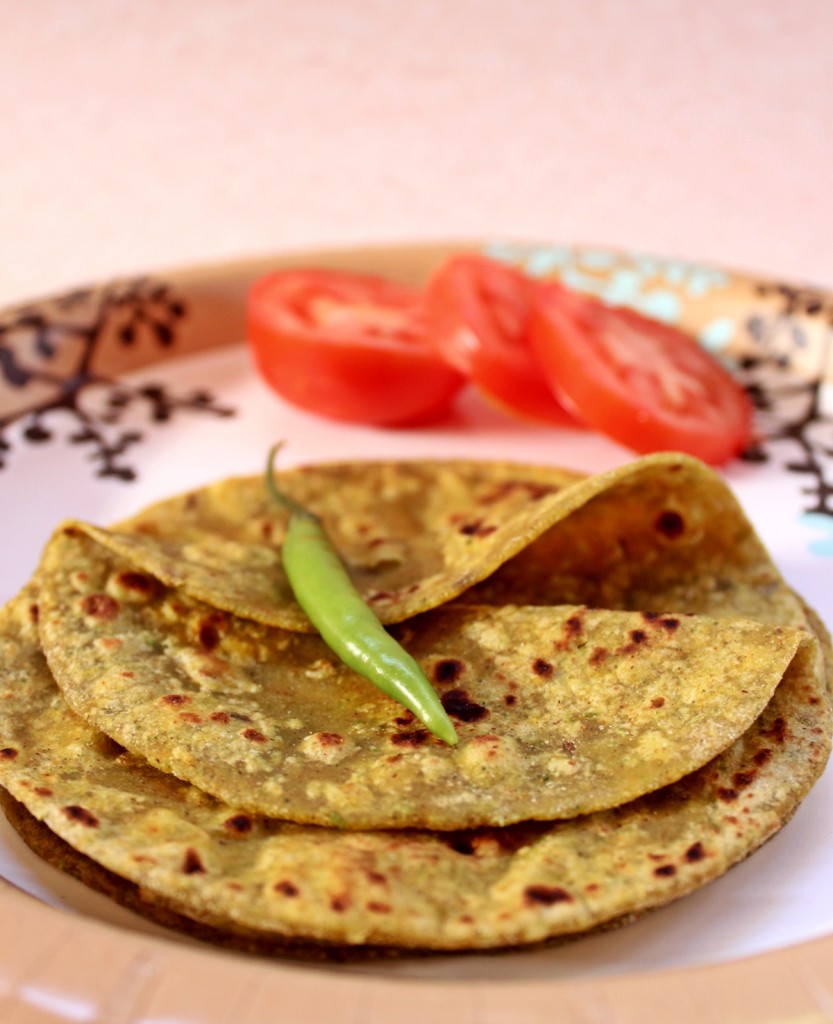 Broccoli & Green Pea Parathas
Moms are always looking out for ways to add healthy, wholesome food to their kids' diets, and if you can combine healthy with yummy, then you know you have hit a jackpot! Just like I did with this deliciously nutritive recipe for Broccoli Parathas or Flatbreads. These beautiful green Parathas are wonderfully soft and delicious, and they have a mild flavor that will not create havoc with your child's tastebuds. The Broccoli pairs beautifully with the green peas that not only give it a lovely green color, but also add a generous amount of taste and nutrition. The pureed veggies give them a soft and pliable texture so you can even eat them by themselves. Or serve them with any curry, even plain yogurt or pickle would suffice. Or you can use them as a base to make Veggie Wraps for your kids lunchboxes. And if you are making these for adults, just add some more green chillies and ginger to the recipe, and I promise you will not be able to stop yourself from grabbing one more in your plate!
These are great for kids, even toddlers, and you can even pack them in their lunches. Feel free to add more veggies in the recipe if you like, but make sure you increase the flour amount accordingly so the dough stays pliable but firm. To make them even more nutritious, add some fresh avocado; it will not only make the dough smooth, but will also eliminate the need for using any oil in the recipe.

Broccoli & Green Pea Parathas
Prep Time: 15 mins
Cook Time: 20 mins
Yields: 6 parathas

Ingredients
1 cup whole wheat/chapati flour
1 cup shredded broccoli (or frozen broccoli chopped)
1 green chili (add more if u like spice)
1/2 cup frozen peas, thawed
1 tsp garam masala powder
2 tbsp plain yogurt
1 tbsp oil + more for greasing parathas while cooking
Salt to taste

Method
Take the frozen broccoli heads or cubes and the frozen peas and microwave them for about 1 minute. When they get soft, add them to a blender and churn to make a semi-smooth paste. Add the green chili to this and blend again.

Now take the wheat flour, add salt, broccoli and peas paste, yogurt and oil, and knead into a soft pliable dough, that is not too thin or sticky. you can grease your palms with some oil to knead the dough.

Divide the dough into 5-6 even sized balls. Dust a rolling surface with some flour. Now take a rolling pin and roll each ball into a 5-6 inch circle. Keep using flour to prevent it from breaking or sticking.

Meanwhile, take a skillet and allow it to heat up on a stove. Transfer your rolled paratha onto the skillet, and let it cook on both sides; apply a drizzle of oil or butter on each side as you flip the paratha. When nice brown spots appear on each side, remove and allow to cool on a piece of paper.

Repeat for all the Parathas. Serve these delicious Parathas with Yogurt Raita or any Indian Curry on the side.
These Flatbreads are a great side dish with Indian curries, however, you can also make them a bit thicker, and use them as a base to make interesting flatbread appetizers. Or just spread a layer of cream cheese and roll them up for a quick snack on the go!
Related Recipes
Vegetable Korma Curry
Tandoori Peshawari Naan
Sweet Potato & Basil Parathas