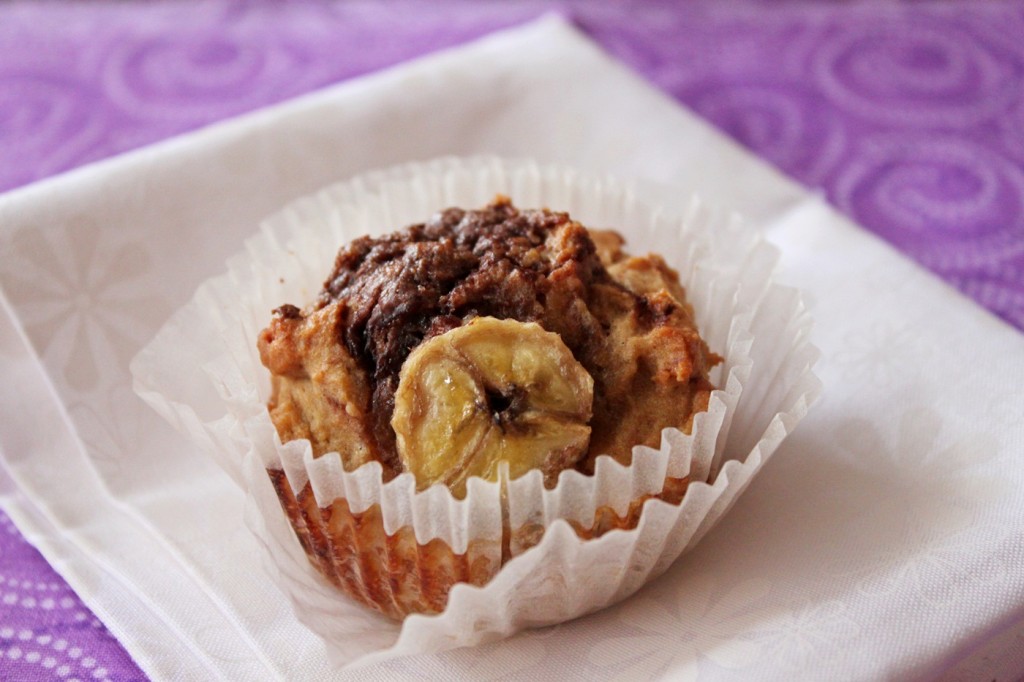 Banana Muffins swirled with Nutella
Two weeks ago, I saw a movie that captured the essence of Paris in every shot, and I was reminded of our fun vacation days in the romantic city, touring the streets and walking along the Siene River, admiring the gigantic Eiffel Tower sparkling in multi-colored lights to woo its audience at sunset. But when I think about Paris, the one thing that tops the images in my mind is undoubtedly the vendor across from the Eiffel Tower who made the Best Banana Nutella Crepes ever! I love Nutella, and though I know it didn't do much good to my waistline, I used to gobble a couple of these every morning during our stay there, liberally slathering it over my toast, buns and muffins! Aah…those days. With nostalgia filling up my heart and soul, I decided to do the next best thing to recreate the magic of Paris at home.
As Saturday came and the sun shone nice and bright outside my kitchen window, I woke up earlier than the rest of the troupe to bake my favorite Banana Nutella Muffins. Crepes wouldn't go well with my little girl, so Muffins was an easy choice. Luckily, the 4-day old bananas were perfect for the heist, and so was some leftover Nutella lying in the fridge since a long time. Yes, its been a long time since I have started trying to eat healthy, and Nutella doesn't fit much into this habit, so its is used sparingly, and only on one weekend a month, this being the chosen weekend for a delicious round of Nutella Baking.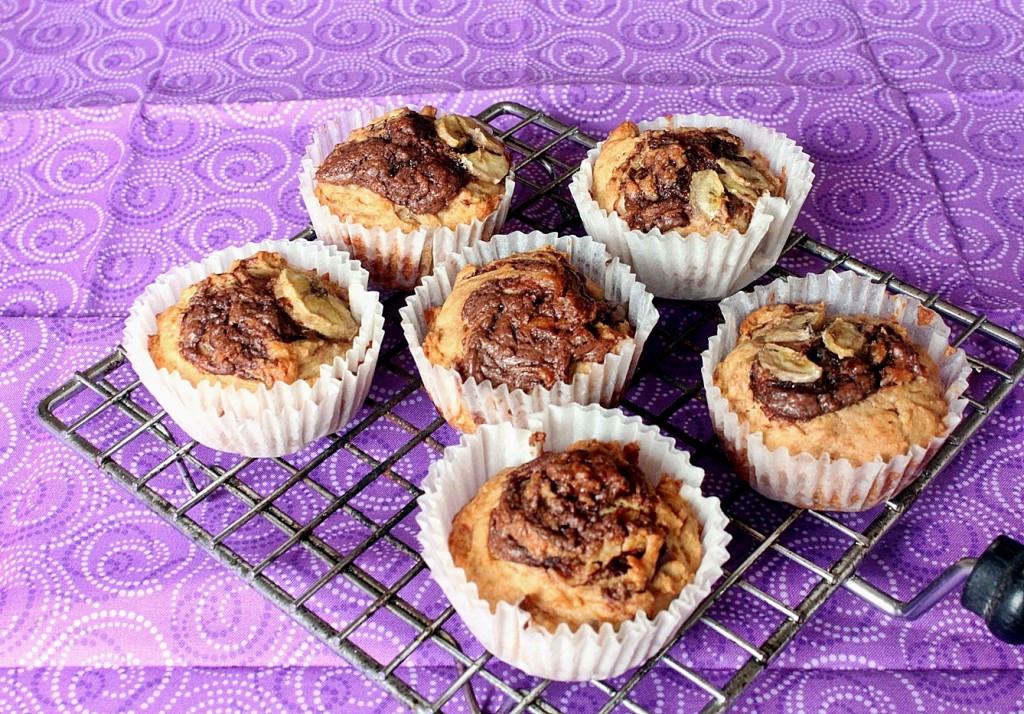 So out came the bananas, the Nutella, which for the benefit of those who have never discovered it, is a chocolate-hazelnut spread easily available in grocery stores, and some chopped walnuts. These makeover banana muffins with a hazelnut taste are a perfect way to start your day, or pack a bunch to your favorite pot-luck event. They are soft and moist on the inside, with a deliciously choclattey hazelnutty swirl on the top, and a rich banana flavor inside. They are best consumed immediately after baking. Some people swear on freezing them for a lot more days; I have tried refrigerating them for a few days, but frankly, it loses its vibrant flavor and aroma as the banana starts to seep in and overpower the taste. Ready in 30 minutes, serve them with a cup of Choco Latte, enjoy these on a warm patio, and recreate the magic of Paris at home!

Banana Nutella Muffins
Prep Time: 10 mins
Cook Time: 25 mins
Servings: 12 muffins

Ingredients
1 1/2 cup all purpose flour
1/2 cup whole wheat flour
2 tsp baking powder
1/2 tsp salt
3 very ripe bananas, mashed
1/4 cup melted unsalted butter
1 egg
1/2 cup plain yogurt
1 tsp vanilla
1/2 cup + 3 tbsp Nutella, divided
1 ripe but firm, sliced

Method
Preheat the oven to 375 degrees F. Line a 12 cup muffin tin with non-stick spray or muffins liners and keep it ready.

In a large bowl, sift and mix the flours, baking powder and salt together.

In a separate bowl, mix the mashed banana, butter and egg together, until smooth and fluffy. Stir in the yogurt and vanilla and combine well, but do not mix or beat, else the muffins will get flat while baking.

Mix the wet ingredients into the dry until just combined. Stir in 1/2 cup of Nutella.

Scoop the batter using an ice-cream scoop and pour it evenly into the prepared muffin pan. Use the remaining Nutella to swirl into the batter, a little into each muffin, or use it later to drizzle on before serving. Top each muffin with a couple thin slices of banana.

Bake for 25-30 minutes, until muffins rise and pass the toothpick test. Once done, cool on a wire rack for at least 5 minutes. Drizzle with Nutella, if desired, and serve warm with a cup of tea or coffee.
These Nutella Muffins are great when they are warm and the Nutella inside is still warm and gooey. If you want to store these, you can cover them in air-tight containers after they have completely cooled down, then refrigerate them for about 3 days. I wouldn't recommend storing them longer because the smell of banana get overpowering, and they can start to twist the flavor of the muffins. Prepare them on the same day, or a day ahead if you like and they'll stay fresh. Warm them for about a minute before serving, to thin up the Nutella, or serve them with whipped cream or ice cream for a delicious dessert treat!