The eggplant, or Aubergine, is a large pear-shaped vegetable with a glossy purple skin and firm white flesh, embedded with tiny brownish seeds. It is a very versatile ingredient, as it can be fried, baked, boiled, steamed or grilled, and can be used in curries, appetizers, dips, spreads, and more. Its a popular ingredient in Indian, Middle Eastern, Italian and Moroccan cuisines. However, you will be amazed to find that several people in India do not take too much fancy to an eggplant, maybe because there's nothing exotic about it, especially once its cooked. it loses its deep purple color, which is its attractive characteristic, and turns into a brown saggy vegetable. But nonetheless, there is one Eggplant Curry that seems to be popular throughout the world, and its called Baingan Bharta.
Baingan Bharta is so called because the Baingan (Eggplant) is grilled or broiled and de-skinned, and then mashed to form a Bharta; sauteed with onions, garlic, chopped tomatoes and tonnes of flavorful spices, this eggplant curry is perfect to eat with your bread or rice. Plus, its hard to recognize eggplant in this mashed-up version, so even those with an aversion to the vegetable, like my husband or my brother, are drawn to its taste rather than its appearance! So if you have someone in your circle who does not like eggplant, this is a perfect first-time dish to make them appreciate this common yet very versatile ingredient.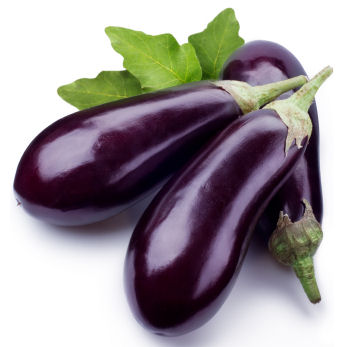 To make this recipe, we use the Aubergines, which are traditionally the big, fat and elongated eggplants that have more flesh and a thinner skin. Traditionally, we are supposed to broil these aubergines over a flame, just how you would grill a corn, until the skin becomes charred and starts peeling off, and the flesh is all cooked inside. I still remember my Mom laboring over the stove, patiently rotating the eggplants so its broiled evenly from all sides. And as if this was not long enough, it took forever to peel off the skin as it was dead hot, and if you let it cool too much, the skin becomes hard to remove. No one in this century has so much time on their hands, so i resorted to my oven and pressure cooker for these laborious tasks. You can either Broil the eggplants in the oven for 20-30 mins or so, then peel off the skin with a paring knife, or just de-skin them right from the beginning, and pressure cook them for an easier option. Don't worry, the end result will still be the same, and no one will blame you for having resorted to shortcuts, as long as you serve a winning dish on the table!

Baingan Bharta (Eggplant Curry)
Prep Time: 10 mins
Cook Time: 25 mins
Serves: 2

Ingredients
1 large Eggplant (should be big and fat)
2 medium size tomatoes, finely chopped with juice
1 medium size onion, finely chopped
3 cloves of garlic, minced
1 green chili, chopped
3 tablespoons oil
Pinch of asafoetida (hing)
1/2 teaspoon cumin seeds
1 teaspoon coriander powder
1/2 teaspoon turmeric
1/2 teaspoon red chili powder
1/4 teaspoon garam masala
salt and pinch of sugar – add to taste
1/2 tsp lemon juice
2 tablespoon chopped cilantro to garnish

Method
There are 2 ways that you can cook the eggplant, either in the oven, which is more closer to the traditional roasted eggplant recipe, or pressure-cook in the cooker, which is how I prefer to do it when there's not much time on hands. If you are using an oven, preheat the oven to 400 degrees F and bake the eggplant in it for about 25-30 minutes, turning the sides every fifteen minutes to ensure even grilling. use a cookie sheet or an oven-safe bowl so the eggplant juices do not drip and spoil your oven as it cooks. Let it cool for 10 mins, then peel off the skin and chop the eggplant in small pieces. Take a potato masher and mash the cooked eggplant and keep aside.

For an easier method, just remove the skin from the eggplant and chop it into 1 inch chunks. Now pressure-cook this in a pressure cooker for 2 whistles, then remove from flame, open the lid, and mash it up, after removing excess water from the cooker.

Heat the oil in a wide saucepan on medium high and add the cumin seeds and asafoetida. Now stir fry the garlic and onions until translucent and fragrant. Add the chopped green chili, the tomatoes, salt, and all the remaining spices, and saute until the oil starts separating from the pan.

Add the mashed eggplant and let it cook on medium heat, stirring occasionally until everything blends well together, about 10 minutes. Check for salt and lemon and season according to your taste. Right before serving, add some chopped cilantro, give a final stir and serve hot with Rotis or Rice.
This is a quick and easy recipe if you use the pressure cooker, unlike other Indian recipes which generally take longer to cook. So try it for your weeknight dinners; I promise you will love the flavors, even if you love eggplant or not! Sending this over to the January edition of Simple & In Season blog event and also to the Sweet Heat Chilli Challenge, Lyndsey's brainchild blog event.