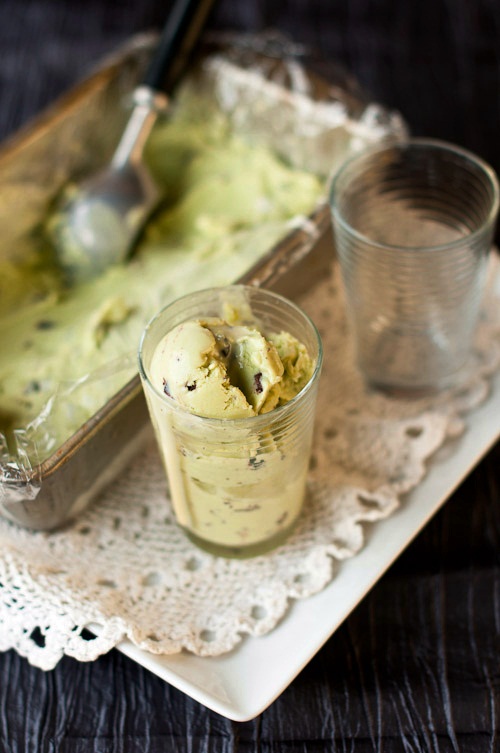 Summer is slowly starting to show its colors, as the days get longer and brighter down here in Northern California! The garden is blooming, and we've already had glimpses of hot sunny days when sipping a cold coffee or eating an ice cream out in the backyard has become a favorite family activity. So to celebrate the weather outside, we tried a new recipe last week. Frozen Avocado SemiFreddo. Yes, I agree the name sounds a bit confusing, but the recipe is a mix between ice cream and frozen yogurt, so I couldn't think of a better name than SemiFreddo. And Avocado does not seem to be a great pick for a frozen dessert, but when it's accentuated with chocolate chips, it can transform any ingredient into a mouth-watering and delectable dessert, just like this one!
I have to thank Eliza, from Notes From My Food Diary, for sharing such a lovely recipe and mouth-watering photos with us. Actually, when I saw it, I was a bit skeptical about using Avocado in a dessert form. I love its taste, or rather, its creamy texture and lack of taste – that makes it compatible with almost any other ingredient. But using it in a sweet recipe never came to mind. But the recipe did intrigue me enough to give it a try. Moreover, I have Vietnamese colleagues at work who love Avocado Milkshake, and swear on its taste. I have also tried a Chocolate Cake with Avocado Frosting before, so this frozen custard made much sense, especially considering that it has chocolate chips in it. Anything with chocolate gets my full and immediate attention!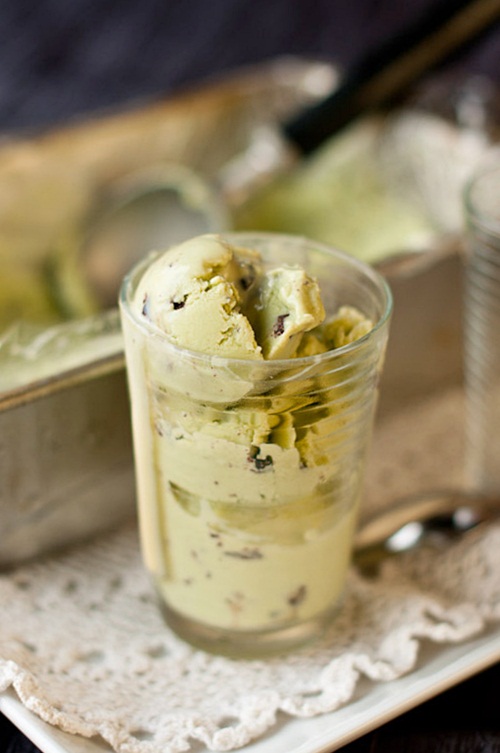 I love how pretty this dessert looks. And the sweetened condensed milk on the top adds a nice creamy texture to the frozen custard. I would love to have a substitution for the eggs in the custard though, so maybe I'll experiment with cream next time. It might need more churning and freezing, but I think it's doable, just like Eggless Ice Cream. As for the flavor, it was mostly like sweetened vanilla custard, with the Avocados making it creamy. So I might try other flavor variations next time, like adding coconut milk, fresh ripe banana, or maybe a drizzle of caramel. Regardless, I urge you to give this a try – its a new way to explore Avocado, and I'm sure you'll love it.
Frozen Avocado Yogurt Custard
Rich creamy frozen custard, made with Avocado and Chocolate chips, drizzled with a touch of sweetened condensed milk, makes this a perfect frozen dessert for Summer.
Author:
www.funandfoodcafe.com
Ingredients
2 cups whole milk
¾ cup sugar
½ teaspoon vanilla extract
4 large egg yolks
1 cup plain whole-milk yogurt
2 medium, firm-ripe avocados (6 to 7 oz. each), peeled, pitted
½ tablespoon lemon juice
⅓ cup chopped bittersweet chocolate (60-70% cacao)
Sweetened condensed milk for drizzling, optional
Directions
Heat milk and sugar over medium heat in a medium saucepan until just comes to a boil, stirring occasionally. Stir in the vanilla.
Have ready a large bowl filled with ice and set a small metal bowl over the ice with a strainer set over it.
Place egg yolks in a medium bowl, and beat them lightly. Ladle some of the milk into the egg yolk to prevent curdling.
Pour this mixture back into the rest of the milk in the saucepan. Cook over low-medium heat until mixture is thick and can cover the back of a wooden spoon, about 4 to 8 minutes.
Pour the mixture over the strainer into the small bowl; stir in the yogurt. Whisk the mixture over the ice bath until it cools completely.
Scoop the avocado meat and puree in a blender or food processor along with the lemon juice and some of the cooled custard. Pour this mixture back to the rest of the custard, blend them together until it is thick and creamy.
Freeze the custard in an ice cream maker according to the manufacturer's instructions. Halfway through the freezing process, fold in the chopped bittersweet chocolate. Transfer the frozen yogurt into a freezer-safe container and freeze until solid, at least 4 hours.
Serve with some more chocolate chips and a drizzle of sweetened condensed milk on the top.
Related Recipes
Blueberry Avocado Banana Bread
Avocado Soup with Grilled Poblanos
Pasta with Creamy Avocado Mint Pesto
Blueberry Cheesecake Ice Cream Shake
Raspberry Ice Cream Floats