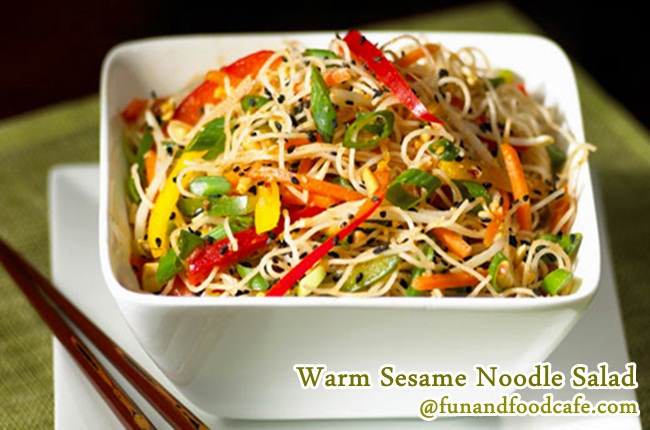 Amidst all the baking and gourmet cooking in lieu of the upcooming holiday season, I was suddenly craving something simple but satisfying, and also "skinny" to out-weigh the calories in all the goodies that I am baking. That's when I saw a packet of Miracle noodles lying in my pantry. I bought these sometime back at The Low Carb Grocery store, and thought this was the perfect opportunity to try them in a meal. The weather was cold and gloomy outside, and soup would have been perfect. But since I wanted to use the Miracle Noodles Angel Hair Pasta, I opted to make a quick but heart-warming Sesame Noodle Salad – warm, spicy and comforting, it totally complimented the weather outside my window!
The Miracle noodles, also popularly known as the Shirataki noodles, are a healthier alternative to regular pasta. In fact, some dieters swear by these in terms of weight control. I did find them to be lighter in comparison to pasta, and that's due to the fact they have have no soy, no gluten and no wheat. So essentially, it contains mainly Fiber, which in turn slows the digestion process and prolongs the sensation of fullness, thereby being an effective strategy for any weight loss program. However, I felt that there is a price to pay, though not a steep one. Taste-wise, it wasn't as delicious as regular pasta, but if you've tasted any other gluten-free products, you'll know what I mean. It's less sticky and more chewy, but it worked well for my Warm Salad recipe, because I actually liked the texture that it added to the recipe. Paired with spicy asian sauces, roasted peppers and sesame seeds, all in all, it was a satisfying one-bowl meal for my weekday lunch.
Sesame Noodle Salad
Author:
www.funandfoodcafe.com
Ingredients
1 (16 ounce) package Miracle Noodle angel hair pasta
½ cup sesame oil
½ cup soy sauce
¼ cup balsamic vinegar
1 tablespoon hot chili oil
1 tablespoon olive oil
¼ cup white sugar
1 teaspoon sesame seeds (black or white)
1 green onion, chopped
1 cup red & yellow bell pepper, diced
Directions
Cook the Angel hair pasta per package instructions. Drain well in a colander and set aside.
Lightly cook the bell peppers in 1 tbsp olive oil, till they turn soft, but retain their crunch. Don't let them become wimpy or mushy.
Whisk together the sesame oil, soy sauce, balsamic vinegar, chili oil, and sugar in a large bowl.
Toss the pasta in the dressing, then sprinkle with sesame seeds, green onion, and cooked bell peppers.
Serve immediately.
I was pleasantly surprised with this recipe; it was quick, easy, healthy and delicious – all the criteria you need for a satisfying weekday lunch. In face, it's a great snack option for kids too. If you don't mind the chewiness in your noodles, then you'll love the Shirataki noodles; and if you are looking for a healthier food choice for your diet plan, then this one surely fits the bill.
Disclosure: This is a Sponsored post written by me on behalf of The Low Carb Grocery. All opinions are 100% mine.